The Sunday Punch: Mayweather vs. Cotto Review and Round-by-Round Recap
May 6, 2012

Al Bello/Getty Images
It was 4:00 p.m. PDT, and I was already sitting at Barney's Beanery bar in West Hollywood. I had a cold Corona in hand, and I was eating a Philly steak sandwich while patiently waiting for at least two of the 29 TVs in the bar to switch from the NBA playoffs to the HBO pay-per-view telecast.
At 6:07, finally the HBO telecast popped up on the TV in front of me and the one behind; Cinco de Mayo officially begun for me. It feels familiar and I know why.
Floyd Mayweather has used Cinco de Mayo as a promotional tool once again. The first time he did it was in 2007, when he faced Oscar De La Hoya on the same historic holiday. This time he is not facing a Mexican superstar like Oscar De La Hoya, but he did provide Mexican fans an undercard featuring 21-year-old Mexican superstar Canelo Alvarez.  
Alverez's whole purpose in this undercard was to provide more PPV buys from Mexican fans.  He was, in fact, facing a 40-year-old "Sugar" Shane Mosley, so any anything less than a dominant performance would be a disappointment.
Alvarez dominated, winning all 12 rounds easily and giving the veteran Mosely the beating of his life. Mosley walked off the ring with his head down, most likely the last time he will ever do so. 
It's time for the main event, Everything until this point has seemed very familiar, but it took a turn. The first unusual thing that happens was Mayweather coming out to the ring first—for years Mayweather has always had the luxury of being the last man to step in the ring, something most boxing experts believe the be a mental advantage.
The second thing that caught my attention was Justin Bieber walking alongside Mayweather to the ring. I didn't mind Lil Wayne, I didn't mind Triple H, I didn't mind Mayweather's remora (the little fish that follow sharks) 50 Cent, but Justin Bieber? Now that seemed out of place, and well, it was.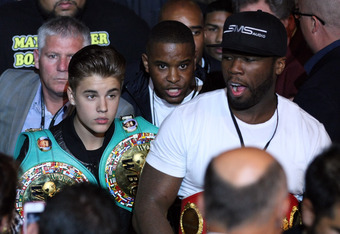 Al Bello/Getty Images
Miguel Cotto was. in fact. the champion of this bout and therefore came out second, with no entourage, just the necessary people, his trainer and his son, total class. 
It's fight time; the fighters were introduced and met in the center of the ring to hear final instructions from referee Tony Weeks. The first bell rang.
Round 1
The fighters felt each other out, no one really doing much, but Mayweather landed a good left hook to the body and several solid jabs. Cotto continued to pressure without doing much. Mayweather landed a punch to the body, Cotto didn't even flinch. 10-9 for Mayweather.  
Round 2
Again Mayweather landed a left to the body. Cotto continued to apply pressure.  Mayweather and Cotto clinched in the corner, and Cotto picked Floyd up. The crowd roared. There was an exchange in the corner, and the crown was into it. Floyd continued to make Cotto miss and ended the round looking confident as usual. 10-9 for Mayweather. 
Round 3
Mayweather found a chance and landed a good uppercut on Cotto. Cotto tried to imply his game plan by going to the body, throwing a good combination but no punches landed. Cotto continued his body attack and landed a few, then landed a flush left to the head of Mayweather. 10-9 for Cotto. 
Round 4
This round looked more like a normal Mayweather round, as he made Cotto miss on everything he threw. He landed solid shots on Cotto, including a solid right that seemed to bother Cotto, Easy 10-9 round for Mayweather.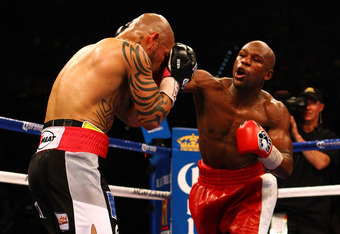 Al Bello/Getty Images
Round 5
Mayweather backed into the corner, which Cotto saw as a chance to attack, but once he did, Mayweather landed several flush rights to the head of Cotto. Cotto maintained the pressure but Floyd dodged mostly everything/ His defense is a thing of beauty. 10-9 for Mayweather. 
Round 6
Cotto gained some momentum, hit Mayweather with a solid jab and then connected with a straight right.  Mayweather smiled and shook his head.. Cotto continued to pressure and landed a good left, then connected with a good left to the body towards the end of the round. Good 10-9 round for Cotto.
Round 7
Mayweather took it easy in this round, maintaining his distance and landing a few good jabs on Cotto. He seemed to look to fight from the outside against Cotto. 10-9 for Mayweather. 
Round 8
Cotto came out with great pressure against Mayweather, while Floyd landed a straight right in exchange of a good body combo return by Cotto. The action again ended up in the corner with Cotto throwing combinations to the body while Mayweather smiled. A few shots landed to the body of Mayweather, and Cotto landed two solid jabs to Mayweather's face, causing his nose to bleed, Great 10-9 round for Cotto. 
Round 9
The fight became closer and Cotto maintained the persuade, but not enough to frustrate Mayweather. Cotto seemed gassed out from the hard effort in Round 8, and Mayweather took advantage to land a few solid shots here and there to win the round. 10-9 round for Mayweather.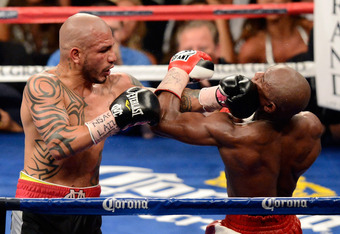 Ethan Miller/Getty Images
Round 10
Cotto kept pressure to the body with combinations, but most punches were blocked. Mayweather landed counter straight right and looked willing to trade with Cotto. 10-9 for Mayweather. 
Round 11
Mayweather looked in control in this round, landing a solid uppercut, but he was tagged by good left from Cotto. Mayweather moved around and landed a solid combo and a flush right. 10-9 for Mayweather. 
Round 12
Cotto dragged Mayweather to the corner and unleashed a combo. Mayweather came back with a straight right. Floyd landed a hard right on Cotto and hurt him, following that up with another straight right later on in the round. Mayweather finished off the round looking very sharp. A strong 10-9 round for Mayweather to secure him the victory. 
My final score ends at 117 - 111 in favor of Mayweather.
The judges' final scores were 118-110, 117-111, 117-111 all in favor of Floyd Mayweather Jr. 
Conclusion
Floyd Mayweather remains on top of the boxing world with yet another impressive performance.
Was it his most impressive one? Not even close. But he did face a game Cotto who came to win, a Cotto with a great trainer and game plan. Still, it wasn't enough for Mayweather's overall ring intelligence and boxing abilities. Cotto showed he is no pushover and can still compete with elite fighters. 
The thing that stood out to me the most was Floyd's inability to move as he once did—he is, in fact, 35 years old and is not forced to fight more often than box.
How will he do if he faces a fighter like Manny Pacquiao, who is fast, hits harder, throws way more punches and has the same endurance abilities as him?
Hopefully we'll get to find out in 2013.
You can follow me on twitter @sonofcuba