Inter Milan vs. AC Milan: Giants Show That Italians Play Beautiful Football Too
May 6, 2012

Claudio Villa/Getty Images
When someone mentions the words "Italian football," what are the first images that appear in your head?
If you're like most football fans, you probably conjure up an image of tough tackles or a team grinding out nitty-gritty 1-0 or 2-1 victories.
After all, that's the image we've been used to having of Italian football since Italy utilized a philosophy of tough-tackling, tight football to win the 2006 World Cup.
Some would argue it's been the image we've had of Italian football since far before the 2006 World Cup, and they'd probably have a considerable amount of evidence to support their claim too.
Certainly, the stats don't disagree with image. This season, of the four most-respected leagues of Europe, the Serie A has averaged 2.55 goals per game, while La Liga has averaged 2.77, the EPL has averaged 2.81 and the Bundesliga has averaged 2.83 (averages provided by 1x2monster.com, accurate as of April 30, 2012).
But as Inter Milan and AC Milan showed us today, the defensive nature of Italian football does not mean that Italians cannot play beautiful football.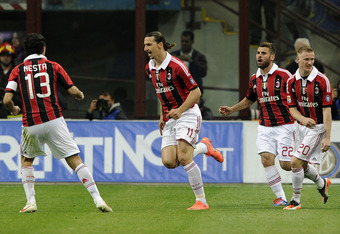 Claudio Villa/Getty Images
Today's Milan derby had just about everything you could ask for from a football match.
You had the skillful play of some of the world's top players; Wesley Sneijder turned back the clock to the 2009-10 season, putting in some excellent free kicks into AC Milan's box and firing numerous dangerous shots from long range.
Ricardo Alvarez's wing play was remarkable as well, finally justifying his summer price tag and showing why Inter Milan decided to pursue his last summer.
For AC Milan, Zlatan Ibrahimovic worked tirelessly to create opportunities for his teammates, and he took both of his goals with precision and accuracy.
Kevin-Price Boateng and Robinho were both also dangerous for AC Milan, combining excellently for Ibrahimovic's opener in the second half and threatening Inter's defense with various runs and balls into the box.
The physicality was also evident from both sides: There were numerous flare-ups which referee Nicola Rizzoli had to bring under control, there was taunting from Julio Cesar towards Ibrahimovic before he took his penalty and there were numerous hard tackles, which resulted in seven yellow cards being dished out in the game.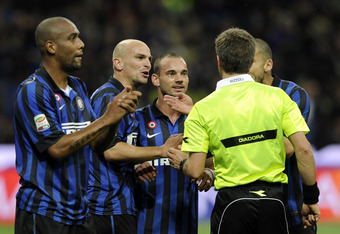 Claudio Villa/Getty Images
And of course, you had your fair share of controversy: Inter Milan had a goal from Lucio ruled out for offsides, had a header from Esteban Cambiasso ruled out for not crossing the line after a last-ditch save from Abbiati and had a penalty awarded against them even then Julio Cesar got to the ball before taking down Kevin-Price Boateng.
For Milan, the penalty awarded against them was also a tad harsh. Alessandro Nesta's hand did indeed make contact with the ball, and Nesta's hand was not near his body, but it's highly doubtful that there was any intent from Nesta to illegally obstruct the ball.
There was also a decent claim for hand-ball on Esteban Cambiasso shortly after the penalty that went ignored.
But in the end, despite all the controversy and flare-ups, there were no red cards, and the controversy didn't substantially benefit one team over another. In the end, Inter Milan were able to overcome their disallowed goals and capitalize on the extra chances they created throughout the game.
Chelsea's Champions League upset over Barcelona has its own reason for being remarkable, and Real Madrid's victory in El Clasico over Barcelona was a great win as well, but this was a game for the football purists.
This wasn't a game about defensive grit vs. tiki-taka or tiki-taka vs. counter-attacking football; this was a game simply about who wanted it more. 
Neither team really viewed themselves as underdogs heading into this game. Inter Milan entered as the team with the inferior record, but they went for Milan's jugular from the moment the referee blew the whistle.
The result was football at its highest level; the teams exchanged blow after blow, shot after shot, in a race to the finish line. When all was said and done, the teams had exchanged almost 30 shots between themselves and scored six goals in the process.
Beyond the stats and facts, though, this undoubtedly be a game that will live on in the memories of those who watched it. It will remain a testament to the beautiful football that Italian football can produce under the right circumstances.
Only a fool would still label Italian football "boring" after today's showing.