New York Yankees: Andy Pettitte Makes Final Start in Minors, Call-Up Likely Next
May 6, 2012

Al Messerschmidt/Getty Images
Sunday may in fact be the last time Andy Pettitte will be pitching in the minor leagues.
Pettitte pitched for Triple-A Scranton/Wilkes-Barre against Pawtucket, which is the Red Sox's Triple-A affiliate.
In his latest outing, Pettitte went five innings, allowed eight hits, five runs (three of which were earned), walked two and struck out five.
He threw 95 pitches, 62 of which were for strikes.
He also had a pickoff at first base, getting Lars Anderson, a signature Pettitte trait that keeps runners close and, at times, eliminates the running game.
When Pettitte left the field, the crowd gave him a standing ovation and chanted "ANDY PETTITTE!" as he exited the field. The 39-year old tipped his cap to the crowd as he departed from the game.
The target date for Pettitte has roughly been May 10, and with that date just four days away, I could see Pettitte getting called up for the May 11 game, a Friday night game at Yankee Stadium against the Seattle Mariners.
After the start, I'm sure Joe Girardi and Brian Cashman will sit down with Pettitte and see how he's feeling before going forward with his call-up to the majors, but I expect that will be the next move.
Surprisingly, Phil Hughes pitched well on Sunday against the Royals, so he might be able to hold onto his job for a little longer and if Pettitte does rejoin the rotation, David Phelps might either get demoted to the bullpen or sent back down to Triple-A.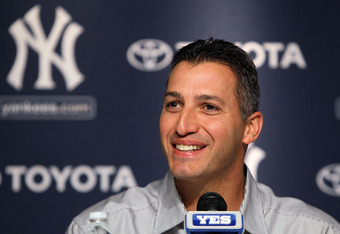 Jim McIsaac/Getty Images
While Pettitte wasn't picture perfect in these latest starts, these were his spring training games that most would pitch in March. Everyone at one point or another gets knocked around while in spring training.
Plus, despite the fact that he was off for the entire 2011 season, Pettitte is still showing he can get hitters out.
With the Yankees' rotation looking shaky, Pettitte's return is a huge one and could be a spark that they need to get going.
Ever since the middle of March when Pettitte announced he put off retirement to take a one-year, $2.5 million minor-league deal, fans all over have been anxiously waiting for Pettitte's return.
If everything goes to plan, the lefty could be back in pinstripes very soon, maybe even this week.
Stay tuned, Yankees Universe.