WWE/TNA/ROH: Top 10 Moments of the Week (April 29-May 4)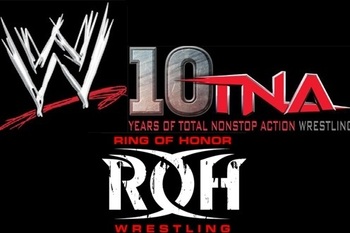 Another week of professional wrestling has come to an end and what a good week it was.
WWE presented Extreme Rules last Sunday and it was a great show from beginning to end!
WWE Monday Night Raw delivered a decent show. It started out strong but I started to lose interest as the second hour progressed and setting up John Cena vs. John Laurinaitis for Over the Limit didn't help matters.
TNA Impact Wrestling also delivered a decent show. The first hour was very bland and lackluster and I almost set the DVR to watch the rest later because of it. The second hour picked things up, though, and saved the Thursday night show.
I unfortunately didn't have the time this week to catch ROH Wrestling. It's because of that that they won't be included this week. (They will be returning next week).
WWE Friday Night SmackDown delivered a good show. It featured some good matches, including a decent Divas match. The abrupt ending to Layla/Natalya is what ultimately got it bumped off the list, though.
Extreme Rules was without a doubt the show of the week, but when it comes to the regularly televised shows, I have to give to SmackDown.
While the Friday night show doesn't have as many moments as Raw or Impact Wrestling, overall I thought it was the better show.
Here are my top 10 moments of the week!
No. 10: The Miz vs. Santino Marella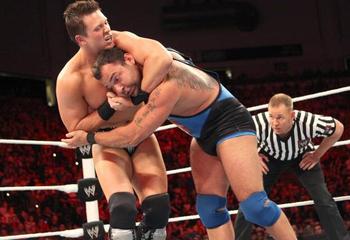 wwe.com
I thought this was a good match between the two. It featured some nice action and had a quick pace to it.
It was great to see the Miz actually win and get back into the title hunt. While I wasn't into his first reign as champion, the WWE Championship scene is in desperate need of some more faces.
Since losing the title, the Miz has fallen far. While I didn't like his reign too much, I loved him as a heel.
The Miz was the best heel to hit the WWE in a while, as he had the ability to get under the crowd's skin with his mic work and upset them by simply walking to the ring. He was a hell of a bad guy but his momentum died when he lost the title to John Cena.
The Miz needs the chance to climb his way back to the top. If that happens, I think we could see the Miz as WWE champion by the end of the year.
As for Santino, the Italian superstar is a great talent and it showed here. When he's allowed to put the comedy aside, the United States champion can put on a good match.
I think he's one of the more talented guys on the roster but is not always allowed to showcase his skill. While I don't think he'll ever be world champion, Santino makes a sold mid-carder and he thrives at it.
No. 9: Randy Orton vs. Jack Swagger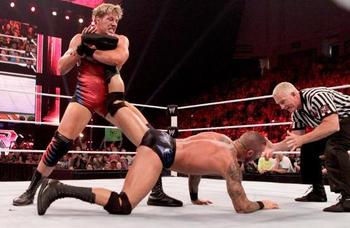 wwe.com
The problem I have with the Beat the Clock Challenge is that matches are forced to be short. Most of the time a short match is never too good, but I thought this match between Orton and Swagger was an enjoyable one.
The shortened time had them working at a faster pace and it produced some good action as both men performed well.
For the first time in quite some time, Swagger was made to look like a real competitor. He had the Apex Predator down many times during the match and I thought that the former world champion was actually going to win.
I wasn't surprised that he lost, though, but the point is that he was allowed to actually perform. The All American American is a great talent inside the squared circle but he's not always allowed to show it due to whatever storyline he's involved with.
His feud with Brodus Clay right now isn't doing him any favors, but it's matches like this that remind me that he can really wrestle a match when given the chance to.
Orton was good as well and I was glad to see him sort of back in the title hunt. I think the Viper is boring in random feuds so I'd like to see him back in the title hunt.
I don't necessarily want him to win the title, but I least want him to be a contender again.
No. 8: Jeff Hardy vs. Rob Van Dam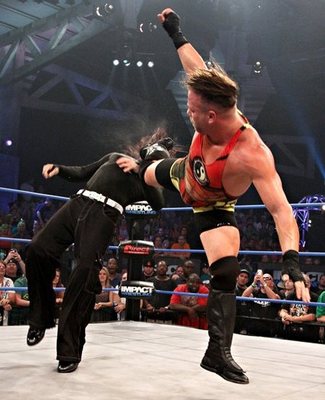 impactwrestling.com
I thought this was a good match that featured some nice even action throughout. These two have faced off so many times in the past that they know each other quite well in the ring. It's that chemistry that enables them to produce a good match.
When Hardy returned late last summer after the Victory Road debacle, I wasn't ready to give him another chance yet. He's screwed up so many times that he's already lost his final chance with some fans.
I wanted to see him prove that he deserves one final chance and he has been doing that by consistently performing well in his matches. He seems to be clean every time he walks into the ring.
I don't think he should ever have the TNA world title again, though. While I believe he has earned this last chance, Victory Road 2011 was a huge embarrassment for TNA and they'd be foolish to ever trust him again with the title.
I'm fine with keeping him in the main event and giving him the occasional title shot, but putting it around his waist again could prove to be a mistake in the long run.
As for Rob Van Dam, well, he was RVD. Nothing more, nothing less.
His style meshes well with Hardy's, so it worked well here. His upcoming world title match with Bobby Roode may be a train wreck, though. Roode is a great in-ring talent but Van Dam doesn't know how to adapt to different styles of wrestling.
I just don't think he and Roode will connect in the match.
No. 7: Kane and Cody Rhodes vs. Randy Orton and the Big Show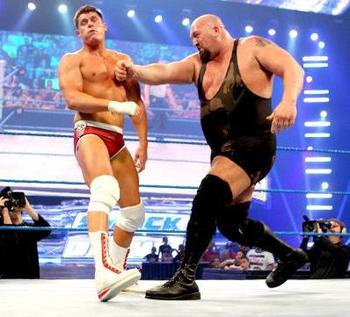 wwe.com
Sometimes I get tired of seeing the typical WWE tag-team match. When one occurs we often see the faces control the beginning, their counterparts dominating the middle, only to see the hot tag change everything and result in the face team picking up the victory most of the time.
It gets boring after a while.
Despite this having some elements of that pattern, I thought this was a good tag-team match. Neither team dominated for an extended period of time, creating a good back-and-forth match with some nice action.
All four wrestlers performed great here and it made for an enjoyable match to watch.
I haven't liked the Kane/Orton feud since the start so you can imagine my disappointment that it's not over yet. They had their three matches, with Orton winning two; it's time to move on.
As for the Big Show/Rhodes feud, I wasn't sold on it right away. After WrestleMania, though, I began to enjoy it. Rhodes did a great job selling for Big Show and I've always enjoyed Big Show's angry giant faced character more than his other good guy personas.
Each of them owns a victory over the other so it's time for the rubber match at Over the Limit. While I enjoy the feud, I do not think it should continue after Over the Limit.
No. 6: Kurt Angle, Daniels and Kazarian vs. A.J. Styles, Samoa Joe and Magnus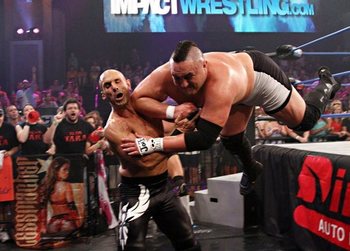 impactwrestling.com
Despite being disappointingly short, I thought this was a good match. It was very fast-paced which made for some nice action throughout.
I was completely fine with Kurt Angle fighting all three members of the face team as the majority of the action. Angle is still very good in the ring and anyone in there with him is able to produce something great.
This time around, it helped that all three faces are very talented wrestlers that meshed well with the Olympic champion.
He and Styles never disappoint in the ring with one another and seeing Samoa Joe back in there with him reminded me a bit of their matches from a few years ago. Magnus held his own against Angle as well and it was the face team and Angle that made this match an enjoyable one.
The involvement of Kazarian and Daniels really wasn't needed. As soon as they got in the ring things went bad for the heels and they immediately lost. They make a great team and I'm glad they're getting a shot at the tag titles at Sacrifice but this makes them look weak.
Not only did they lose rather quickly, but they were also screamed at by Angle afterwards. They're not looking like contenders at the moment and I hope that changes next week. It also doesn't help that they're feuding with both the champions and A.J. Styles.
The Styles/Daniels feud needs to end and Daniels and Kazarian need to concentrate on Joe and Magnus.
No. 5: Sheamus vs. Daniel Bryan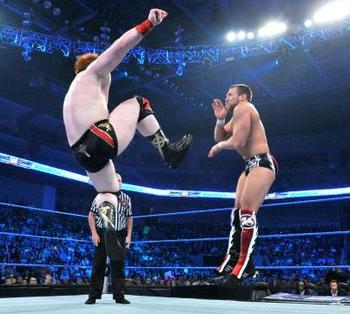 wwe.com
I really enjoyed this match. Featuring some good action, both Sheamus and Daniel Bryan put on an enjoyable match for the fans. What I liked most about it, though, was that it made Sheamus look like a human being.
Since he was drafted to SmackDown last year, the Celtic Warrior was made into a dominating force. He was a wrecking machine that mowed over everyone in his path.
When he won the Royal Rumble and challenged Daniel Bryan for the World Championship, I knew that it would carry over to winning the title. He did indeed win the title, and in dominating fashion.
When Bryan worked over the shoulder at Extreme Rules I was quite happy that Sheamus was taken down a few pegs and I was even happier with their match on SmackDown. Bryan dominated the majority of the match as he worked on the injured shoulder.
The former world champion did a great job as he targeted the injury while Sheamus sold it well. These two had a great feud and the matches they produced were great as well.
It's a shame that it's ending now but at least Daniel Bryan is still in the hunt for a world title.
No. 4: Brock Lesnar Takes out Triple H
wwe.com
The opening segment on Raw was boring me to death. There was nothing John Laurinaitis, Brock Lesnar or Triple H could have said that would have gotten me into the segment.
Then Lesnar attacked Triple H from behind and I woke up.
As Lesnar tried to beat down The Game, the chief operating officer of WWE fought back. I thought we were going to end up seeing a Pedigree but what ended up happening was much more intriguing.
Locking in the Kimura Lock, Lesnar "broke" Triple H's arm.
I was wondering how WWE was going to handle Lesnar's limited dates and I got my answer here. What interests me most is that it looks like Lesnar's next feud is with Triple H.
The Game could be "out of action" for up to 10 weeks so he won't be returning until July, June by the earliest. In other words, he'll be back just in time to pick the feud up for SummerSlam.
This could be a very intense feud that I am quite interested in once it does pick back up.
No. 3: The Austin Aries/Bully Ray/Jeremy Borash Segment
How do I even describe this segment? Every time Austin Aries and Bully Ray are in the ring together they produce pure gold.
Starting backstage with Bully Ray bullying Jeremy Borash, they ended up in the ring where Aries soon made the save. Both Aries and the bully were great on the mic and Borash played the victim very well.
I don't think Borash gets the credit he deserves sometimes. The man is good at what he does! I'd like to see him as an on-screen character more.
This segment was the best part of Thursday's Impact Wrestling as all three men gave very strong performances.
I have loved this feud between Aries and Bully Ray. The former Dudley boy plays the bully role very well and has developed into one of the best heels today. His mic work has been solid and some of his matches were the highlight of 2011.
Then you have Austin Aries, a man who is much smaller than the average wrestler but calls himself the "greatest man who ever lived." His cocky attitude is clashing big time with Bully Ray and they have produced great segments over and over again.
In fact, since this feud began, I think each and every segment has made this list on the week it has shown.
With the return of Abyss undoubtedly imminent, I fear that this feud is going to end at Sacrifice. I don't want it to as I think this could be the feud of the summer if done right.
My only gripe is that the X-Division is taking a backseat as the champion is involved outside the division. TNA should take the title off of him so that the X-Division can get back on track and so Aries can further his journey to main event status.
No. 2: CM Punk vs. Daniel Bryan for the WWE Title is Set for Over the Limit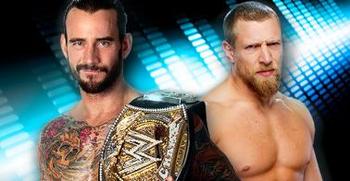 wwe.com
What could possibly be better than a CM Punk/Chris Jericho feud? I found my answer Monday on Raw: a feud between CM Punk and Daniel Bryan.
Upon defeating Jericho for a second time, a Beat the Clock Challenge was set up on Raw with the winner challenging Punk for the WWE Championship at Over the Limit.
The former world champion shattered the time and the match was set.
These two wrestlers have faced off a few times but the match was either short or ended with some kind of dirty finish. The full potential of a Punk/Bryan match has yet to be explored.
They have feuded before on the independent circuit but WWE never pulled the trigger on it until now. I really hope that this isn't going to be a onetime thing, though.
I want to see these two go at it in a big way with the feud coming to an end at SummerSlam. Punk and Bryan could produce the best matches of 2012 and I hope they get the opportunity to do so.
No. 1: Extreme Rules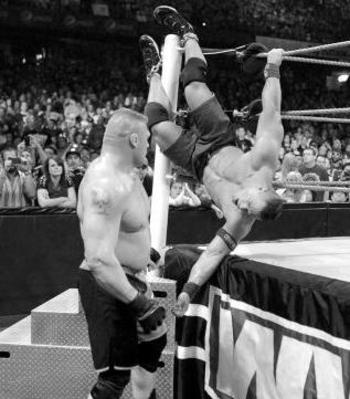 wwe.com
What can I say about this pay-per-view that hasn't already been said?
With the exception of the Brodus Clay/Dolph Ziggler match and the random Ryback squash, this was a terrific PPV.
Whether it was the falls count anywhere match between Randy Orton and Kane, the 2-out-of-3 falls match and street fight for the World Heavyweight and WWE Championships or the intense extreme rules match between Brock Lesnar and John Cena, this PPV delivered in a big way.
Each match delivered in its own way on this card and it made for a very enjoyable PPV to watch.
With WrestleMania XXVIII and Extreme Rules being as good as they were, I think the WWE Universe is in for one entertaining summer.
Keep Reading