2012 NBA Mock Draft: Jared Sullinger and 1st-Round Picks with Lowest Ceilings
May 7, 2012
Chris Graythen/Getty Images
For all the players that are sure to grow from this year's 2012 NBA draft, there are also those high-risk talents that teams know don't have much potential to improve in the league.
Ohio State's Jared Sullinger is one of those players, as his lack of height will hurt him significantly at the power forward spot.
As we know from each and every draft, there are always those first-round players, even lottery selections like Sullinger, that fail to produce much at the next level.
This is a look at the entire first round, highlighting those three players with the lower ceilings to grow in the league.
Note: Although picks have not been arranged yet, these are based on lottery odds and team's records this season.
1. Charlotte Bobcats: Anthony Davis
Anthony Davis is easily the most talented, dominant big man in the draft class. It simply goes without saying.
2. Washington Wizards: Michael Kidd-Gilchrist
If one thing is for certain, head coach John Calipari breeds some outright ballers. Make no mistake about it, Kidd-Gilchrist is the real deal.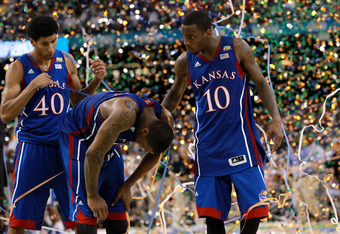 Ronald Martinez/Getty Images
3. Cleveland Cavaliers: Thomas Robinson
More important than his solid production, Robinson gets a major nod with his ability to help his team win basketball games.

4. New Orleans Hornets: Jared Sullinger
With Ohio State, Jared Sullinger put on a show. In his final season with the Buckeyes, Sullinger posted 17.5 points and 9.2 rebounds per contest.
Yet Sullinger is also the type of player that could be what some would refer to as a "bust" at the next level. In his final season with the team, it was interesting to see that his rebounding numbers in fact went down, as two seasons ago he was averaging 10.2 a game.
Not to mention, when it came to leading his team to wins, Sullinger seemed to crumble under the pressure. In the team's loss to Kansas in the 2012 Final Four, the power forward posted just 13 points on 5-of-19 shooting the ball.
5. Sacramento Kings: Bradley Beal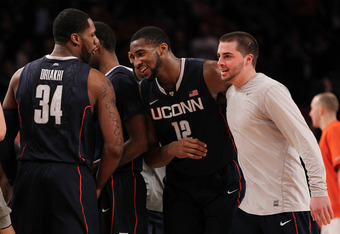 Michael Heiman/Getty Images
Beal, a young, especially talented guard, has the potential to rock the NBA. A backcourt with him and Tyreke Evans will scare opponents to the bone.
6. Portland Trail Blazers (via Brooklyn Nets): Andre Drummond
Drummond is a whopping 6'10'', 250 pounds and just 18 years of age. To say he has potential is a major understatement.
7. Golden State Warriors: Austin Rivers
Alongside Stephen Curry, Rivers has the potential to be the second coming of Monta Ellis in Golden State. Marc Jackson would be ecstatic to have a monster PG like Rivers in gold.
8. Toronto Raptors: Harrison Barnes
Harrison Barnes has a plethora of talent and can undoubtedly score the basketball, yet in the biggest of games this season, this was the one North Carolina Tar Heel that consistently failed to show up.
In three of the four games in the tourney, Barnes shot 36.8 percent or less, including a horrific 3-of-16 performance against Ohio.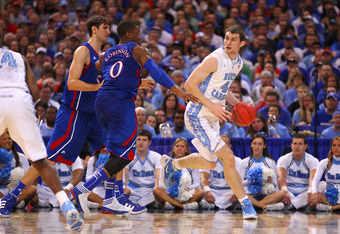 Dilip Vishwanat/Getty Images
As an undersized, lighter forward, Barnes will certainly have to hit the weights in order to improve his game on the court.
With a scorers mentality and questionable shot selection, Barnes may well prove he is not ready for the transition to the NBA.
9. Detroit Pistons: Tyler Zeller
A Monroe-Zeller combo in the post will have teams hoping they come out of the painted area alive...on both ends of the floor.
10. New Orleans Hornets (via Minnesota Timberwolves): Kendall Marshall
Marshall is not only the best PG in the draft, but also the one point guard that is ready to take a starting job upon being drafted.

11. Portland Trail Blazers: Damian Lillard
With Brandon Roy, Andre Miller and Rudy Fernandez no longer in Portland, Lillard is the ideal pickup and a promising one at that.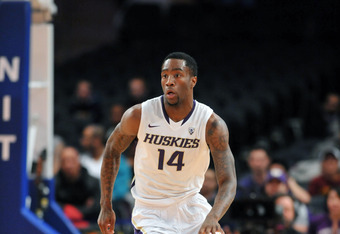 Jason Szenes/Getty Images
12. Milwaukee Bucks: John Henson
John Henson has the moves, raw talent and physical ability to give a team, like the Bucks, the recipe for a complete frontcourt in the future.

13. Phoenix Suns: Jeremy Lamb
Unlike former teammate Kemba Walker, fortunately Lamb will land himself with a solid basketball team that was just knocked out of the 2012 NBA playoffs.

14. Houston Rockets: Tony Wroten
In one to two seasons, Wroten will not only be a starting point guard in the league, he will be an especially good one. His scoring ability is unmatched by most in this year's NBA draft.

15. Philadelphia 76ers: Terrence Jones
The 76ers are young, quick and love that transition game. Coming from Kentucky, Jones fits right in with this bunch.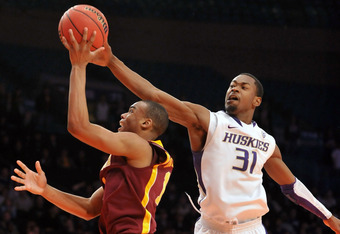 Jason Szenes/Getty Images
16. Houston Rockets (via New York Knicks): Meyers Leonard
The Rockets score big with two first-round picks, as Leonard is expected to be an immediate contributor in the league.

17. Dallas Mavericks: Terrell Stoglin
Terrell Stoglin could well prove to be the best scorer of any rookie in this year's draft. This Terrapin can outright ball.
18.  Minnesota Timberwolves (via Utah Jazz): Terrence Ross
As talented as Terrence Ross is, it is difficult to fathom Ross improving significantly at the next level.
The Huskies' 6'6'' guard is an outright beast when it comes to scoring the basketball, yet when it comes to playing defense and using his teammates offensively, there is plenty Ross needs work on.
Based on the type of player he is, there is no question he will have an immediate impact in this "scorer's league," yet soon enough fans will find this is a player that won't develop to be much more than a scorer.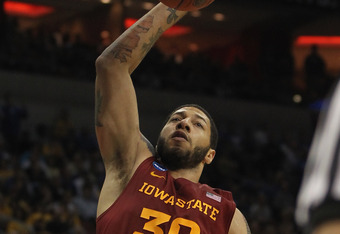 Jonathan Daniel/Getty Images
19. Orlando Magic: Arnett Moultrie
The Magic love their quality scoring threats, as that is exactly what Moultire brings to the table.

20. Denver Nuggets: Perry Jones
Perry Jones may slip to the 20th pick, yet don't be surprised if he's a top-10 selection when it's all said and done. This guy has talent.

21. Boston Celtics: Quincy Miller
Could Miller be Paul Pierce's eventual understudy at small forward? The Baylor product will be only 19 years old when the next NBA season begins.
22. Boston Celtics (via L.A. Clippers): Fab Melo
Without Fab Melo, Syracuse was far less of a competitor. He will give the Celtics a major boost in the rebounding department where they struggle ever so much.

23. Atlanta Hawks: Dion Waiters
Don't let a poor shooting night against Ohio State in the Elite Eight fool you, as Waiters can play. The sophomore averaged nearly 13 points per game on 47.6 percent shooting last season.
24. Cleveland Cavaliers (via L.A. Lakers): Royce White
White is one of the more underrated players in this first round, boasting quality play at the SF spot.

25. Memphis Grizzlies: Moe Harkless
Make no mistake about it, this guy has talent. Harkless is far underrated and will be a quality starter, with time, in the league.

26. Indiana Pacers: Jeff Taylor
The small forward gives a player like Danny Granger fresh legs, as there is no real strong bench player behind him in the rotation.

27. Miami Heat: Draymond Green
Talk about a player with potential. Green will be a force in the league, and give the championship-contending Heat all the more firepower on both ends.
28. Oklahoma City Thunder: Tyshawn Taylor
Kansas' Taylor might just be giving Westbrook a run for his money at the PG spot. Seriously.

29. Chicago Bulls: Marquis Teague

His brother continues to dominate in Atlanta, as there is no question Marquis can do just the same at the next level.

30. Golden State Warriors (via San Antonio Spurs): Andrew Nicholson
You may remember Andrew Nicholson as the man who almost led St. Bonaventure to a 14-over-3 upset against Florida State before some questionable refereeing calls destroyed the Bonnies' momentum down the stretch. Nicholson can play—the power forward went for 20 and seven against the ACC champs.