Mayweather vs. Cotto: Where to Catch the Superfight Replay
May 6, 2012

Ethan Miller/Getty Images
Floyd Mayweather and Miguel Cotto provided plenty of thrills last night, but if you weren't willing to cough up $65 or watch it at a rowdy bar, you probably missed it.
But boy do I have good news for you.
HBO, with all of its pure generosity, will be showing a replay of the megafight on Saturday, May 12 at 10:15 p.m. EST. If you don't have HBO, I'm sure you can find a friend who has it and is kind enough to let you watch.
Here's a look at what you should look for on Saturday when you catch the replay.
Money's Entourage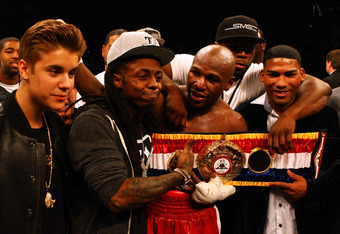 Al Bello/Getty Images
It sure wasn't Eric, Turtle and Drama, but Money May's entourage was quite awesome. Or terrible. Or hilarious. Or interesting, as the Nuggets' Wilson Chandler put it.
Triple H, Bieber, and 50... What an interesting entourage lol

— Wilson Chandler (@wilsonchandler) May 6, 2012
That's right. Justin Bieber, Triple-H, and 50 Cent all accompanied Mayweather to the ring while holding his belts. It might just be the most interesting mix of people in the history of people.
Make sure you don't miss it. 
Floyd Mayweather's defense
It's the stuff that words can't really describe. Cotto tried being patient, he tried sitting back and he tried attacking with ferocity.
None of it worked. 
Junito eventually won a few rounds, but only then it seemed like Money was toying with him. The fight ended up being fairly close, but it was never in doubt because you just knew Cotto wasn't going to get to Mayweather enough.
Money's defense and lightning quickness might be the best in the history of boxing. That alone is reason to watch the replay.
Alvarez-Mosley
With all due respect to Mayweather and Cotto, Canelo Alvarez versus Sugar Shane Mosley was easily the fight of the night.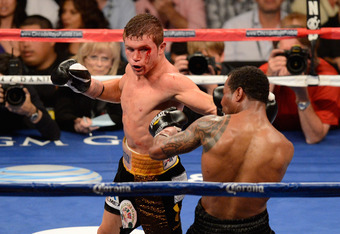 Ethan Miller/Getty Images
Mosley, despite being 40 years old, looked very much in shape and really brought it against the 21-year-old Alvarez. He connected with a lot of good punches, but unfortunately for him, that left him open for a beating.
And a beating is exactly what Canelo gave him.
The 12 rounds were about as exciting as possible, and if you like action, don't miss this fight, which will be a contender for Fight of the Year.