NHL Playoffs 2012: Braden Holtby and Top Goaltenders This Postseason
May 6, 2012

Patrick McDermott/Getty Images
Once again, as is always the case, top goaltending in the NHL playoffs undoubtedly gives teams the best chance to put together a deep postseason push.
It's teams like the Washington Capitals and L.A. Kings that have continued to impress from the start of the 2012 NHL playoffs.
Capitals talent Braden Holtby couldn't be performing more effectively for Ovechkin and company, as the team is tied at two games apiece with the top-seeded New York Rangers.
Here are  the top three goalies in this year's postseason.
No. 3: Braden Holtby, Washington Capitals
Holtby wasted no time making an impression on the league after receiving an opportunity to start in goal for the team this season.
His .933 save percentage is the fifth-best of any goalie in the NHL playoffs and is the fourth-best of any goaltender whose team is still in title contention.
More importantly, Holtby is giving his Caps a chance to take down the No. 1-seeded Rangers and is giving Washington Stanley Cup title hopes. If not for Holtby, there is no question the Capitals get bounced in the first round by the Boston Bruins.
No. 2: Mike Smith, Phoenix Coyotes
Smith has been on a tear as of late, putting up a whopping .952 save percentage in his last five outings.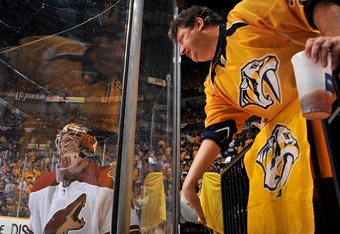 Frederick Breedon/Getty Images
In his last start, Smith helped his Coyotes to a 1-0 victory with an impressive 25 saves on 25 shots. The shutout was the second for Smith this postseason.
If Smith can continue to bring it in the net, the Coyotes will undoubtedly take care of the Predators in the conference semifinals.
No. 1: Jonathan Quick, L.A. Kings
Quickly, Jonathan Quick is getting more recognition around the league with his outright impressive performance this postseason.
Quick, with his save percentage of .948, is second behind Vancouver's Cory Schneider, and he's No. 1 of the goaltenders remaining in the postseason.
The top-notch goalie led the Kings over the Vancouver Canucks and now has his Kings on top of the Saint Louis Blues in a hurry, up 3-0. Quick and the team have allowed just five goals through the first three games of the series.
Make no mistake about it, this goalie is clearly putting together the most solid performance of any goalie in the NHL playoffs.