Mayweather vs Pacquiao: What Pacquiao Must Do to Make Super Fight Happen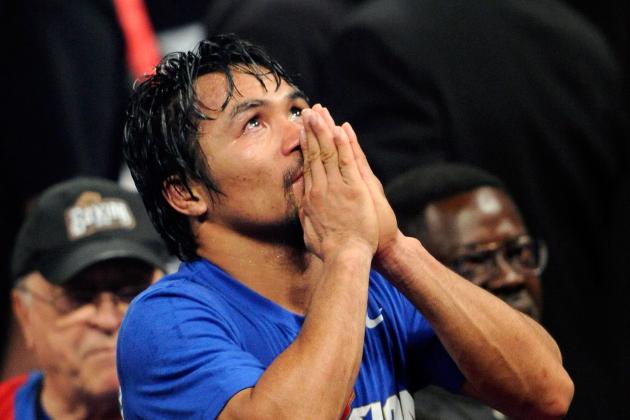 Ethan Miller/Getty Images
Manny Pacquiao
Manny Pacquiao must do more on his part to make the super fight with Floyd Mayweather happen, because Mayweather is not budging to bring this fight into fruition.
To make this event, a humbled Pacquiao (54-3-2, 38 KO) will have to forgo ego from his accomplishments and maneuver himself in the ring with Mayweather (43-0, 26 KO).
They are each other's greatest rival and must face each other at least once before their Hall-of-Fame careers come to a close.
This is a fact Pacquiao has come to terms with, hence his acceptance of Mayweather's random blood-testing and his concession to a 50-50 split of the fight revenues.
Here are five more things Pacquiao can do to make the super fight with Mayweather.
Begin Slideshow

»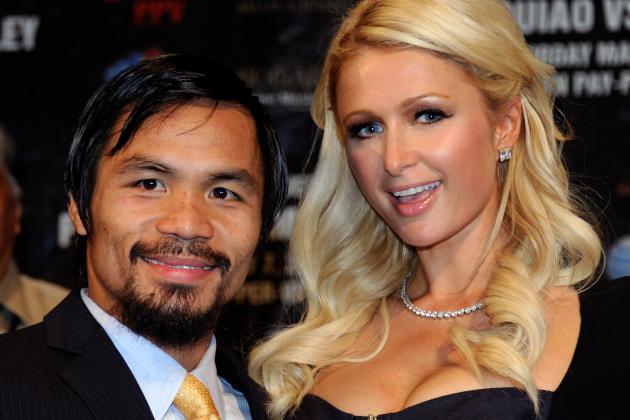 Ethan Miller/Getty Images
Manny Pacquiao and Paris Hilton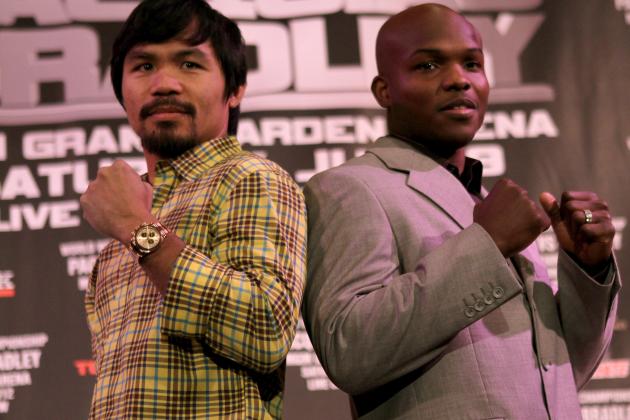 Stephen Dunn/Getty Images
Manny Pacquiao and Timothy Bradley
Manny Pacquiao must be impressive against his next opponent, undefeated American Timothy Bradley (28-0, 12 KO), but he must make it look as hard as Mayweather's fight with Cotto.
Pacquiao can't afford to pull a Rick Hatton Round 2 blowout. Mayweather is coming off the toughest fight he's had in at least five years to a decade.
Seeing his rival blow out a fellow undefeated Black American may make Mayweather think twice about getting in the ring with him.
When KRS-One got with Kool Moe Dee, MC Delight and many other popular rappers of the late 1980's to make the anti-gang violence anthem "Self-Destruction," it was with a purpose.
Seeing that Floyd Mayweather attracted the likes of Justin Beiber, Lil Wayne and best friend 50 Cent to the ring to see him fight Miguel Cotto, that begs the question of who Manny Pacquiao can attract?
Pacquiao loves to sing, so he could sing the hook while known Mayweather-hater Rick Ross can lay down the rap verses with maybe a few artists from his Maybach Music label.
The song doesn't have to be ugly. In the 1960's, heavyweight contender Ernie Terrell made a song that he performed on live television to try to lure Muhammad Ali into a fight.
The song worked, unfortunately for Terrell, who got the beating of a lifetime for making the song.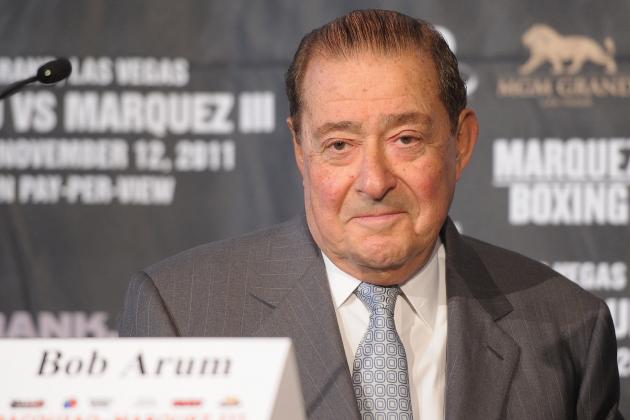 Michael Loccisano/Getty Images
Bob Arum
Oscar De La Hoya left Bob Arum's Top Rank Promotions to make more money.
Floyd Mayweather left Bob Arum to make more money.
Miguel Cotto left Bob Arum to make the highest purse of his career.
Using lawyers, contract loopholes and determination, all three of these superstars left Bob Arum.
Why is Manny Pacquiao the only elite fighter left on Top Rank? Were De La Hoya, Mayweather and Cotto all just all prima donnas? Or are these three great fighters onto something?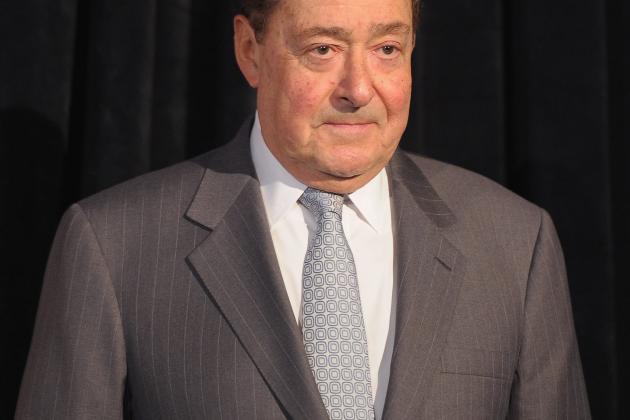 Michael Loccisano/Getty Images
Bob Arum
Bob Arum and Mayweather have too much bad blood. Arum is old and stuck in his ways. Mayweather is stubborn and unwilling to compromise.
Todd duBoef is the president of Top Rank, and he's half Arum's age. Perhaps the younger businessman can be the voice of reason in the next round of negotiations for the super fight.
DuBoef is willing and ready; Arum just needs to give the call and sit down. If the fight still can't be made after DuBoef's involvement, then Mayweather-Pacquiao not happening is not Arum's fault.