Liverpool FC: Thank You, Kenny Dalglish, but It Is Time for You to Resign
May 7, 2012

Jamie McDonald/Getty Images
Those familiar with my articles and posts on the Liverpool page of Bleacher Report will know I am a huge fan of Kenny Dalglish. I always have been.
As a player that replaced my very first Liverpool hero, Kevin Keegan, Dalglish has a special place in my football heart; the same can be said for many Reds fans.
His exploits as our most famous and successful No. 7 are legendary. His unassailable status as a Liverpool legend were cemented as he moved on to manage the Reds to three league titles and two FA Cups. His return to the Liverpool dug out after Roy Hodgson's departure in January 2011 was exactly what the Reds needed.
Dalglish plugged the leaks to a ship taking on water rapidly and became its rudder once it stabilised. He was the steadying calm influence that the club needed.
Liverpool needed the hand of an experienced Liverpool man to bring the club back to its roots and begin what was an inevitable re-building programme.
Dalglish signed young players of great promise that would provide the Reds with quality that has not been evident up 'til now, but may well yet pay dividends in seasons to come.
Much has been written of the mistakes that these signings are. Without dwelling on this aspect of his latest tenure at the helm of Anfield, there are other reasons to why Dalglish should now step aside.
Clive Brunskill/Getty Images
Always maintaining that the interests of the club are higher than his own, Dalglish cannot hide from the fact that remaining as Liverpool manager into next season would be contradicting himself.
Dalglish has taken Liverpool Football Club as far as he can take it and it is time to pass custodianship of his beloved Reds on to another. Whom that could or should be is a question for another day, but Liverpool need fresh ideas.
The Scot will point to the extraordinary number of times that Liverpool have hit the woodwork in games this season, and even if half of those have been the other side of the post or bar, Liverpool could well be in the mix challenging for Champions League places.
Despite this statistic, Liverpool's tactics, lineups and substitutes have been questionable this season. The latest of which was the exclusion of Liverpool man of the match Andy Carroll in the FA Cup final.
Carroll's confidence has grown as the minutes he has spent on the pitch have increased.
Liverpool's attack against Chelsea was easily snuffed out by their powerful defenders, and it was not until the big man's introduction into the final that the Reds started to look threatening. Surely Carroll should have been in the starting line up.
Carroll played like a man with a point to prove to his manager. To him, it would have felt like the Dalglish did not have enough confidence in the striker. If Carroll is to be nurtured and developed, he needs playing time, especially in big matches.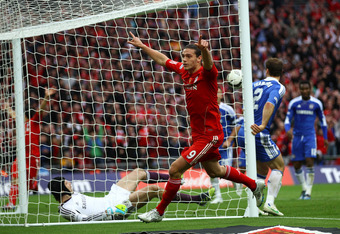 Clive Brunskill/Getty Images
Tactics and strategy comes from the manager; despite Steve Clarke being at his side, it is Dalglish that makes the decisions and, sadly, on numerous occasions this season he has come up short.
Much has been said of Dalglish not being in touch with the modern game and that his experience is outdated. Times have changes, as has the game of football, but at the time of his appointment Dalglish was what Liverpool needed.
Nearly a year and half on from that time, the Reds' requirements have changed and moved on.
No longer is a steadying of the ship that is needed. It now needs an unfurling of its sails and Dalglish, it seems, does not have his hands on the ropes.
The Liverpool legend may yet still have so much to offer the club in other senior management roles.
Dalgish will forever be loved by Liverpool fans and none would like to see him being asked to leave. He should do the honourable thing now and put his words into actions. It would serve the club better if he resigned his position as Liverpool manager.