Manchester City 2-0 Newcastle: The Poetics of Yaya Toure's Goal
May 6, 2012

Michael Regan/Getty Images
It could not have happened any other way.
It was 70 minutes into the match at Tyneside between two clubs looking to recapture some of the glory of their past. Newcastle needed a result to keep pace with Arsenal for that third-place finish, leaving no doubt for Champions League next season.
Manchester City were attempting to end the long-suffering woes of two generations and, more importantly, better their local rivals Manchester United.
Then there it was, three touches, with the final one being an absolutely inch-perfect pass from City midfielder Yaya Toure, just around the outstretched hand of Newcastle keeper Tim Krul, into the net and history.
Manchester City are now three points up on Manchester United, with the Red Devils kicking off later today. However, City's far superior goal differential gives them the undeniable upper hand should the two sides finish level on points.
Oftentimes, the value of sports can be lost in the increasingly abstract voids money, politics and greed have created in modern athletics. The journeymen of our father's era, those tied to clubs both legally and morally, are no longer the norm. Even Toure himself is a product of necessity and wealth, with clubs attempting to buy him to suit their needs to trophies.
But unlike many others, Toure has never lost the character of who he is in these transfers. Never bitter at Barcelona deciding to part ways with him after he helped them to a historic treble, he plied his trade of being a hard-working and industrious player with a club starting over, needing that engine in the midfield that would drive the exotic makeup of craft and talent that would define their new brand.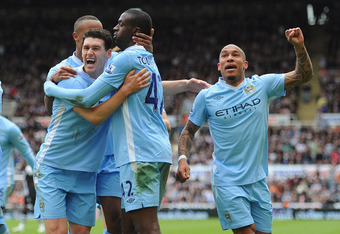 Michael Regan/Getty Images
However, it was not only the result that needs recognition, it was the goal itself. The ease with which Toure scored it, not blasting it from 30 yards out or attempting to dribble it into the back, but rather keeping it simple, modest and humble, his personality put into a shot.
It was only fitting that the one player City relied on all season to be consistent and hold up his end of the bargain was the one who won it all. Not the much-maligned Carlos Tevez, the controversial Sergio Aguero or inconsistent form of David Silva. It was the engine, the one thing that makes it all go, from the first match day to when they hoist the trophy at season's end.
It was a subtle reminder that the sublime still exists, that out there is something keeping the game true and right, making it viable for us to watch.
Toure would go on to score a second goal very late in the match to secure the three points likely the title. But it means very little in terms of importance as the first, as that is the one that will echo loudly in the halls of the Etihad as they attempt to build a new history their fans can be proud of.
For all my articles, follow me on Twitter: @thecriterionman