Kentucky Derby 2012 Results: Recapping the Exciting Action from 138th Race
May 6, 2012

Andy Lyons/Getty Images
With the 2012 Kentucky Derby in the books, it's time to recap all of the exciting action from the 138th running of the annual event.
As much as it hurts that the event is only two minutes, it's the whole atmosphere of the week leading up to the race that makes it as special as it has become. Add in the Mint Juleps and big hats and you have a wild party.
All of the following storylines made the Derby a blast, but there is so much more to experience if you are actually live at the event. Nothing says an abundance of alcohol like nice clothes and heat!
I'll Have Another's Dream Run
With Union Rags as the favorite and Bodemesiter leading the charge of six more horses that could steal the show, the eventual winner was…I'll Have Another???
The 14/1 long shot was coming out of the No. 19 post which never won a Kentucky Derby before, so it was understandable that most people thought his chances were bad. There were some believers in the horse, though.
I'll Have Another's jockey Mario Gutierrez told NBC Sports after the race:
He's an amazing horse. I kept telling everybody, from the first time I met him, I knew he was the one. I knew he was good. I said in an interview, even if they allowed me to pick from the whole rest of the field, I would have stayed with him, 100 percent, no doubt about it.
One of the best parts of each Derby is the amazing stories that accompany every horse, every owner and every jockey. When it all comes together in a magical way like it did with I'll Have Another, it makes watching it all well worth it.
Bodemeister Losses With Excellence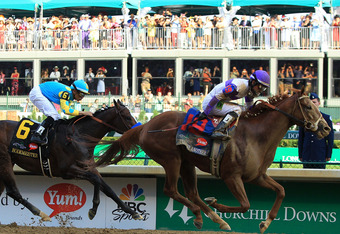 Travis Lindquist/Getty Images
While the loss in the last few hundred feet would be heartbreaking for most owners and trainers, Bodemeister's crew of supporters knows what it's like to come up short.
Owner Ahmed Zayat has come in second place three times at the Derby and legendary trainer Bob Baffert's Kentucky Derby experience is second to none.
Baffert told ESPN after the race about Bodemeister's talents and how close he really was to a Kentucky Derby win:
He was doing it easily, he was within himself. He was being pressed but he's a brilliant horse, and that's the way he wanted to run. He ran his race and he was there; I was really proud of him. We got beat, but he showed up, and that's all that a trainer can ask for -- that his horse shows up on the big days.
As much as Baffert want to remain the good guy in this situation, another loss on the biggest stage has to be a heartbreaker. While Bodemeister has nothing to be ashamed of, his team was there to win it all and they did not.
Gambler's Paradise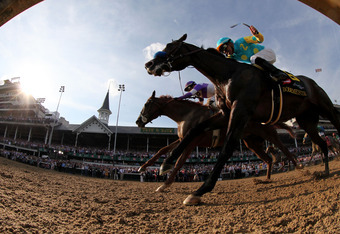 Rob Carr/Getty Images
This is the kind of huge payday that every gambler dreams of.
With I'll Have Another at 14/1 odds at the start of the race (according to Bovada), the bets on the horse would have paid off huge. If you had the trifecta, we'll see you when you get back from Cancun.
Kentucky Derby | Grade I | Purse: $2 Million | Distance: 10 Furlongs | Track: Fast
| | | | | | |
| --- | --- | --- | --- | --- | --- |
| No | Horse | Jockey | Win | Place | Show |
| 19 | I'll Have Another | Mario Gutierrez | $32.60 | $13.80 | $9.00 |
| 6 | Bodemeister | Mike Smith |   | $6.20 | $5.60 |
| 5 | Dullahan | Kent Desormeaux |   |   | $7.20 |
The 2012 Kentucky Derby was a dream for gamblers and horse-racing enthusiasts alike, and it was another successful year in the books. Let's hope I'll Have Another can give the fans a chance to see a Triple Crown winner.
Check back for more on horse racing as it comes, and check out Bleacher Report's horse racing page to get your fill of all things from the ponies.