Floyd Mayweather vs Miguel Cotto: Where Win over Junito Ranks Among Money's Best
May 6, 2012

Al Bello/Getty Images
The victory over Miguel Cotto was not only a telling one for Floyd Mayweather Jr.'s legacy. It was also one that ranked among the best.
Mayweather told reporters afterward, according to ESPN, that Cotto was the toughest opponent he had ever faced in his career.
In what was arguably the most anticipated fight of 2012, Mayweather and Miguel Cotto duked it out at the MGM Grand Garden Arena in Las Vegas, Nev., with Pretty Boy proving again just how dominant he is in the ring. Pretty Boy won through unanimous decision, as Cotto was able to hang around for the entirety of the bout.
Yet what makes this win all the more special is that it is one of several that makes the cut as one of the more defining, epic victories of Mayweather's career.
These are the three greatest triumphs—including the win over Cotto—in Pretty Boy's impressive career.
Mayweather Jr. Tops Oscar De La Hoya
Arguably the most memorable of any fight in his career, Mayweather would elevate his career light years with an impressive victory over the great De La Hoya.
De La Hoya goes down as one of the better boxing talents of our time, boasting a 39-6 record for his career, and had just four losses heading into the match against Mayweather.
Pretty Boy took this one in what was a decision, as this was one of the more difficult wins of his career at the time. De La Hoya would go on to lose to Manny Pacquiao as well before calling it quits in 2008.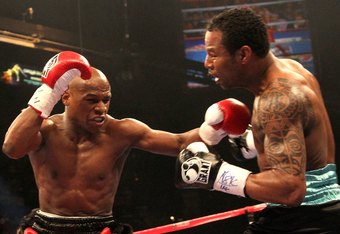 Jed Jacobsohn/Getty Images
Shane Mosley Lasts, Fails to Get the Nod
Mosley may have been in his late 30s when the great Mayweather got a crack at him, yet nothing can be taken away from a victory against as solid a fighter as Mosley has proven to be.
Mosley has a career record of 46-8, and was able to last all 12 rounds against both Manny Pacquiao and Miguel Cotto in matchups against the two talents.
Mayweather had arguably the best fight of his career in this bout. He landed 44 percent of his punches for the match and 46 percent of his power punches.
It was an effort that Mosley simply could not withstand.
Mayweather Extends Streak to 43, Defeats Miguel Cotto
Puerto Rican sensation Miguel "Junito" Cotto gave Floyd Mayweather his all in Pretty Boy's most recent outing.
In the words of Mayweather, it was the toughest match he had ever been a part of.
Mayweather landed nearly 180 punches in the match, and was able to withstand several hard blows from Miguel Cotto throughout the 12 rounds. Although some would say Mayweather looked a step slower than his usual self, now 35 years of age, there is no question who was winning this bout from the opening bell.
A streak that puts Mayweather's achievements in a new light, there is no question that the Cotto victory is the sweetest triumph of this talent's legacy.