Mayweather vs. Cotto Results: Pretty Boy Still 1 Step Away from Legendary Status
May 6, 2012

Al Bello/Getty Images
Floyd Mayweather and Miguel Cotto faced off in one of the more anticipated, epic boxing matches the sport has seen, with the "Pretty Boy" claiming the second middleweight title of his career at the MGM Grand Garden Arena in Las Vegas, Nev.
Mayweather would take the bout via unanimous decision, topping his opponent in what according to ESPN, he said was the hardest fight of his boxing career.
"You're a helluva champion. You're the toughest guy I ever fought."
Yet in spite of his greatness and the 43-match streak, Mayweather is one step away from claiming himself as the best pound-for-pound fighter of our generation. The next obstacle, of course, is to take on and take down boxing great Manny Pacquiao.
The Filipino legend is hands down the best fighter outside of Mayweather, boasting a 54-3 record and wins over some of the best in the business—Juan Manuel Marquez, Shane Mosley, Antonio Margarito—and yes, a victory over Miguel Cotto, too.
What makes Pacquiao such an impressive fighter is his ability to land big-time blows, yet do so in such an elusive, precise manner. Pacquiao is no heavy-hitting, knockout-seeking fighter.
He will get his fair share of knockouts, as 38 of his 53 wins have come via KO, yet it is his durability and stamina that make him such an impressive talent.
Mayweather, unlike Pacquiao, is yet to lose a bout. He is as strong, quick and impressive a fighter as this sport has ever seen. When it's all said and done, this will be a boxer that has his name up there with the best of them.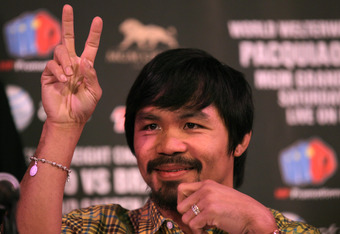 Stephen Dunn/Getty Images
Yes, even Mr. "fly like a butterfly, sting like a bee" Muhammad Ali, make no mistake about it.
Yet one must consider the following: Ali took on the great Joe Frazier II, Joe Louis took on Rocky Marciano and lost late in his career, and Tyson took on Holyfield.
Whether or not it is Pacquiao backing down or Mayweather fearing a potential defeat in what would tarnish his undefeated, near-flawless career, this fight will have to happen in order for the Pretty Boy to join the ranks of the greatest boxers of all time.
Mayweather may well go out on top without having to ever face Pacquiao. Yet make no mistake about it, even if he never records a loss, there will be a major asterisk in the mind of every sports fan if Mayweather and Pacquiao never square off.