Mayweather vs. Cotto: Boxing Champion Floyd Mayweather Makes Brutal Art
May 6, 2012

Al Bello/Getty Images
Floyd Mayweather Jr. puts on a show. Simply put, Mayweather is an artist. Life is his canvas. In his case it's one giant reality show, filled with more drama than a thousand Real Worlds, more custom made clothing than any season of Project Runway, all punctuated with occasional bursts of sporting brilliance.
More than a great fighter, he's a superlative entertainer, in a class that few have ever approached in sports history. Muhammad Ali, Joe Namath, Mike Tyson and the immortal Hulk Hogan—Mayweather absolutely belongs in that elite class.
Before he ever stepped into the ring, smiles were on millions of faces around the world. An entourage of pro wrestler Triple H, pop star Justin Bieber and rap impresario 50 Cent? Are you kidding me? Mayweather needed all of those hands to carry his huge collection of title belts, a product of his 43 professional wins.
For the first time in recent memory, Mayweather was pushed. Miguel Cotto, himself a future Hall of Famer, was able to bully Mayweather into the ropes and do some solid work. But to the surprise of many, Mayweather never tried to dance away. Instead, he stood his ground, carefully tracking Cotto's every punch with the military grade radar system he calls eyeballs, and beat Cotto at his own game.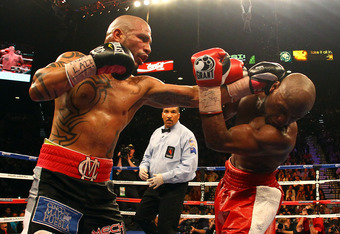 Al Bello/Getty Images
Cotto never yielded to Floyd's brilliance. That's something we've seen happen all to often in Mayweather fights. There is typically a moment when you can see an opponent deflate, pinpointing to the second they realize in their heart of hearts they can't win. Cotto never came to that realization. He fought until the end, and when the decision didn't go his way, he stormed from the ring rather than submit to Larry Merchant's presumably tortuous post-fight interview.
Sensing the vacuum, Mayweather conducted two interviews, one where he made amends with the legendarily cantankerous Merchant, and another where he charmed Jim Lampley and Emanuel Steward ringside.
All ears perked up when he mentioned a potential bout with Manny Pacquiao. Mayweather seems open to the fight, one boxing fans have been pining for. First there's the small matter of 90 days in county jail after pleading guilty to a misdemeanor battery charge after an altercation with his girlfriend in September 2010. 
What will the experience do to Mayweather? Will it ground him? Open his eyes to life's absurdity? Make him appreciate what he has? Will it make Floyd more likely to pursue Pacquiao and his place among the immortals? Or less? Nothing is ever boring in Floyd Mayweather's world. I'm just glad to share it for an hour or two.