2012 College Football: A Coach in Each Conference on the Hot Seat
May 5, 2012

Andy Lyons/Getty Images
Every year there are coaches whose jobs are safe, those whose jobs are in trouble and those in-between. Not all hot seats are equal.
Some schools are willing to give a head coach more time to develop.  Others want results.  Wins over rivals or ranked teams can have pull, but overall wins are usually the make-or-break stat.
Here's a conference-by-conference look at coaches who may be in trouble.
Sun Belt
Rick Stockstill, Middle Tennessee State
Perhaps 2011 was a fluke, but after a 10-3 record, including a bowl win, the school's first, in 2009, a fall to 2-10 could have Stockstill in trouble. 
He has a record of 35-40 over the last six seasons.  Another losing season would drop his record even further under .500. A winning record in 2012 could be enough to save his job. But back-to-back losing seasons and it could be time to say goodbye. 
WAC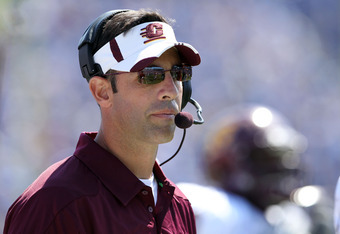 Andy Lyons/Getty Images
Robb Akey, Idaho
I actually believed Akey had a good chance to build something at Idaho.  After a couple of difficult seasons as the new coach, 2009 and 2010 looked very promising.  But in 2012, Idaho returned to what had become the norm, finishing 2-10. 
With a record of 19-43, Akey's job security is shaky at best. In fact, he may not make it through the season.
MAC
Dan Enos, Central Michigan
Inheriting a successful program can be difficult.  Brian Kelly built the program and Butch Jones sustained it. Central Michigan was the team to beat in the MAC for years. But with Dan Enos at the helm, the Chippewas have become the team to beat up on. 
Enos has a 6-18 record over two seasons, and two of those wins are over FCS teams.  That isn't exactly the record you want from your head coach. 
If 2012 goes the same way, even if the Chippewas were to earn a couple more wins, I have a feeling that Enos will be lucky to survive past this season.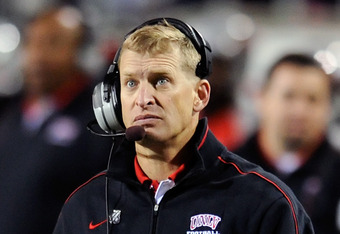 Ethan Miller/Getty Images
Conference USA
David Bailiff,  Rice
Oh, how long ago 2008 must seem.  That one season bought Bailiff some time, but the 10 wins he had in that season is as many as his team has amassed over the following three seasons. 
I can't say I follow Rice all that closely. But from what I have seen, 2012 looks another rebuilding year, meaning the Owls will be hard-pressed to have more than four or five wins this fall. 
Looking at the schedule, I could even see Bailiff out before November. 
Mountain West
Bobby Hauck, UNLV
Hauck was a championship-caliber coach at the FCS level.  He led Montana to the championship game in his final two seasons there. 
But UNLV is not the right place to get your first FBS head coaching job.  In his first two years, he has only won four games.
I'm not sure how much patience the school has. Maybe he will get more time. But if they are like most other schools, this could be Hauck's swan-song season in Vegas.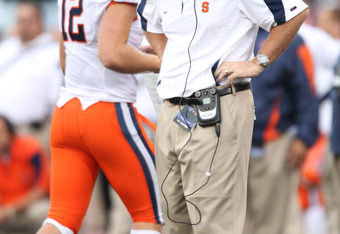 Otto Greule Jr/Getty Images
Despite this, I could see him landing another job sooner than the guys I have already listed.  His success at Montana can't be denied. 
Big East
Doug Marrone, Syracuse
I might be jumping the gun here a little, but Syracuse isn't exactly a school, at least in recent history, that people associate with winning in football.  Sure, they have winning seasons here and there and even get to an occasional bowl game. In three seasons under Marrone, Syracuse has had all of that—two losing seasons, a winning season and a bowl game. 
If Marrone, who is 17-20, can have his second winning season this fall, he would be safe for at least another year. But going back and forth from losing seasons to winning seasons every other year is not something most schools want.  They want to win consistently.
In a couple years, the Orange will leave the Big East for the ACC.  It would surprise me if Marrone made that move with them.
ACC
David Cutcliffe, Duke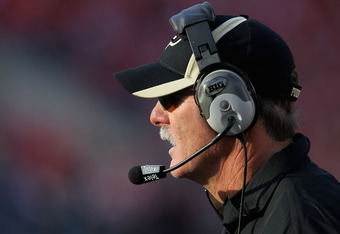 Jonathan Daniel/Getty Images
I know expectations for Duke football are lower than other places.  Duke always has been a basketball school.  Coming in either last or second-to-last every year in the Coastal Division of the ACC can't be making the powers that be happy.
Cutcliffe is entering his fifth season with the Blue Devils, and I can't say I see things going any differently that it has in the past.
Cutcliffe has a 15-33 record at Duke, and only six of those wins are in conference.  Duke has some key players returning in 2012, which could help them at least escape the bottom of the conference. But I don't see enough for them to escape the bottom half. 
If there is a lack of a bowl game this year, I don't think Cutcliffe can escape his fate. 
Big Ten
Danny Hope, Purdue
I actually like Hope and think he can succeed here.  He even led Purdue to a winning season and a bowl win last year.  So why him?  No one else in the Big Ten is on the hot seat.
So even though Jerry Kill at Minnesota and Kevin Wilson at Indiana had bad records, they have only had one season to turn things around. 
Hope is going into his fourth season with a 16-21 record.  I don't expect that he will have the Boilermakers in line to compete for the conference or even the division title any time soon, but another bowl is certainly obtainable.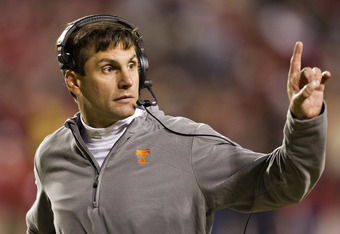 Wesley Hitt/Getty Images
Hope is on the list, but it's more like his seat is warm only because someone was sitting in it.
BIG 12
Tommy Tuberville, Texas Tech
More of a warm seat than a hot seat.  Texas Tech got a taste of what it was like to win under Mike Leach.  Under him, the Red Raiders never had fewer than seven wins in a season, never missed a bowl game and had their best records with three 9-win seasons and an 11-win season in 2008. 
In Tuberville's second season, all of that meant nothing.  A losing season? No bowl? This is not what Texas Tech has come to expect.
If the Red Raiders can rebound in 2012, Tuberville will be safe.  But if they have another season like 2011, expect loud grumblings in Lubbock.
Pac-12
Mike Riley, Oregon State
If anyone would have suggested this just three seasons ago, I would have laughed at them.  Riley appeared to be one of the nation's best head coaches, having taken a school like Oregon State to consecutive ranked seasons, bowl after bowl, and no fewer than eight wins in four consecutive seasons. 
But over the last two seasons, the Beavers have eight wins.  Their arch-rival Oregon has climbed to new heights, leaving Oregon State far behind.
The home team won in this rivalry for a decade before Oregon State was able to take two in a row in 2006 and 2007.  Since then, Oregon, has won four straight and looks like it will be favored this season. 
I am not sure what Riley's team will have to do in 2012 for him to keep his job.  More wins than last season would be a good start, along with a winning season and a bowl game.  Maybe beating Oregon would do it.  A repeat of 2011, however, would not be something Riley can afford. 
SEC
Derek Dooley, Tennessee
It came down to a one-win difference between Dooley and Joker Phillips at Kentucky.  I think expectations for football are higher at Tennessee than at Kentucky. 
To be honest, I didn't understand the hire in the first place.  Most schools look for up-and-coming types or proven coaches.  Dooley had all of three years at a lower-tier school where he turned in an overall losing record.  At Tennessee, he has not done any better.
I suppose it is one thing to be average at Louisiana Tech in the WAC and another to be average at Tennessee in the SEC. 
Dooley is 11-14 at Tennessee.  With some reshuffling of the conferences and the SEC itself, I can't say what I expect of Tennessee. But I do know if Dooley doesn't produce this season, Rocky Top isn't the only thing you will hear out of Knoxville.