Mayweather vs. Cotto: Predicting the Winners of Every Bout on the Card
May 5, 2012

Al Bello/Getty Images
The highly anticipated junior middleweight title bout between WBA champ Miguel Cotto and undefeated five-division champ Floyd Mayweather Jr. is just hours away, but that isn't the only action fans will see Saturday night from the MGM Grand in Las Vegas.
Besides the main event, there is the Saul Alvarez vs. Shane Mosley WBC junior middleweight bout, the Jessie Vargas vs. Steve Forbes welterweight fight and the Deandre Latimore vs. Carlos Quintana junior middleweight showdown.
Here are my predictions for the four fights that will take place tonight, live on HBO pay-per-view beginning at 9 p.m. ET.
Deandre Latimore vs. Carlos Quintana
At age 26, Deandre Latimore (23-3, 17 KOs)—fighting under Floyd Mayweather's promotion team, Mayweather Promotions—comes into the fight against Carlos Quintana (28-3, 22 KOs) on a three-fight win streak.
Quintana, on the other hand, has a 2-1 record in his last three bouts and hasn't fought in over a year. Quintana has fought some of the best the junior middleweight division has to offer—including Andre Berto, Paul Williams and Miguel Cotto—and has a 1-3 record against them, as he lost to Berto and Cotto, but split a pair of fights with Williams.
Quitana lays it all on the line when he fights, but I think the year layoff will affect his game and Latimore will walk away the winner via TKO.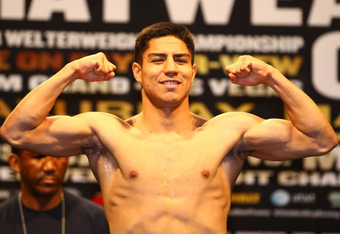 Al Bello/Getty Images
Prediction: Deandre Latimore via Round 8 TKO
Jessie Vargas vs. Steve Forbes
Jessie Vargas (18-0, 9 KOs), a 22-year-old rising star, has been under Roger Mayweather's wing ever since he decided to take up the sport of boxing at the young age of eight.
Vargas has gotten off to a superb start in his less-than-four-year-old professional boxing career, winning his first 18 fights, with half of those coming by way of knockout.
His challenger, 35-year-old Steve Forbes (35-10, 11 KOs), has been pro for 16 years and had his biggest success in the ring when he was part of ESPN's boxing reality show, The Contender. Forbes has been a journeyman boxer for most of his career, and has fought such big names as Oscar De La Hoya and Andre Berto.
Look for Vargas to continue his rise to the top of the welterweight division, beating Forbes—who has lost three of his last four fights—fairly handily.
Prediction: Jessie Vargas via Round 5 KO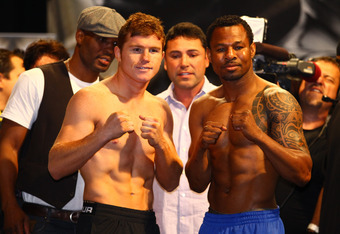 Al Bello/Getty Images
Saul "Canelo" Alvarez vs. "Sugar" Shane Mosley
Canelo Alvarez (39-0-1, 29 KOs) is one of the best fighters today, and will look to add another big name to his list of wins, trying to defeat future Hall of Famer Shane Mosley (46-7-1, 39 KOs).
Look for Alvarez to dominate this fight, as Mosley has looked half the Mosley we all knew just a few years ago, as he is 0-2-1 in his last three fights.
Although Alvarez has sufficient KO power, winning his last three bouts by TKO, don't expect one here, as Mosley can take a beating and keep on going, and has never lost via KO.
Prediction: Canelo Alvarez via unanimous decision 118-110.
Miguel Cotto vs. Floyd Mayweather:
In the main event of the night between WBA junior middleweight champ Miguel Cotto (37-2, 30 KOs) and No. 1 rated pound-for-pound great Floyd Mayweather (42-0, 26 KOs), expect some good action from both fighters early on, before Mayweather takes over the bout around Round 4.
Look for Mayweather's superior counter-punching skills to allow him to dictate the bout and wear down Cotto more and more each round.
Mayweather should finish Cotto off in the later rounds winning by TKO, as Cotto has lost twice in his career, both by TKO, pushing his impressive record to 43-0 heading into his three-month jail stay.
Prediction: Floyd Mayweather via Round 11 TKO