Brett Lawrie and 10 Most Exciting Young Players in Blue Jays History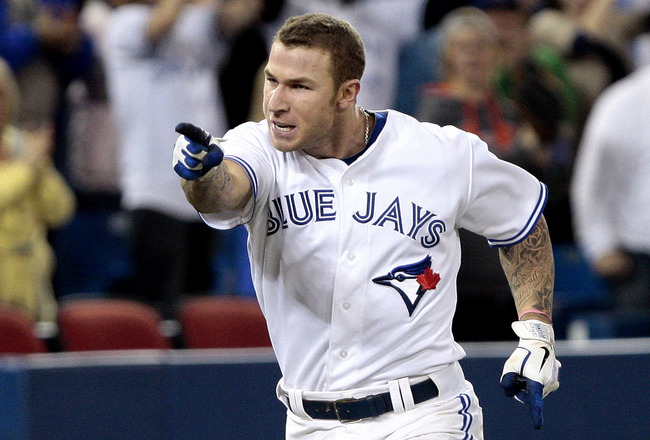 Abelimages/Getty Images
Is there anything that the Toronto Blue Jays' Brett Lawrie cannot do?
He can beat you with his bat, as shown by his May 1 walk-off home run off the Texas Rangers' Mike Adams, which propelled the Jays to an 8-7 victory.
He can beat you with his speed, as the Kansas City Royals learned during their April 22 meeting. He stole home in the top of the eighth, a play which turned into a big insurance run as the Jays hung on for a 5-3 win.
He can also beat you with his glove, as he has been able to turn his perceived shortcomings on the field into a strength. He was thought of as all-bat and no-glove prior to the December 6, 2010 trade with the Milwaukee Brewers, a move which brought him to Toronto for Shaun Marcum.
"He really has no position," said Keith Law, ESPN's prospects guru, in 2009 about the then-second baseman (via TheStar.com). "Good bat, potentially a special bat, but he might end up in LF."
Another scout stated his best position was "in the batter's box."
He currently leads his position in runs saved and also sports the best range at his position according to Fangraphs.com.
He is also confident.
"Every time I'm over there I feel like there's nothing that can get by me." He said.
There is no doubting his skill set but it is that type of attitude that has the city buzzing.
Here is a look at the 10 most exciting players aged 24 or younger in Blue Jays history.
10. Shannon Stewart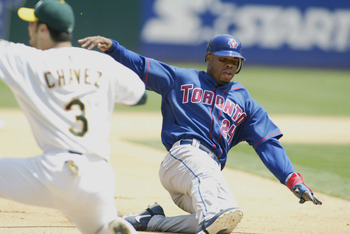 Jed Jacobsohn/Getty Images
The Jays selected Stewart in the first round with the 19th pick in the 1992 draft. He was 21-years-old when he made his debut on September 2, 1995, and was also a September call-up the following year. He joined the Jays for good during the 1997 season and performed well.
He was 24 when he played his first full season and had an excellent campaign, as he batted .279, hit 12 homers and drove in 55. He scored 90 runs and swiped 51 bases—good for third in the American League—trailing only Rickey Henderson (66) and Kenny Lofton (54).
9. Fred McGriff
Jonathan Daniel/Getty Images
McGriff was drafted in the ninth round by the New York Yankees in the 1981 draft. He was acquired from the Yankees the following season in one of the most lopsided trades in franchise history, as the Jays dealt Dale Murray and Tom Dodd for McGriff, Dave Collins (the franchise's single-season record-holder with 60 SB in 1984) and Mike Morgan.
He was 23-years-old when he started the '87 season and finished with 20 homers and a .376 on-base percentage in 295 at-bats.
He broke out the following year as he batted .282, clubbed 34 homers and drove in 82. He also showed an excellent eye as he drew 79 walks—matching his .376 on-base percentage from the previous season, while scoring 100 runs.
8. John Olerud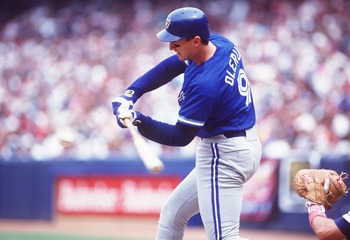 Stephen Dunn/Getty Images
Drafted in the third round in 1989 by the Jays, Olerud made his debut on September 3, 1989, as a 20-year-old, without playing a single minor league game. He had a distinguished career at Washington State University as he could both hit and pitch. He posted a 26-4 record during his college career, which included a 15-0 season.
Most may recall that he wore his batting helmet while fielding—he used the helmet for additional protection after suffering a brain aneurysm in his final season at Washington State.
He finished fourth in American League Rookie of the Year voting during the '90 season, as he batted .265, hit 14 home runs and drove in 48. He wasn't a flashy player, but he was an on-base machine as he posted on-base percentages of .364, .353 and .375 during his first three seasons.
At 24-years-of-age, he already had three full seasons under his belt and posted one of the greatest seasons in Jays history, as he finished with a .363 average, 24 HR and 107 RBI. His .473 on-base percentage and 33 intentional walks remain club records.
7. Carlos Delgado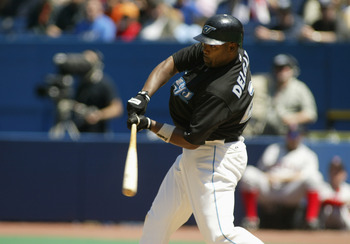 Rick Stewart/Getty Images
Signed as a free agent by the Blue Jays in 1988, Delgado was 21 years old when he made his major league debut on October 1, 1993.
He began the year with the club the following season and went on a tear. In 13 games (48 at-bats), he hit eight home runs and drove in 18, but managed just one homer and six RBI over his next 30 games and 82 at-bats. He rejoined the club the subsequent season continued to struggle.
1996 marked his first full season with the Jays, and at 24, he put it all together, as he posted a .270 average, 25 HR and 92 RBI.
6. Lloyd Moseby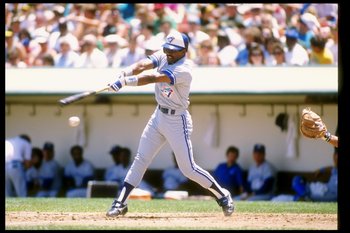 Rick Stewart/Getty Images
The Jays selected Moseby in the first round with the second pick in the 1978 draft. He played his first game May 24, 1980, as a 20-year-old and went 2-for-4.
He struggled the following two years despite showing signs of his potential.
He wouldn't be denied much longer, as 1983 would be his breakout season. He batted .315 with 18 HR and 82 RBI. He stole 27 bases and his 104 runs gave him the distinction of becoming the first Jay to score 100 in a season. He won the Silver Slugger award and also garnered some MVP consideration as he finished 14th in voting.
5. Alfredo Griffin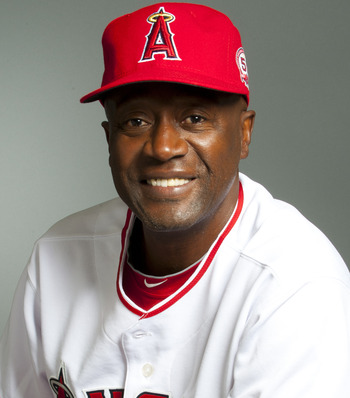 Rob Tringali/Getty Images
Griffin was signed by the Cleveland Indians in 1973, and made his debut as a pinch-runner on September 4, 1976, at just 18 years of age.
He was acquired on December 5, 1978, from the Indians after appearing in only 31 games, but earned the Jays' shortstop job the following spring. He captured the 1979 Rookie of the Year honors as he finished with a .287 average, 81 runs scored, two home runs, 31 RBI and 21 stolen bases.
4. Vernon Wells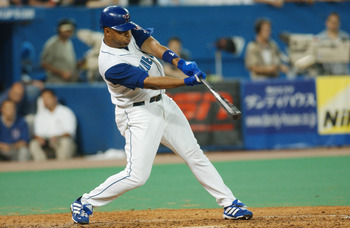 Dave Sandford/Getty Images
The Jays selected Wells with the fifth overall pick in the 1997 draft. One of the most anticipated prospects in team history, he was only 20 years old when he made his Jays' debut on August 30, 1999.
In 2001 he batted .313 during his 30-game stint and won the job as the starting center fielder the following season. He was terrific in his first full season as he batted .275, smacked 23 homers, drove in 100 and scored 87 runs.
He was even better the following season, as he posted a .317 average, 33 HR, 117 RBI and scored 118 runs. He led the league with 215 hits (a franchise record), extra-base hits (87) and total bases (373). He was selected to the All-Star game and contributed an RBI-double. He also won the Silver Slugger award and finished eighth in MVP voting.
3. Tony Fernandez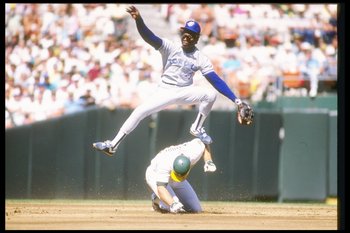 Otto Greule Jr/Getty Images
Fernandez was signed by the Blue Jays in 1979 and made his debut as a pinch-runner on September 2, 1983.
He rejoined the Jays towards the end of May the following season and played in 88 games—eventually wrestling the shortstop duties away from Alfredo Griffin.
He was great defensively, as he often made difficult plays appear routine, but was also effective at the plate. 1985 marked his first full season, in which he put together a solid campaign. In 161 games, he batted .289 with two homers, 51 RBI and scored 71 runs, despite batting in the bottom of the order during the first half of the season.
He would break out the following year as he scored 91 runs and collected 213 hits (both career highs). He finished the season with a .310 average, 10 HR, 65 RBI and 25 stolen bases. He was named to the All-Star team, finished 14th in MVP voting and won his first of four-straight Gold Glove awards—all at the age of 24.
2. Dave Stieb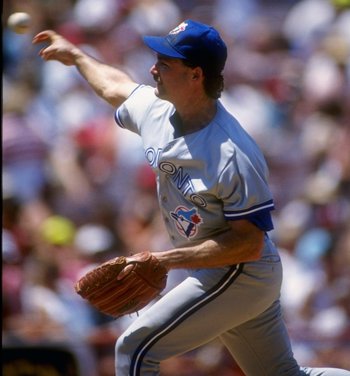 Stephen Dunn/Getty Images
One of the best pitchers in franchise history and arguably the most popular, Stieb was selected by the Jays in the fifth round in the 1978 draft.
He was 21-years-old when he made his major league debut on June 29, 1979, against the Baltimore Orioles—roughly one year after he was drafted. He finished the year with an 8-8 record, including seven complete games.
He entered his fourth season with a 31-33 record, which is quite remarkable given that the Jays finished 53-109 in '79, 67-95 in '80 and 37-69 in the 1981 strike-shortened season; yet, Stieb had already amassed 32 complete games and seven shutouts along with two All-Star selections by then.
His breakout season came in 1982 when he was 24 years old, as he finished with a 17-14 record and pitched a career high 288.1 innings, which included 19 complete games and five shutouts—all franchise records. He posted a 3.25 ERA and struck out 141 batters, but somehow finished just fourth in the American League Cy Young voting.
1. Roberto Alomar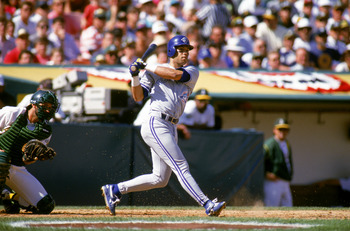 Otto Greule Jr/Getty Images
Alomar was signed by the San Diego Padres in 1985, and made his debut on April 22, 1988, as a 20-year-old. In 143 games, he batted .266 with nine homers and 41 RBI, while scoring 84 runs and adding 24 stolen bases—finishing fifth in the National League Rookie of the Year voting.
He was acquired in a blockbuster trade on December 5, 1990, along with Joe Carter, for Tony Fernandez and Fred McGriff.
He was named to the National League All-Star team in his final season with the Padres at 22 years of age.
He was a human highlight reel defensively as he made a habit out of making spectacular plays.
He was outstanding in his first season with the Blue Jays as he batted .295, with nine home runs, 69 RBI and 88 runs. He also added 53 stolen bases, ranking him second in the American League to Rickey Henderson (58).
Just 23, Alomar would make his second appearance at the All-Star game, finish sixth in the American League MVP voting, and capture his first Gold Glove award.
He played an integral role the following season en route to Toronto's first World Series championship.
"I don't think we'd have ever gone to the World Series in '92 if he didn't hit that home run off Eckersley in Oakland that day like 4:30 in the afternoon when you could hardly see at the plate [because of the shadows]," stated (via MLB.com) former Blue Jays GM Pat Gillick.
Keep Reading

Toronto Blue Jays: Like this team?