John Cena: Why Is It That Fans Hate the Superstar so Much? A Serious Analysis
May 9, 2012

It's John Cena's "realness" that draws fans in from around the world while simultaneously pushing others away.
For every insanely dedicated Cena fan, there's another who vehemently despises the wrestler.
But how did it get so far?
First, there are those who don't even have a reason. They're not even sure themselves why they hate Cena so much.
It's as the popular saying goes: "Haters gonna hate."
Then there are the rebels without cause. These people hate Cena because they're just plain sick and tired of hearing about him.
They acknowledge that while Cena may have the ability and be an incredible talent, everyone else's obsession with him is what turns them away.
Neither of these first two are Cena's fault.
Likewise, there's nothing he—or creative—can do about it.
But there are several other reasons many have chosen to bypass Cenation and join the chorus of boos.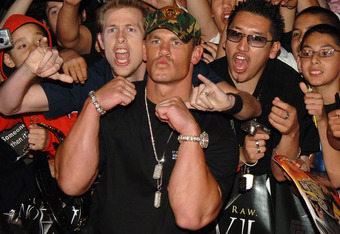 John Sciulli/Getty Images
In Trying to be Real, Cena Comes Across Fake
John Cena doesn't really have a gimmick. A good portion of the locker room doesn't, either. It's not a big deal.
But no one else seems to push themselves as being "real" as much as Cena does.
Time and time again, he's pointed out the fact that he was a kid growing up who wanted nothing else out of life than to perform in the ring.
He wears jean shorts instead of tights. He wears tennis shoes instead of boots. He wears t-shirts and baseball caps, too.
Cena's just like you and me, except he's living the dream.
This is where he goes wrong.
I surveyed a couple of open Cena haters and asked why it is they hate him so.
The response was overwhelming: They felt he was too fake. He's trying too hard.
From entering the WWE as a thug to the mysterious use of a slight Boston accent on the East Coast, it's all just too much.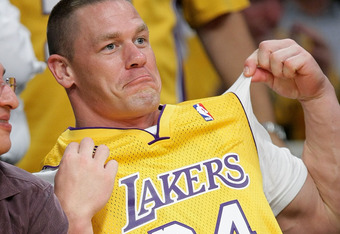 Noel Vasquez/Getty Images
He's not a common man.
I don't know many who can afford the array of hats and jerseys he does. He's not like you and me, but he's pretending to be. This upsets a lot of people.
Cena may certainly love hip hop. He probably is a great rapper. The WWE sees this as unique, but the WWE Universe sees this as a copycat. We've seen Mark Wahlberg. We've heard Eminem.
I'll admit to you: I'm a huge Cena fan, but even I can see it at times, like when he comes out to cut a promo.
Before Extreme Rules, he spent what felt like 15 minutes telling the WWE Universe that he wasn't scared and he came to fight. Unfortunately, the message was lost after saying the same thing over and over again in three different ways.
It was supposed to show how tough he is. Yet the feeling I left with was: "Fantastic, Cena's not scared. Let's get to the wrestling."
But it's as if creative—or Cena himself—believes they have to continuously trod him out to tell the world how tough and cool he is.
The WWE Universe isn't dumb. They can think for themselves.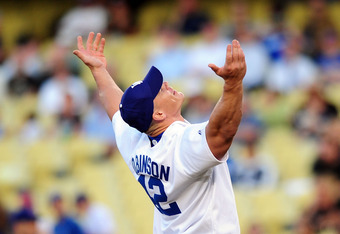 Jacob de Golish/Getty Images
"SuperCena" is Created
The speed at which John Cena has taken the WWE by storm offends the old-time fans. It doesn't seem fair that this guy gets to come in and pick off legend after legend.
Brock Lesnar and Goldberg had unusually fast rises to the top as well. Though, they had beast-like physique and strength to support their believability.
In Cena's television debut, he nearly upset Kurt Angle, kicking out of the Angle Slam.
In everyone else's debut, they get crushed or squash a jobber.
Within one year, Cena already had the WWE championship in his grasp. He even gained a feud with Brock Lesnar.
Since his debut, Cena has run through the Big Show, Booker T, John "Bradshaw" Layfield, Angle and Chris Jericho—all within four years—as well as Batista, Triple H, Shawn Michaels and Randy Orton.
In one decade of work, he's become a record 10-time WWE Championship winner. This is exactly the type of thing that wins over the 10-year-old fans and loses the 30-year-old fans.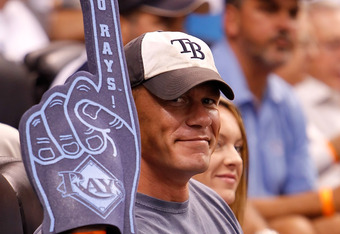 J. Meric/Getty Images
His clear free reign over the WWE doesn't help either.
After winning his first WWE championship, Cena produced a new, spinning belt. Who gets that luxury? Again, it was a move that sent the kids berserk while offending some of the older crowd.
Clearly, Cena can do anything he wants, like a shoot promo.
Post Extreme Rules match, Cena was supposed to leave on a stretcher, indicating Brock Lesnar physically annihilated Cena.
Instead, he stood right up. Cena delivered a promo regarding taking time off and being banged up. He said he'd probably get fired for even saying anything.
Then why say it?
It's wrestling. We know guys get hurt. We know stories provide for time off, real or not.
Moves like these sway the fence sitters.
Go away silently, carried off on a stretcher, and fans feel for you a little bit. You provide intrigue to the story and make us want to come back and revisit it later.
Continue to force yourself into the spotlight and you lose many more.
John Cena's problem is like LeBron James'. He cares too much what people think.
Here's my advice to Cena: Stop trying desperately to appease everyone. Just be John Cena. No gimmicks, no phoniness. Nothing forced.
Haters still gonna hate, but the rest will love you for it.