FA Cup Final 2012: Chelsea Win Should Land Roberto Di Matteo Full-Time Gig
May 5, 2012

Phil Cole/Getty Images
Roberto Di Matteo rescued Chelsea from a potentially disastrous season.
The Andre Villas-Boas project can only be described as an epic failure and, in turn, Di Matteo's short run has been nothing short of a success.
Today, he could potentially see the first bit of that success in the form of a trophy.
Chelsea and Liverpool take to the Wembley Stadium pitch in a match that will decide this year's FA Cup.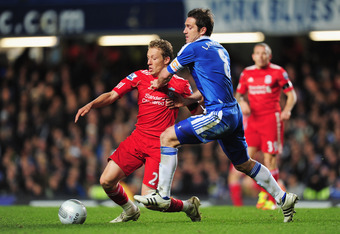 Jamie McDonald/Getty Images
The two English powerhouses have met 31 times in the past eight seasons and, between the two of them, they've won four of the last eight FA Cups (three for Chelsea, one for Liverpool).
Neither team is heading for Premier League glory, but the Reds have already secured the Carling Cup and the Blues will play Bayern Munich in the UEFA Champions League final later this month.
But before Chelsea travel to Allianz Arena, they have the chance to upend a rival and win a trophy at the same time. If successful, they should reward the man who got them there.
Club captain John Terry told Sky Sports (via ESPN):
"He's obviously done very well to get us where we are today and winning it [the FA Cup] will put himself in a very good position. But he's not thinking of that at the moment, he's not letting any players get distracted.

"He's very passionate and he's Chelsea through and through and that's certainly rubbed off on the players. If we can do it and an added bonus is that Robbie gets the job at the end then that'll be great."
Chelsea have to win first, but Di Matteo has done more than enough to warrant a long-term position at the head of this club.
The Blues have struggled to find stability at the manager position since the departure of Jose Mourinho in 2007, as only Carlo Ancelotti has found any bit of long-term success.
There is no way of telling if Di Matteo will have any long-term success, but he has earned a chance to make something happen.
A win today over Liverpool should be more than enough to get Chelsea to remove the "caretaker" tag from Roberto Di Matteo's title.