2012 NBA Playoffs: Chicago Bulls Should Start Worrying at This Point
May 5, 2012

Drew Hallowell/Getty Images
For the most part, being down 2-1 in a playoff series is not much reason to panic; the team on the short end is still only one win away from knotting things up.
But when a team goes up 1-0 and then falls behind 2-1 because of back-to-back complete and epic meltdowns, raised eyebrows coupled with furrowed brows begin to appear.
Even without their MVP, it was believed that Chicago could still beat Philadelphia, though that task may have been a bit tougher to accomplish in Derrick Rose's absence; consequently, that tough task is looking more Sisyphean as of late.
The problem has been a lack of sustained effort from the Chicago Bulls.
These past two games both presented a Chicago team that was competitive in the first half only to completely lose their composure in the second, thus costing them a win.
If you look at the play on the court, you have a number of players at whom to point to for not stepping up and doing their part.
C.J. Watson, who played well during Rose's absence in the regular season, has shot 27 percent from the field the past two games going 4-of-15 with the four shots he hit coming in Game 2.
All-Star forward Luol Deng has completely disappeared the last two games as well, averaging a paltry 6.5 points for the last two contests.
Carlos Boozer had a double-double in Game 3 with 18 points and 10 rebounds, but he went completely cold in the second half.
And as if losing Rose wasn't enough for Chicago, Joakim Noah rolled his ankle, further darkening the clouds that have been gathering over the land of Bulls basketball.
All of this may be confusing to those who watched the Bulls play 27 games without Rose this past season, winning 18 of them, but there is one huge difference here.
During the regular season, the Bulls continued to play—and play well—without their superstar because they knew he was eventually returning.
Even when things like Rose's groin injury turned out to be more severe than originally thought, there was still no sweating because his return was merely delayed.
When Rose went down in Game 1, he went down for good.
This Bulls team is playing without their superstar and they know he is not coming back for a long time.
One has to wonder if this has taken a huge mental toll on the Bulls, an impact that the organization has tried very hard to hide.
This team is no longer holding down the fort until the general arrives with cavalry; these guys are in the trenches knowing that their hero will not be swooping in to save the day.
Bulls players are saying all the right things to the media when it comes to how they will continue to play and pull out a series win; however, it's getting harder and harder to believe that they have the postseason resolve to persevere.
The tipping point for this series now depends on the status of Noah.
If he is unable to go for some extended period of time, it may be the straw that breaks the camel's back and pushes Chicago right out of the playoffs.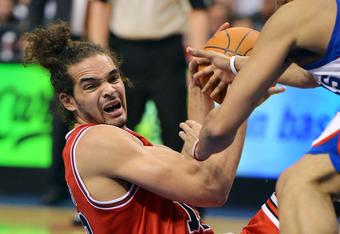 Drew Hallowell/Getty Images
It may be a hard pill to swallow, but the Bulls could become just the fourth No. 1 seed to be eliminated from the first round of the playoffs.
Losing a game is nothing. Losing two in a row can even be considered just a hiccup that can be easily corrected.
The manner in which the Bulls have lost as of late and the extenuating circumstances surrounding those losses don't bode well for rebounding and correcting.
Still, don't push the panic button yet, Chicago, but you might want to open the cover and position your finger just in case.