Washington Nationals, Bryce Harper Rally in 8th, Win in 11th
May 5, 2012

Greg Fiume/Getty Images
Just when you thought the Washington Nationals might lose a one-run game at home, they come from behind again to win against the Philadelphia Phillies.
Stephen Strasburg looked good on Friday night, but was the victim of the ball jumping out of Nationals Park. Hunter Pence and Carlos Ruiz connected for surprisingly long home runs. When they landed, they accounted for a total of three runs.
Strasburg had not allowed a home run since August 15, 2010.
Strasburg only allowed one other hit in his six innings of work and struck out four.
That Nats bullpen was lights-out on Friday. Five relievers combined for five innings of three hit balls. They also struck out six batters, with Henry Rodriguez and Tyler Clippard striking out two apiece.
Bryce Harper was hitless on Friday, but still had a big impact on the game. He went 0-for-3 but walked three times and was a part of the rally in the 11th inning.
Steve Lombardozzi singled with two outs in the 11th inning and was followed by Harper getting on base with a walk and Jayson Werth following with a walk.
Wilson Ramos singled on a one-two pitch scoring Lombardozzi and sending the 34,377 fans in attendance home happy.
Ryan Perry was credited with the win and Michael Schwimer took the loss in this one.
The Nats have scored 86 runs this season and 42 of them have been scored in the seventh inning or later.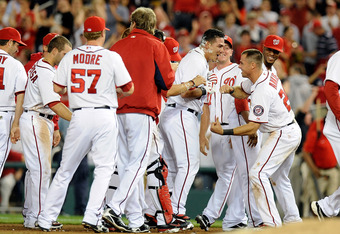 Greg Fiume/Getty Images
They improve to an amazing 8-0 in one-run games at home this season. Overall, they are 11-3 at Nationals Park.
Washington (17-9) remains on top of the NL East and will look to create more distance with the Phillies on Saturday and Sunday.
Gio Gonzalez (2-1, 1.82 ERA) will take on the Phillies' Vance Worley (2-1, 1.97 ERA) on Saturday at 1:05 p.m. ET.
The Nats and Phillies are in prime time on Sunday night when Jordan Zimmermann (1-2, 1.89 ERA) opposes Cole Hamels (3-1, 2.78 ERA) at 8 p.m. ET.