Detroit Tigers, Jhonny Peralta Beat Chicago White Sox in Grand Fashion
May 5, 2012

Leon Halip/Getty Images
There is not a better immediate feeling than whacking a walk-off home run before a full house at your home ballpark.
There is not a worse feeling than pitching a gem of a ballgame, only to watch your hard work sail over the right center field wall.
Such is the beauty and cruelty of baseball, as it were on full display at Comerica Park in Detroit on Friday night.
Tigers shortstop Jhonny Peralta sent 30,000-plus fans home happy with a 5-4 victory when he hit a two-run walk-off home run in the bottom of the ninth inning.
All Chicago White Sox hurler Jake Peavy could do was peer into chaos with his piercing blue eyes, as the Detroit Tigers snatched victory from defeat.
Gut-wrenching as it were, Peavy should be applauded for his performance. The right-hander pitched 7 1/3 innings, giving up three earned runs on seven hits. Peavy left the game in the eighth inning with a 4-3 lead.
But left-hander Matt Thornton, perhaps filling in until ace Chris Sale can settle in as the new closer for the White Sox, could not hold the lead for Peavy.
While Tigers closer Jose Valverde got the win, rookie 22-year-old left-hander Drew Smyly put forth yet another quality start. The Little Rock, Ark. native gave up two earned runs and struck out seven in six innings of work.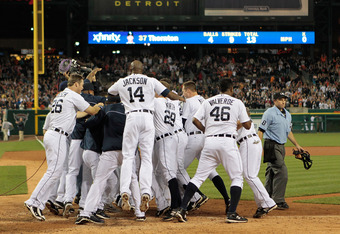 Leon Halip/Getty Images
On the season, Smyly is 1-0 with a 1.23 ERA in 22 innings of work. He has given up just three earned runs, while striking out 22 and walking eight.
Tigers second basemen Ryan Raburn got the scoring started in the second inning with a fly ball that scored Alex Avila. The Sox responded when Gordon Beckham doubled to left, scoring Dayan Viciedo.
After Avila hit a solo shot in the fourth inning, Adam Dunn scored Alexei Ramirez with a sacrifice fly in the sixth. The Sox struck gold again in the seventh inning when Gordon Beckham hit a two-run homer.
But the Tigers would have the last laugh, for after Don Kelly scored in the eighth inning on a Miguel Cabrera single, Peralta won the game in the bottom of the ninth in dramatic fashion.
With the win, the Tigers move to 13-12, which is good for second place in the American League Central.
The White Sox, now losers of three straight, fall to 12-14. The Sox are now three games back of the Central Division-leading Cleveland Indians.
The Tigers and Sox will play again tomorrow at Comerica Park. Game time is 4:05 p.m. ET.