NHL Playoffs 2012: 4 Things the Predators Need to Improve Against the Coyotes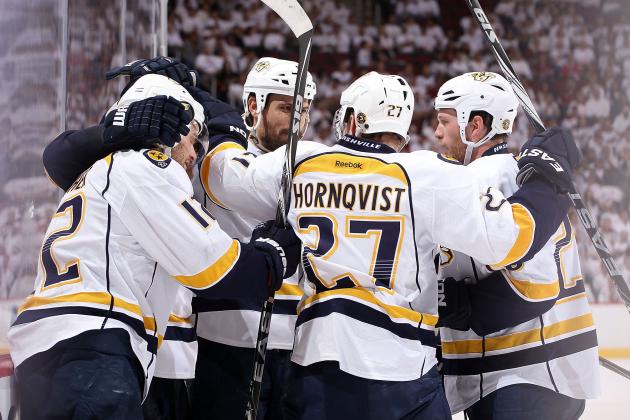 Christian Petersen/Getty Images

After a tough 1-0 loss at home in Game 4, the Nashville Predators now trail the Phoenix Coyotes 3-1 in their West Conference semifinals series.
Nashville now has no room for error, and the team that most people picked to win this series is up against the wall.
But the Predators aren't dead yet.
Here are four things the Preds can improve upon against the Coyotes to help keep their playoff hopes alive.
Begin Slideshow

»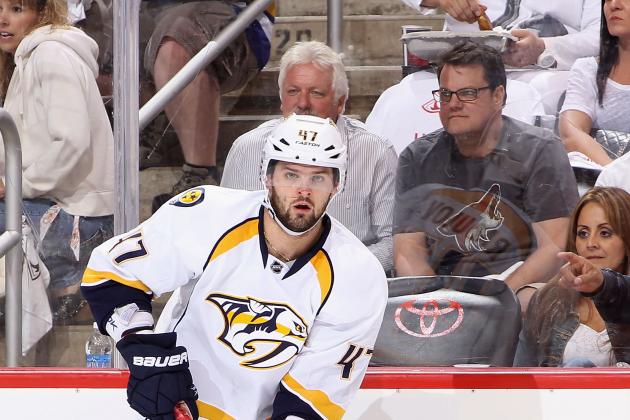 Christian Petersen/Getty Images

The Predators have to put Alexander Radulov and Andrei Kostitsyn back in the lineup for Game 5.
Nashville has struggled to score goals in this series, netting just eight goals in four games. Radulov and Kostitsyn are both top-six forwards. The former leads the Preds in playoff points, while Andrei is tied for the team lead with three postseason goals.
GM David Poile and coach Barry Trotz made their point by keeping their two players out of the last two games, but they cannot afford to keep potential weapons out of the lineup any longer. Each game in the series has been very close and Phoenix is getting strong play from goalie Mike Smith, so Nashville needs as many weapons as possible on the ice.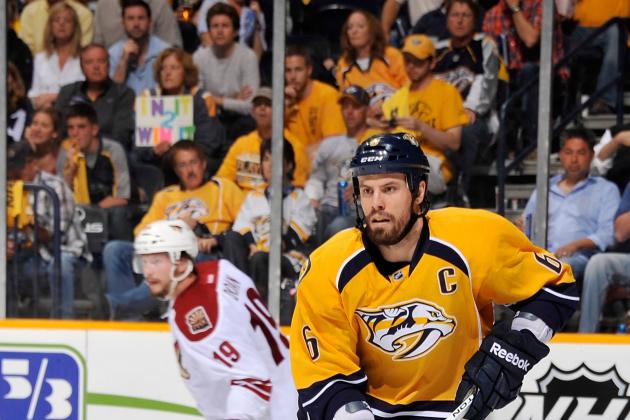 Frederick Breedon/Getty Images

The Predators' best two skaters are defensemen: Shea Weber and Ryan Suter.
Both players were in the top five in scoring for the Preds during the regular season, and both of them need to be a little more aggressive in the offensive zone if Nashville is to score more goals in the rest of this series.
While Nashville's strategy is usually defense-first, this system is not working consistently enough to not make some adjustments. The Preds don't have to go for broke, but they do need to open up a little bit, especially with their two key defensemen who are more than capable of providing the team with more chances offensively.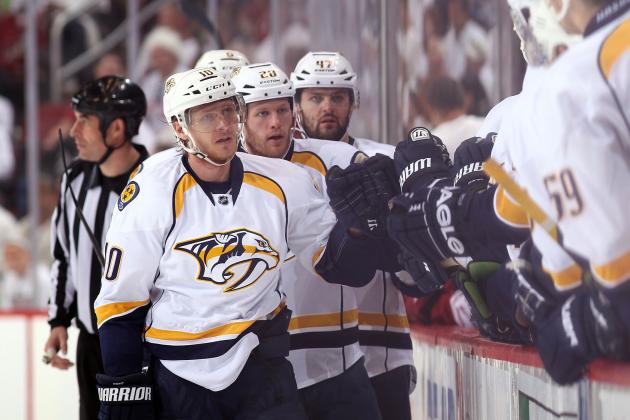 Christian Petersen/Getty Images

Nashville's power play has been inconsistent during the playoffs so far, converting on just 13.5 percent of their chances. They presently rank 12th overall and next to last with the man advantage among the remaining teams left in the playoffs.
The Predators need to do two things to improve their power play: move better without the puck to create space and scoring opportunities, and put more pucks on net.
Nashville failed to convert key power-play chances during this series, especially in Game 4. Just a slight improvement in the power-play success rate should make a big difference in outcomes of upcoming games.
Frederick Breedon/Getty Images

The Predators do not have many "pretty" goal scorers. Instead, they are a blue-collar offensive team that puts four, solid, almost interchangeable lines on the ice and tries to wear down opponents.
Coyotes goalie Mike Smith is playing exceptionally well right now and is "in the zone."
In order to score on Smith and reduce his confidence, Nashville needs to be more aggressive, crash the net and get more rebounds and deflections.
Goals will be hard to come by, so Nashville needs to score "dirty goals" from in close on tip-ins, deflections and rebounds.