Kentucky Oaks 2012: Breaking Down the Best and Worst Finishes
May 5, 2012

Elsa/Getty Images
The Kentucky Oaks is the last major race before the 2012 Kentucky Derby. The event lived up to expectations as Believe You Can won a thrilling race at Churchill Downs Friday evening.
According to the Courier-Journal, the race started 35 minutes late due to weather concerns, but eventually got underway. Hopefully the weather holds up on Saturday so the Kentucky Derby can run smoothly.
Let's look at the best and worst finishes from the 2012 Kentucky Oaks.
Believe You Can: First Place
Believe You Can didn't get off to the best start, but this horse showed tremendous speed to make a furious fight at the finish. Ultimately, Believe You Can beat out Broadway's Alibi for the victory.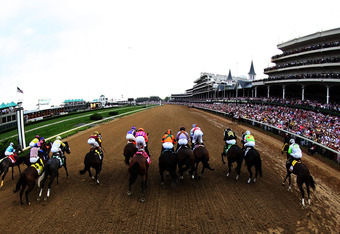 Andy Lyons/Getty Images
Grace Hall: Third Place
Grace Hall was one of the favorites coming into Friday's Kentucky Oaks, but ended the race with a disappointing third-place finish.
She was a 5/2 favorite at the start of the race, but couldn't make the big push needed midway through the race to challenge for the victory.
Broadway's Alibi: Second Place
Broadway's Alibi was considered by many as a strong contender in this race and this horse did not disappoint.
Broadway's Alibi tried to hold off a strong push toward the finish by Believe You Can, but didn't have enough in the tank to finish first.
Despite the second-place finish, it was an impressive race for Broadway's Alibi.