NBA Playoffs 2012: Jrue Holiday and Other Stars Making Names for Themselves
May 4, 2012

Nick Laham/Getty Images
The NBA playoffs have always been the time where the superstars raise their game to another level. When the lights shine brightest, the stars come through on the biggest stage.
However, that big stage isn't reserved for just the superstars, it also provides a platform for some stars to break out. With the nation watching, the 2012 playoffs could make more than one player a household name before it's all said and done.
Let's take a look at some of the players in the postseason that are ready to break out.
Jrue Holiday, Philadelphia 76ers
The 21-year-old Holiday really took a step back during the regular season, especially after the All-Star break, but he's really turned it on in the postseason thus far; averaging 21.0 PPG, 4.5 APG and four RPG.
He's played a big role, along with Derrick Rose's injury, as the Sixers sit tied at a game a piece in the series.
Holiday is playing more without the ball and getting himself in better spots to have success. If he leads the Sixers to a first-round upset, then his stock will be as high as ever.
Evan Turner, Philadelphia 76ers
Holiday's success can be directly related to Turner as he is looking like an emerging star thus far. Doug Collins is running the offense through Turner. He's responded by averaging a solid 15.5 PPG and five RPG.
Turner's just playing with confidence at the moment and is looking more and more like a guy that should have been drafted with the No. 2 overall pick in the 2010 NBA draft.
Mike Conley, Memphis Grizzlies
Rudy Gay, Zach Randolph and Marc Gasol are quality pieces for the upstart Grizzlies, but their floor general in Conley doesn't get the credit he deserves.
That may change if Conley continues to play well in the postseason. Through a pair of games, he's averaged 18.0 points and seven assists while hitting 13-of-16 shots from the free-throw stripe.
If Conley continues to play well and knock down the three (.714) then it won't be long before he gets the credit he may deserve.
James Harden, Oklahoma City Thunder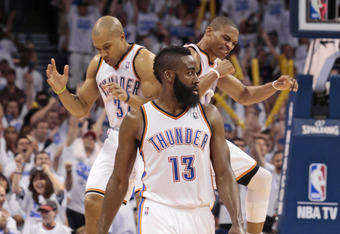 Brett Deering/Getty Images
Harden's a star already, but he may be on the verge of becoming a superstar if he continues to play well.
He set career-high marks in every category on the board except steals and blocks and is off to a very good postseason, averaging a solid 14.7 PPG, 5.7 RPG and four APG off the bench in the postseason thus far.
Avery Bradley, Boston Celtics
Watch Bradley play and you will see how fast this kid really is. Paired with Rajon Rondo, the Celtics have the fastest backcourt in the NBA.
Bradley is fantastic defensively and is learning to play off the ball. He's developed a decent jumper and has averaged 12.0 PPG in the postseason to date. The Celtics went 15-5 down the stretch with Bradley in the starting lineup and he's got a bright future ahead of him.
Kenneth Faried, Denver Nuggets
Faried is a sleeper on this list because the Nuggets may not be around too long, but this kid is explosive and has an extremely high upside.
He's averaging 12.0 PPG and nine RPG through two games while shooting 60 percent from the floor. Faried is a head-turner with his explosiveness and in time, he is going to become a solid NBA big man.