Italy Euro 2012: Picking a Starting XI to Beat Spain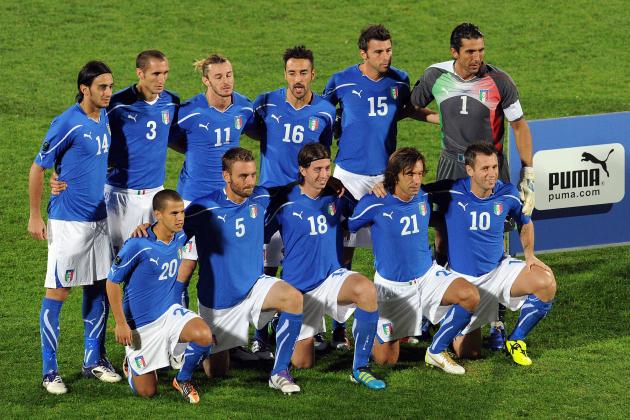 Giuseppe Bellini/Getty Images

On June 10, the last two World Cup champions, Italy and Spain, will face off in the first game of Euro 2012's Group C. It will be an important match for the two world powers, who will be looking to gain an advantage in a tricky group to make it through to the quarterfinals.
The Italians have been difficult opponents for the reigning World and European champions. In 210 minutes over the last two games they've played—a friendly last summer and the quarterfinal of Euro 2008, which went into penalties—the Spaniards have failed to score in open play. Losses to Italy and England over the past two seasons have shown some cracks in the armor of the world's top-ranked team.
There will be immense amount of talent on both ends of the field in this match. But which of the talent available to him will Cesare Prandelli chose for this titanic early-tournament encounter? Were I in his place, these are the players I would chose to face Spain.
Begin Slideshow

»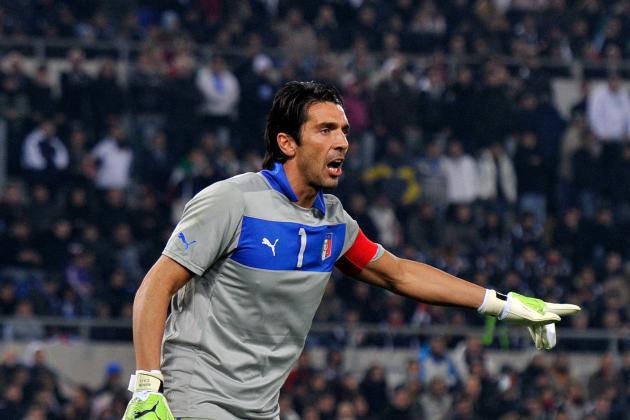 Claudio Villa/Getty Images

Position: Goalkeeper
Club: Juventus
Caps: 113
Honors: Team captain, 1996 UEFA U-21 Championship winner, 2006 World Cup winner
This match will be another faceoff between the two best goalkeepers in the world, Spain's Iker Casillas and Italy's Buffon.
Buffon got the better of the match the last time the two teams met, a 2-1 surprise victory for Italy.
Selecting Buffon is an absolute no-brainer. The captain of the Azzurri ever since the retirement of the legendary Fabio Cannavaro, the Juventus man was thought to be regressing this time last year after an injury limited him to only 45 minutes in the 2010 World Cup and kept him out for half of the 2010-11 Serie A season.
This season, however, he has proven to the world that he is still worthy of the title of World's Best Goalkeeper. He is the backbone of a defense that has been the best out of Europe's Big Five leagues. He's made the fantastic saves that have made him famous, and opponents are only 1-for-3 against him in penalty opportunities this season.
Just by being there, Buffon makes Italy exponentially better. If he hadn't had one of the best World Cups ever by a goalkeeper in Germany in 2006, the Italians would probably still have three stars on their crest rather than four.
Having him between the sticks gives any team the ability to go deep into a tournament.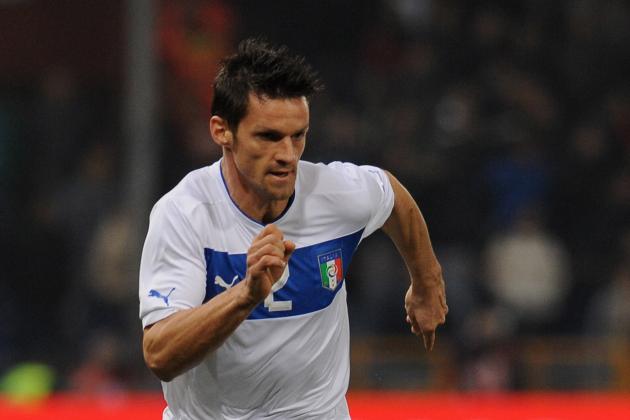 Valerio Pennicino/Getty Images

Position: Right-back
Club: Napoli
Caps: 15
Christian Maggio is the perfect player to counter the Spaniards. Whether deployed as an orthodox right-back or as a wing back in Walter Mazzarri's 3-4-2-1 scheme in Naples, Maggio is a constant threat down the right side of the field.
His attacking potential down the wing can prevent opposing defenders from pressing higher up the field, reducing their role in the attack and removing them as an option from Spain's tiki taka passing game that so dominates lesser competition.
On the defensive side, he is just as impressive, shutting down opposing wingers with the same aplomb that he shows on the attack.
Maggio is 30 now, so he probably doesn't have too many more big internationals left in him before he's supplanted by younger players Ignazio Abate and Davide Santon. He'll be motivated to make some noise come June.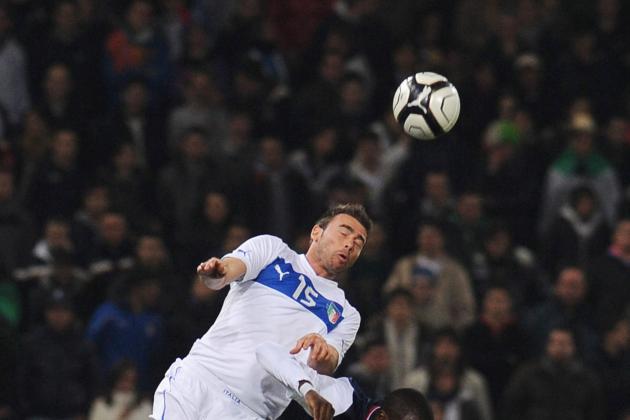 Valerio Pennicino/Getty Images

Position: Center-back
Club: Juventus
Caps: 28
Honors: 2004 UEFA U-21 Championship winner, 2004 Olympic bronze medal, 2006 World Cup winner
Barzagli's international career seemed to have stalled after Euro 2008. A bad showing in the Azzurri's opening 3-0 thrashing against Holland had put him out of favor, but after returning Italy last January, his form skyrocketed.
He quickly supplanted Nicola Legrottaglie in Juventus' defense, and this year has continued that good form, making up the spine of a defense that has only allowed 19 goals all season in Serie A and led the bianconeri to their current unbeaten record at the top of the standings.
This good form put him on the map for Cesare Prandelli, who called him back up and started him in October's Euro qualifier against Serbia. His chemistry with fellow Juve defenders Giorgio Chiellini and Leonardo Bonucci, as well as with Buffon, is well developed and has resulted in a rock-solid defense for Juve this year.
Prandelli will look for more of the same come tournament time.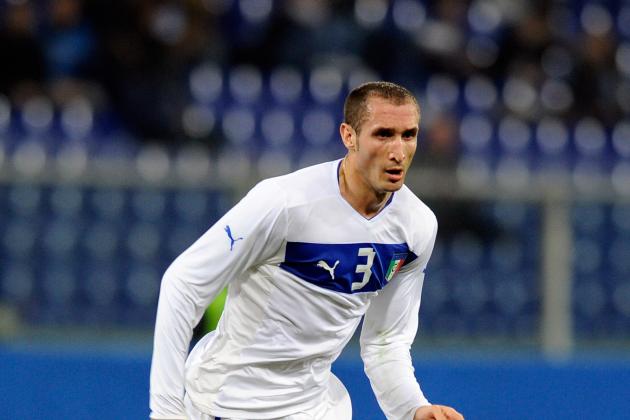 Claudio Villa/Getty Images

Position: Center-back
Club: Juventus
Caps: 50 (two goals)
The three-time Serie A Defender of the Year is one of the best center-backs in the world, and he will be looking for a measure of redemption in Poland.
While the main culprit in the defense during the debacle in South Africa was the legendary but aging Fabio Cannavaro, who had no business being on a World Cup field at his age, Chiellini's misplay of a late throw-in allowed Kamil Kopunek to score Slovakia's third and final goal in the final group match, a goal that would prove decisive in knocking Italy out of the tournament.
Chiellini's gritty determination in the back is a throwback to the Italian defenders of yore. He also brings a quality that is decidedly lacking in the Spanish lineup: height.
Chiellini is 6'1", taller than all but one of the strikers Spain is likely to bring to Poland. The Italians can use his superiority in the air to take away the cross as a weapon and force the Spaniards to break them down through the middle, something they haven't been able to do the last two times they've faced each other.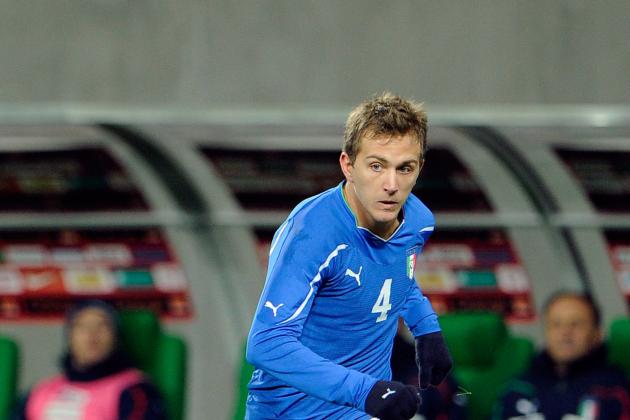 Claudio Villa/Getty Images

Position: Left-back
Club: Zenit St. Petersburg (Russia)
Caps: 19
When I wrote my article 10 Future Stars of Italian Soccer last month, I received several comments wondering why I hadn't included the 25-year-old Criscito. The reason I omitted him is simple: He's not the future anymore—he's the present.
Italy's starting left-back in the World Cup and all throughout the Euro 2012 qualifying process, Criscito will be the Azzurri's starter on the left side of defense for a long time. He is a solid defender down the left and can press the attack as well.
He very nearly scored in the first half of Italy's most recent friendly against the United States. Only the first of many fantastic saves by American superkeeper Tim Howard kept him from opening his account for his country when he latched onto a pass in the box and unleashed a powerful shot towards goal.
Juventus fans can only be left to wonder what could have been had he not moved to Genoa in the resolution of his co-ownership deal. Criscito is already one of the best left-backs in the world and may end up being the best when all is said and done.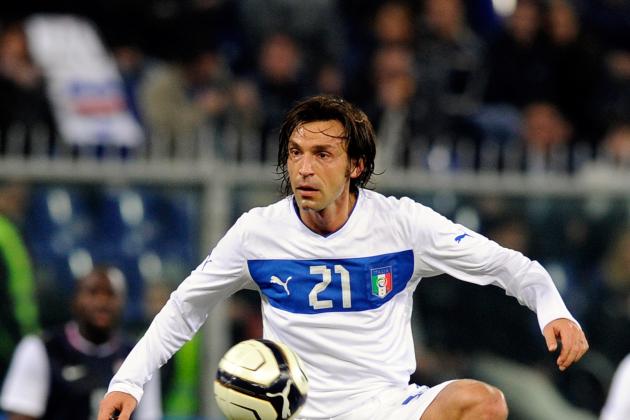 Claudio Villa/Getty Images

Position: Deep midfield
Club: Juventus
Caps: 82 (9 goals)
Honors: 2000 UEFA U-21 European Championship winner, 2004 Olympic bronze medal, 2006 World Cup winner
Andrea Pirlo is the straw that stirs the drink. He can do more with one touch than most players can with two or three.
The man called "l'architetto" is just that—the architect of the Italian attack. His pinpoint passing and fantastic ability to deliver long balls and set pieces on a dime are pivotal to Italy's scoring efforts.
His importance was confirmed for any skeptics by Italy's meek performance in the 2010 World Cup. Pirlo was injured in a friendly right before the tournament, and in the first two-and-a-half games, the Italians looked completely lost offensively.
Their form completely changed when Pirlo was introduced as a sub early in the second half of the final game against Slovakia. The Italians put the ball into the net three times (one was called back on a controversial offside decision) from open play after scoring their only two goals off set pieces in the first two games.
Pirlo's passing is key to Prandelli's possession-based style. He will be a key player in the midfield duel between the Italians and the Spaniards, matching wits with Spanish midfield aces Xavi, Xabi Alonso and Andres Iniesta.
In the last friendly, Italy dominated proceedings for long stretches, showing that their midfield was up to the challenge of matching Spain's possession game with their own. If Italy is to take three points from this match, Pirlo is one of the big keys.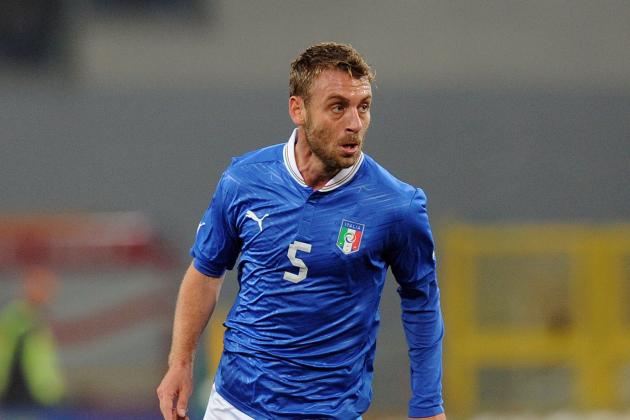 Giuseppe Bellini/Getty Images

Position: Midfield
Club: Roma
Caps: 71 (10 goals)
Honors: 2004 UEFA U-21 European Championship winner, 2004 Olympic bronze medal, 2006 World Cup winner
Daniele De Rossi's presence in the Italian midfield will be critical for the Azzurri's chances to win this match.
The Spanish attack is based on quick, rhythmic passing. A ferocious tackler and great defensive midfielder, De Rossi's physical presence is key to disrupting that attack. The Italians will rely on him to impose himself physically on the Spanish midfielders to prevent them from deploying the trademark tiki-taka attack.
Look for De Rossi to use his rugged physicality to gain the ball and key the attack. Be on the lookout as well for him to get more than his usual share of fouls. I wouldn't at all be surprised if he picked up a yellow card during this match.
Valerio Pennicino/Getty Images

Position: Midfield
Club: Paris Saint-Germain (France)
Caps: Seven (one goal)
Thiago Motta is a creative force in midfield. It's no coincidence that the swoon that saw Claudio Ranieri lose his job at Inter Milan coincided with his departure to PSG in the January transfer window.
Motta will be deployed further up the field, receiving Pirlo's service from deep and then creating for himself and the forwards. His ability to create will be important. If Spain manages to impose its will on the game and dominate possession, the Italians will be forced to rely on the counterattack and will need Motta's creative skill to make the most of those opportunities.
His offensive abilities are enhanced by a good physical presence that can aid De Rossi in shutting down the Spanish midfielders.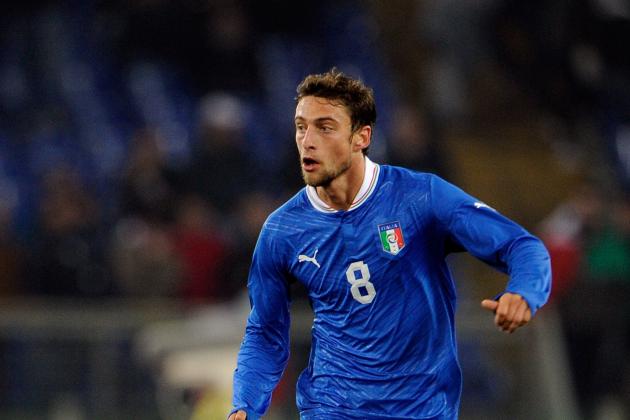 Claudio Villa/Getty Images

Position: Attacking midfield
Club: Juventus
Caps: 19 (one goal)
Il principe has finally come into his own at Juventus. He has scored 10 goals in all competitions and finally shown his true potential. He is a versatile midfielder who can play defensively or out wide, but his best role is as a central midfielder with a big role in the attack.
Marchisio can orchestrate the final phase of an attack or slide up high to finish on his own, something he is equally adept at doing with his feet as with his head. The Spanish will need to take his threat from the midfield into account in their game plan, because if he's given the opportunity, he has proven this year to be a lethal finisher.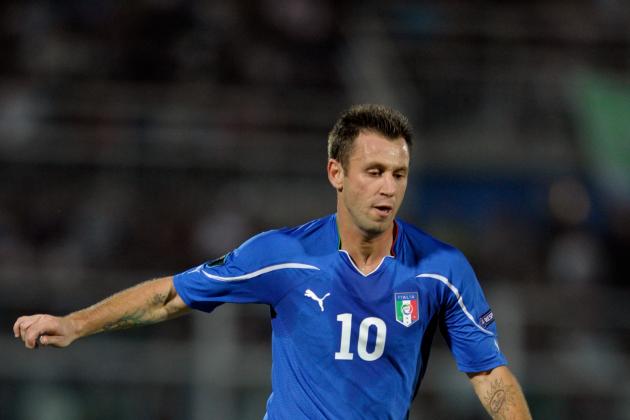 Claudio Villa/Getty Images

Position: Striker
Club: A.C. Milan
Caps: 28 (nine goals)
This is a pick I am surprised I am making. After Cassano had surgery for a mild heart defect in November, I completely eliminated him from my thought process for Euro 2012, thinking that there was no way he would be back in time.
I admit to being surprised when he started training with Milan last month, but I still didn't think that he was going to be in good enough form to merit a call-up to the national team. His play with Milan since his return has given me more pause, and I now do think that he has shown enough to Prandelli for the Azzurri manager to call his top scorer from Euro qualifying to the team.
Cassano has blossomed for the Italians over the last two years of Euro qualifying and become the reliable international striker than most people expected him to be. His presence will be a huge boost to Italy's attack and provide a potent threat for which Spain must account.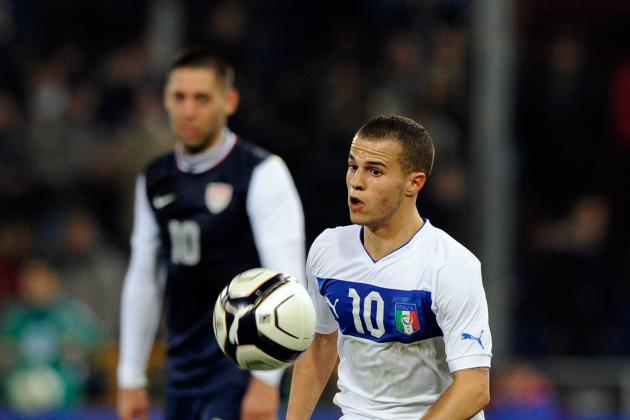 Claudio Villa/Getty Images

Position: Striker
Club: Parma
Caps: Seven
This tournament will be Sebastian Giovinco's chance to announce himself on the world stage. A potential target of Barcelona, as well as being linked to a return to parent club Juventus (which owns half his rights), the "Atomic Ant" could end up cashing in big this summer if he makes a name for himself in Poland.
Italy will need him to play well, as this spot would otherwise be going to Giuseppe Rossi, who is out for the next six months after re-injuring his right knee.
Giovinco was probably Italy's best player in their most recent match, an friendly against the United States. The 5'4" dynamo proved effective at hanging on a defender's shoulder and then sneaking underneath to latch onto through balls. He was hampered by nine offside calls made by the game's refereeing crew, at least three of which were either borderline inaccurate or just plain wrong.
His pace, dribbling skills and versatility as a second striker are all top notch, and he is coming into the Euros with the motivation to make this his coming-out party in order to cash in during this summer's transfer window.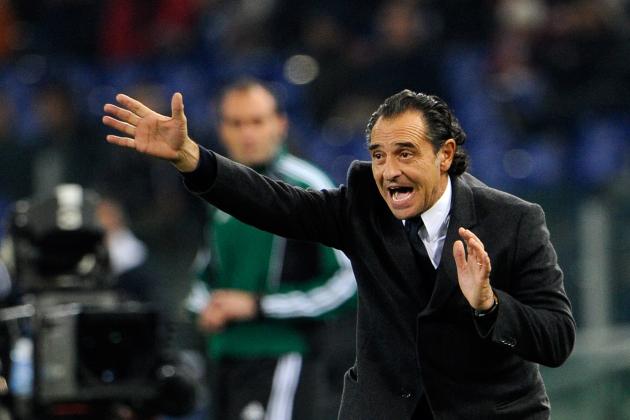 Claudio Villa/Getty Images

Salvatore Sirigu (GK, Paris Saint-Germain, two caps)
Emiliano Viviano (GK, Palermo, six caps)
Leonardo Bonucci (DF, Juventus, 13 caps, two goals)
Angelo Ogbonna (DF, Torino, two caps)
Davide Santon (DF, Newcastle United, seven caps)
Federico Balzaretti (DF, Palermo, seven caps)
Riccardo Montolivo (MID, Fiorentina, 32 caps, one goal)
Simone Pepe (MID, Juventus, 23 caps)
Alberto Aquilani (MID, Milan—on loan from Liverpool, 21 caps, three goals)
Antonio Di Natale (FW, Udinese, 36 caps, 10 goals)
Pablo Osvaldo (FW, Roma, two caps)
Giampaolo Pazzini (FW, Inter, 24 caps, four goals)
Bonucci is the odd man amongst the three Juventus center-backs, but could easily start here. Santon is, in my opinion, a superior player to the other option as the second-choice right-back, Ignazio Abate, but Abate may be in that slot instead.
In the U.S. friendly, Prandelli experimented with Ogbonna on the left in the second half, but he didn't look good there and should be used in the center. If Prandelli decides he's adequate on the left, however, Balzaretti may not figure.
Pepe's great form with Juventus this year picks him up onto this list. He's a great wide midfielder that can be use to switch things up if Prandelli wants to add width to the attack. Montolivo scored the winner against Spain in last year's friendly and will almost certainly figure at some point.
Di Natale is a must-include in the side in my opinion. He brings an experience to a forward line that will need some, and his form over the last three years makes it puzzling that he hasn't figured in the national team picture since the World Cup.
I am omitting Mario Balotelli from the team by choice—in my opinion he is a red card waiting to happen, and you can't afford to go down to 10 men during a major international tournament.
All things considered, this game is winnable for Italy. In no way, shape or form am I calling it a lock, of course, but I think we can all look forward to a close, hard-fought contest where, win, lose or draw, the sport will end up being the ultimate winner.