San Francisco Giants Ace Matt Cain Is MLB's Most Underappreciated Pitcher
May 7, 2012

Joe Robbins/Getty Images
Old-school baseball fans who rely on pitching stats like win-loss record see Matt Cain's 70-75 career record and see a guy who is nothing more than a No. 2 starter—certainly not an ace. 
New-school baseball fans who rely on advanced metrics like Expected Fielding Independent Pitching (xFIP) look at Cain's career 4.23 xFIP,  a stat that normalizes home runs allowed per fly ball and batting average allowed on balls in play to the league average, and see a guy who is nothing more than a mid-rotation starter—certainly not an ace.
Scouts who watch Cain pitch with his popcorn curveball and mediocre fastball velocity, which has declined by nearly three miles her hour since he first came into the league, see a guy who is a No. 2 starter at best—certainly not an ace.
Others will point to Cain's home stadium, AT&T Park, and its home-run suppressing ability as the reason for his success.  Or they will point to the weakness of the National League, and the even weaker competition of the National League West, as the main reason for his accomplishments.
These arguments, with the exception of win-loss record, all have some merit.  Cain does benefit from pitching in a stadium that suppresses home runs against National League lineups that lack the designated hitter as well as the overall talent of some of the elite American League lineups.  His repertoire does lack elite fastball velocity and a devastating off-speed pitch.  
Because of those arguments, and because of the dominance of fellow rotation mate Tim Lincecum, Matt Cain has become Major League Baseball's most under-appreciated pitcher.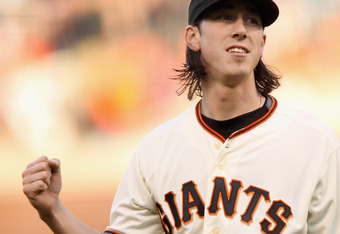 Ezra Shaw/Getty Images
Despite the naysayers and the two Cy Young Awards won by Lincecum, Cain has firmly established himself as the true ace of the San Francisco Giants staff. 
Since his first full season in the big leagues in 2006, Cain ranks 11th among all starters in Wins Above Replacement (WAR).  His 3.36 Earned Run Average (ERA) is 14th. 
For those who will argue that his impressive ERA and WAR are the product of luck, his .266 Batting Average on Balls In Play (BABIP) allowed is second only to Ted Lilly since 2006, a sample of over 1,300 innings.  At this point, suppressing hits can no longer be attributed to luck.  Suppressing hits is a talent that Cain clearly possesses. 
During the same time frame, Cain has allowed the lowest percentage of fly balls to leave the park, which is an excellent trait for an extreme fly-ball pitcher.  Even better, a lot of those fly balls never even leave the infield, as his infield fly ball percentage ranks sixth since 2006. 
When you watch Cain pitch, you aren't going to see the elite stuff of an ace like Justin Verlander or the high strikeout totals his more famous teammate, Lincecum.  You aren't going to see the radar gun hit 95 MPH, and are you aren't going to see an unhittable off-speed pitch like the great change-up of Pedro Martinez.  Don't let that fool you.  You are still watching one of the game's best pitchers—an ace who just goes about his work in a different way. 
Instead of relying on velocity, he relies on a five-pitch repertoire that he has excellent command of, including an above-average change-up and slider to complement his two different fastballs and curveball.  Instead of relying on the strikeout, he relies on missing the sweet spot of the barrel, inducing weak fly-outs and infield pop-ups with his deceiving release point. 
Rather than over-powering hitters, Cain deceives them.  Instead of pitching for the strikeout, he induces weak contact.  His methods might not be exotic, but they work. 
Start appreciating him more, because he is truly one the game's elite aces. His latest gem on Sunday shows that unlike other elite starters who are at or nearing their peak, Cain is now on the upswing of his career.