New York Yankees: Why David Robertson Will Do Just Fine as Yankees Closer
May 4, 2012

Mike Stobe/Getty Images
We've all had 24 hours to process the Mariano Rivera injury.
The bottom line is: it sucks.
It sucks for the Yankees. It sucks for the fans. It sucks for baseball. And it sucks for Rivera, who is as classy of a human being you can get in the sport.
But now, with the ACL tear in his knee forcing him out for the rest of the 2012 season, it shifts David Robertson into the closer role.
Ever since Robertson emerged onto the scene as a dominant setup man in the Yankees bullpen, we've all wondered if he could be the heir to Mariano's role.
When we heard the hints being dropped of 2012 being Rivera's final year as a professional, I thought it was time to really start grooming Robertson to get ready for the role.
But now, Robertson is the guy. It's a job he has earned, similar to how Rivera got it back in 1997 taking over for John Wetteland.
Robertson in 2012 is 0-0 with a 0.00 ERA with 18 strikeouts in 11 innings; just dominant numbers.
In 2011, Robertson was 4-0 with a 1.08 ERA with 100 strikeouts in 66.2 innings. Again, dominant numbers.
He's getting better each and every time he takes the mound for the Yankees, and I think because he's been able to learn from Rivera, it's helped him become a much better pitcher.
When you look at Robertson, he doesn't look that intimidating.
But when he pitches, hitters are having so much trouble figuring him out, which has a lot to do with the movement he puts on his pitches.
Robertson throws right around the 92-94 MPH range for his fastball, which is good. But if it's straight, most major-league hitters can hit a fastball.
Now add movement on that fastball, and that 94 MPH fastball is looking like it's 104.
At 27 years old, Robertson is entering the prime stages of his career. He has not only gained a lot of respect and attention from the league, but has gained a lot of confidence too.
Whether it was Rivera mentoring and guiding him in the bullpen or just maturing with age, Robertson is developing into a great relief pitcher for the Yankees.
Over the last three years he's been good, but now he's becoming one of the league's best relievers with how he's been.
Given his confidence level, maturation process and pitching style, I think it will make him into a great closer for the Yankees going forward.
Back in the 2010 season, there were times when Robertson looked lost on the mound with an ERA in the 10.00 area. He got hit around a lot, but then was able to turn it around by the end of the season and got his ERA down to 3.82.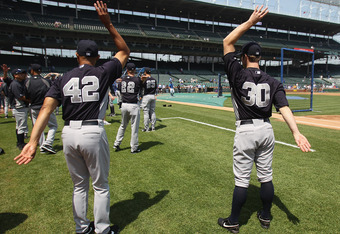 Jonathan Daniel/Getty Images
He had a lot of help from his coaches and teammates to get him back on track, helping him transform into a dominant reliever in 2011.
When both Joba Chamberlain and Rafael Soriano landed on the disabled list, Robertson had to step up to be the setup man, and he thrived in the role. In fact, he did so well last year, he got named to the 2011 American League All-Star Team.
I always feel there is so much a player can learn from failure. Robertson went through his early struggles as a reliever, and now he's a much better pitcher because of it.
Going forward, I think Robertson will be just fine taking over as the Yankees' present and future closer.
Stay tuned, Yankees Universe.