USC, Oregon, Stanford and Washington Football in SI's Post-Spring Top 25
May 4, 2012

Jeff Gross/Getty Images
The USC Trojans, Oregon Ducks, Stanford Cardinal and Washington Huskies football programs were included in the Sports Illustrated 2012 Post-Spring Top 25 Power Ranking.
What does this mean for the Pac-12? Sports Illustrated's Andy Staples suggests this ranking could influence (although he would rather it does not) who plays for the national title this year. 
You can view the full Sports Illustrated Post-Spring Top 25 Power Ranking by clicking here.
Here is a brief look at each of the Pac-12 programs ranked by SI.
Washington Huskies Football No. 23
Washington was ranked No. 23 in the SI ranking, behind Auburn, ahead of Oklahoma State. The Huskies were listed with notable key returnees including QB Keith Price, TE Austin Sefarian-Jenkins, S Sean Parker and DE Josh Shirley.
Price is a major factor in the Huskies' ranking. Last season, even while missing some game time due to injuries, Price's stats included 3063 passing yards (66.9% completion) and 33 touchdowns. Price finished the 2011 season by outplaying Heisman winner Robert Griffin III in an Alamo Bowl loss.
That loss showed a clear problem in the Huskies' defense, something Washington is attempting to correct with the hiring of Justin Wilcox as defensive coordinator. Washington's spring game suggested an improvement on the defensive side.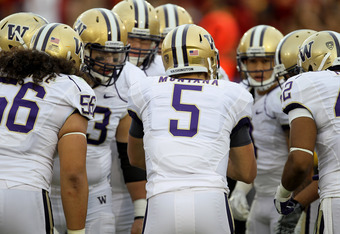 Stephen Dunn/Getty Images
Will this be enough for the Huskies? It's hard to say, especially as they face a tough schedule this season. That schedule includes an away game against the LSU Tigers on September 8. LSU is ranked No. 1 in SI's Post-Spring Top 25. 
Added to the Huskies' difficult schedule will be conference games against three other SI Post-Spring Top 25 teams, including an away game against Oregon. The Huskies will also head to the road to face Cal, a team that will be looking to get revenge after the Huskies hired top recruiter Tosh Lupoi from Cal two weeks before signing day. 
Stanford Cardinal Football No. 14
Stanford was ranked No. 14 in the SI ranking, behind Michigan and ahead of Kansas State. The Cardinal has a key loss with QB Andrew Luck heading to the NFL. However, Stanford was listed as having several key returnees, including RB Stepfan Taylor, LB Chase Thomas, LB Shayne Skov, C Sam Schwartzstein, DT Terrence Stephens and TE Levine Toilolo. 
Stanford is also bringing in one of the best recruiting classes in the nation this year. Coach David Shaw has not yet made it known whether it will be Josh Nunes or Brett Nottingham in the QB spot.
SI lists RB Ricky Seale as the Cardinal's spring star.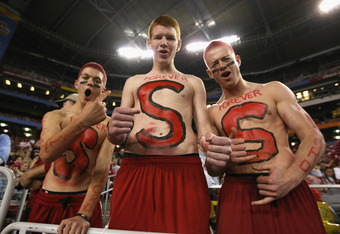 Doug Pensinger/Getty Images
Stanford's non-conference games include San Jose State, Duke and an away game against Notre Dame. While the Cardinal will face USC at home, they have road games against Washington, Cal, Colorado, Oregon and UCLA. 
Oregon Ducks Football No. 4
Oregon was ranked No. 4 in the SI ranking, behind Alabama and ahead of Oklahoma. Oregon's key losses include RB LaMichael James and QB Darron Thomas. Coach Chip Kelly has not named a starter in the QB position yet. 
SI list QB Marcus Mariota as the Duck's spring star.
Oregon has several key players returning, including RB De'Anthony Thomas. With Arkansas State, Fresno State and Tennessee Tech, Oregon won't face any major non-conference threats this season. In conference play, Oregon will take on Washington and Stanford at home.
The biggest problem for Oregon will likely be a road game against USC on November 3. 
USC Trojans Football No. 2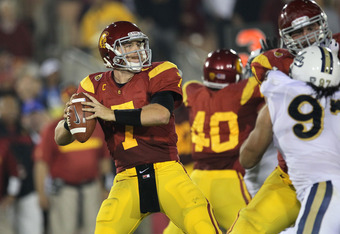 Stephen Dunn/Getty Images
USC was ranked No. 2 in the SI ranking, behind LSU and ahead of Alabama. QB Matt Barkley is a big part of USC's predicted success. Last season, Barkley's stats included 3528 passing yards (69.1% completion) and 39 touchdowns.
SI lists OT Aundrey Walker as the Trojans' spring star.
USC's 2012 non-conference games include Hawaii, Syracuse and Notre Dame. In the Trojans' favor is the Oregon home game, however they will face Washington and Stanford on the road along with Utah, Arizona and UCLA.
USC's postseason ban is over this season, which prevented them from representing the Pac-12 South division in the conference championship game last season. UCLA went to the conference championship game where they lost to the Ducks, 49-31. USC notably beat UCLA, 50-0, prior to that game.