Barcelona: 10 Things New Coach Tito Vilanova Must Address Straight Away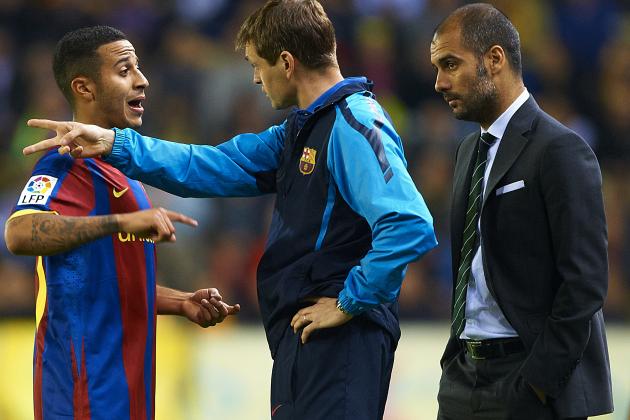 Manuel Queimadelos Alonso/Getty Images

Tito Vilanova has the one of the best and worst jobs in world football after being named head coach of Barcelona.
He inherits arguably the best side in Europe containing perhaps the best footballer ever to play the sport.
But things may not appear what they seem.
Vilanova has taken charge at a time where the club has clearly been shaken by recent events on and off the pitch.
Not only must he emerge from the shadows of Pep Guardiola and become a number one in his own right, he must be successful very quickly or risk coming under intensive scrutiny from the relentless Spanish media.
Here are 10 things he must address straight away...
Begin Slideshow

»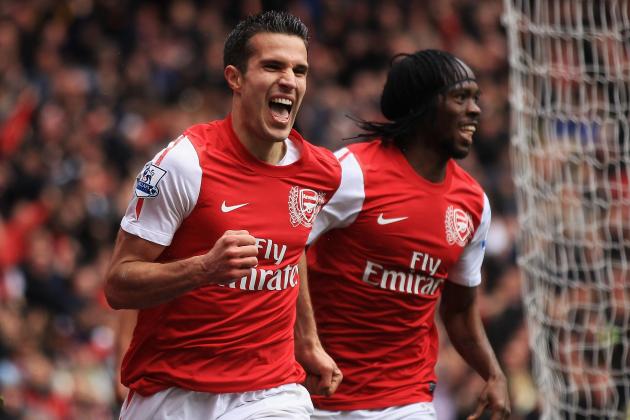 Bryn Lennon/Getty Images

Barcelona are still in a state of mourning after seeing Real Madrid lift the La Liga title, failing to reach the Champions League final and Pep Guardiola handing in his resignation all in the space of a week.
But there's nothing like a new signing to get fans talking in a more positive manner and looking to the future rather than analysing the past.
Vilanova must start by bringing some new blood into the squad, and what better way to announce himself on the scene than signing a world class player.
Many think Lionel Messi needs some support, and Robin Van Persie or Neymar could do exactly that.
Van Persie has yet to sign a new contract with Arsenal, and Neymar is a long-term target of the club.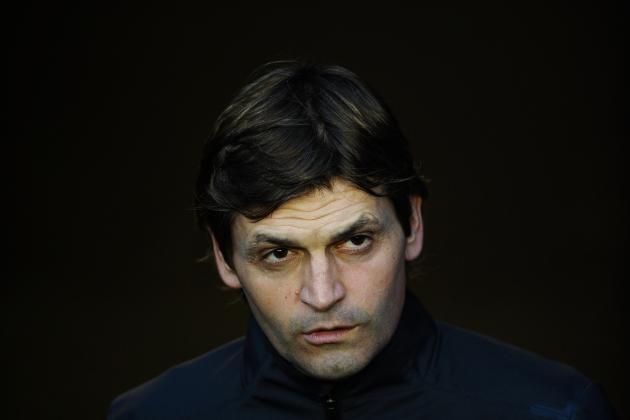 David Ramos/Getty Images

It's obvious that Vilanova has a huge amount of respect from the players and the Board of directors.
But emerging as Barcelona's new head coach is going to be a difficult proposition for the man who has spent a long time under Pep Guardiola's wing.
When the Spaniard addresses the world's media, he must be confident and clear in his visions of the short- and long-term goals he wants to achieve.
Vilanova must be his own man and show on the outside that he is ready for the challenge.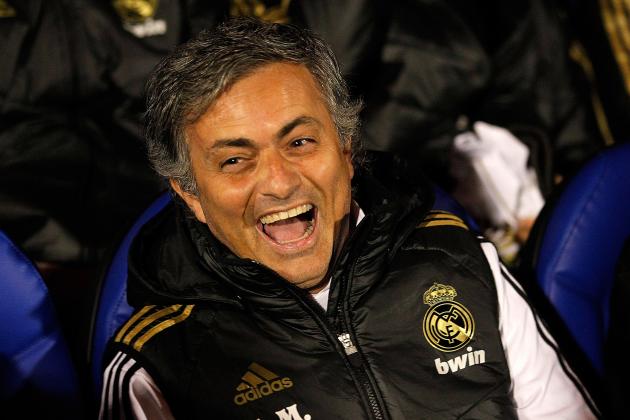 Angel Martinez/Getty Images

Many people outside Barcelona will not have heard much of Tito Vilanova until the infamous Mourinho eye gouging El Clasico incident last August.
Mourinho mocked Vilanova following the attack, claiming he did not know who the assistant coach was.
Whether the new Barcelona head coach addresses the incident or indeed makes a quirky retort, he must do something to give the Mourinho a little food for thought heading into the summer.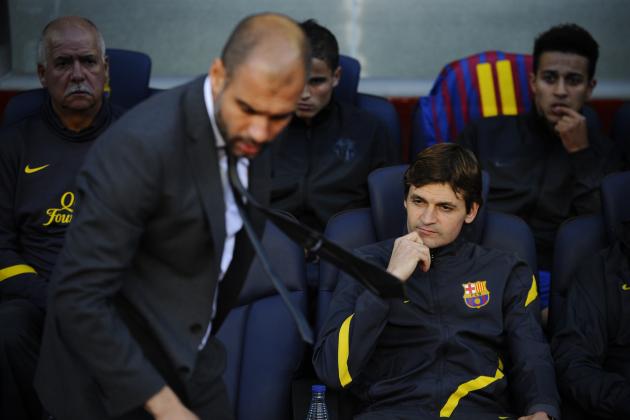 David Ramos/Getty Images

Vilanova was very much in line with Guardiola's way of thinking when it came to the direction Barcelona were moving forward.
Andrés Iniesta refers to Vilanova as "The Encyclopaedia" while Carles Puyol declared the 42-year-old as "perfect" for the role.
In a recent interview, he was asked about various players, each time speaking intelligently and precise, be it Pedro's positional awareness, Fàbregas' versatility to operate deep or high or David Villa's acknowledgment of working between the lines.
He also declared Messi "the sponge" because of his football understanding and ability to absorb even the most acute of details.
Vilanova is a staunch believer in keeping the club's famed ideals at heart—he must continue with his methods from Day 1 and not change from the initial objectives both he and Guardiola initially created.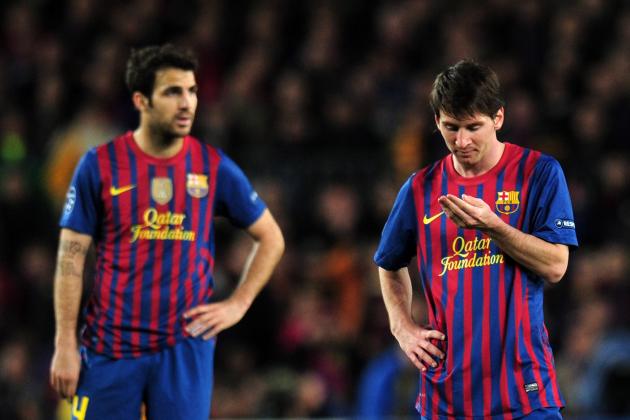 Shaun Botterill/Getty Images

Sometimes success brings its own problems—many think it was only a matter of time before Barcelona players suffered burnout.
The strains of playing domestic, European and world competitions on a consistent basis ultimately took its toll.
Many of his squad will be involved in this summers European Championships, which have forced Barcelona's hand in announcing an extremely low-key preseason for 2012/13.
This is an extremely smart move and will allow Vilanova to assess his squad and make the necessary changes before the media circus goes into overdrive.
July will be a hugely important first month for the new head coach, and he must use it wisely to set the foundations moving forward.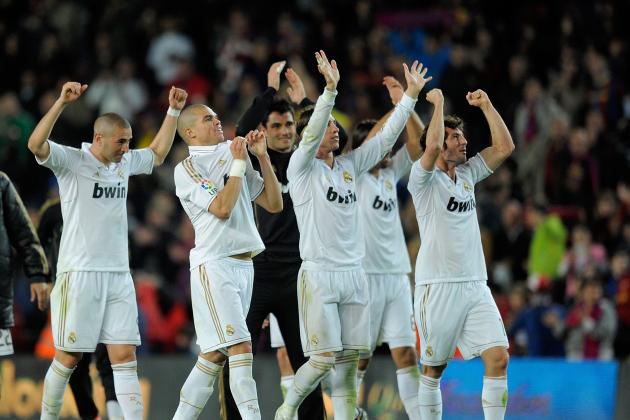 Denis Doyle/Getty Images

Whether it be a difficult test in the Champions League or the first El Clasico game of the season, Tito Vilanova will want to make an impact with a big result.
A win against Real Madrid would certainly prove any doubters wrong as well as give Mourinho more food for thought.
The Catalans are used to easy victories against the smaller teams, but a stand-out win in Madrid or abroad would do the new coach no harm whatsoever.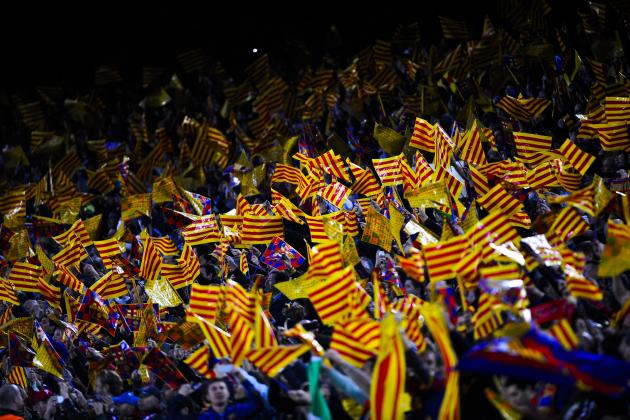 David Ramos/Getty Images

Very much the quiet man behind the scenes, Vilanova must come out of his shell and have some early interaction with the fans.
They are some of the best in the world and will embrace their new manager into their hearts.
Vilanova must do the same and show how much the team appreciates the incredible support.
Guardiola often spent time with the fans, especially away games, signing autographs and posing for pictures—Vilanova must do the same.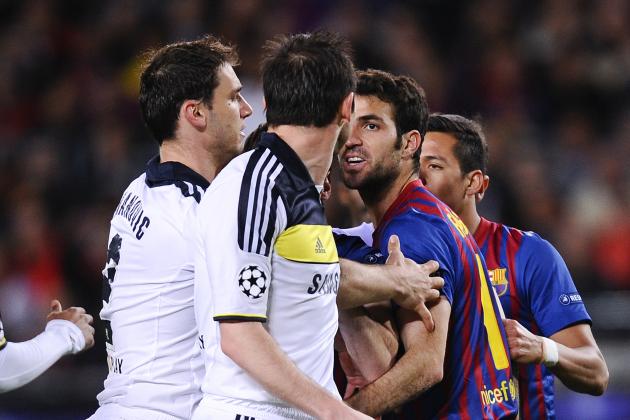 David Ramos/Getty Images

There was a sour taste left in the mouth after rumours of racial abuse involving Cesc Fabregas and David Villa earlier this season.
Fabregas was accused in an unsavoury incident with Fredi Kanoute while Villa allegedly called Mesut Ozil a Nazi and insulted Islam.
While these claims were taken no further, Vilanova will want to draw a line under the controversy and clearly voice his expectations regarding on the pitch conduct.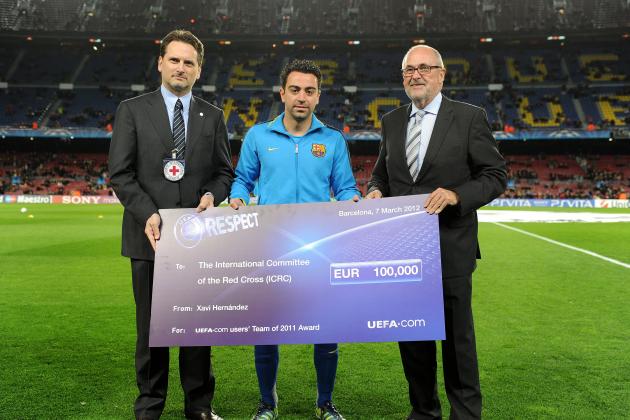 Jasper Juinen/Getty Images

Barcelona have improved the debt situation this season but will have to remain active in the transfer market—and that means selling!
Vilanova will have to be very clever in the transfer market if he wants to get some big players in during the close season.
One of those who could depart Camp Nou is the highly talented Cristian Tello whose contract is up at the end of next season.
With the likes of Gareth Bale, Thiago Silva and Jordi Alba on the bucket list, Vilanova might have to put Tello on the market to balance the books.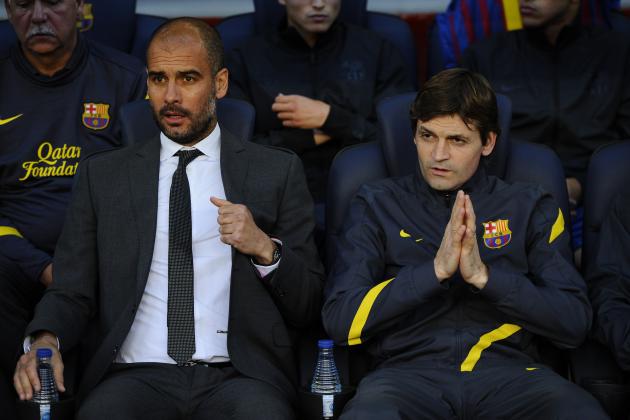 David Ramos/Getty Images

Of course, there will be a lot of Pep Guardiola in Tito Vilanova.
They come from the same background and have the same expectations about how soccer should be played.
But a new era under a new manager needs a certain amount of change, and Vilanova is the man to implement what needs to be done.
Whether it be players' contracts, transfers or tactics, the main thing the manager must address is being true to himself and having the confidence in his own abilities to make the necessary adjustments.