Carlos Ruiz: Why the Phillies' Catcher Deserves to Start the 2012 All Star Game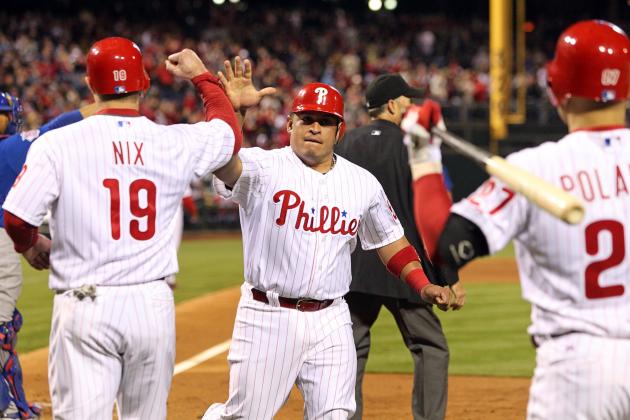 Hunter Martin/Getty Images

When Carlos "Chooch" Ruiz first joined the Philadelphia Phillies in 2006, he was coming off of a season in Double-A Reading in which he posted a .385 batting average with five doubles and six home runs in 91 at-bats. As a result of these numbers, Ruiz received his major league call-up and started 27 games with the Phillies.
In 2007, he was awarded the starting catching job with the Phillies, among talk of concern regarding his ability to hit, catch and have his body hold up for the entire season. As insurance, the Phillies signed Rod Barajas in the 2006 offseason to back up their catching prospect. An injury to Barajas left an opening for the 33-year old-rookie Chris Coste to start, but instead Ruiz got the majority of the catching time. In the 115 games he played in, he hit .259 and recorded career highs in doubles (29) and RBI (54).
Playing great backstop from behind the plate, Ruiz showed his doubters and quickly dispelled the thoughts that he couldn't be a major league catcher. He instantly endeared himself to fans by a few clutch hits and key plays behind the plate, earning him the nickname of "Chooch."
After 2007, Ruiz never looked back. He earned the full-time catching job outright and has been as vital to this team as any other player in recent years. His defense and pitch calling have never been in question and his offense is continually improving. He has been this team's MVP time and time again, but has never gotten to start or even made the NL All-Star team. 2012, however, could and should be his year.
Begin Slideshow

»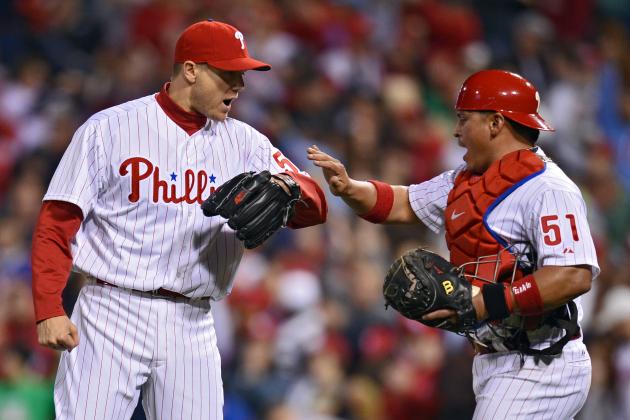 Drew Hallowell/Getty Images

If you were to ask Roy Halladay, Cliff Lee, Cole Hamels, Vance Worley, Joe Blanton, Jonathan Papelbon or any of the other pitchers on the Phillies if Carlos Ruiz deserves to start an All-Star Game, I would bet you that they would all answer with a resounding yes.
In 2010, when Roy Halladay threw his perfect game, the first thing he did was recognize and honor his catcher. Halladay couldn't have given enough praise to Ruiz, crediting him with helping make the right pitches at the right times. Halladay was so grateful to Ruiz that he honored him with a great tribute and gift, thanking him for his role in the perfect game.
The same was true after Halladay threw the no-hitter in the postseason, after Cole Hamels pitched a complete game shut-out, after Cliff Lee gave his wonderful 10-inning gem, after Vance Worley completed his first 2012 start with Ruiz and after every single one of Jonathan Papelbon's nine 2012 saves. Each pitcher has not been shy to praise Ruiz for his role in their pitching performances.
Even manager Charlie Manuel has mentioned how valuable Ruiz is to this team. In terms of calling pitches and executing game plans, the Phillies catcher is one of the best in the league. With chances high that at least one Phillie starter will make the All-Star team, the NL has the best chance to win with Ruiz behind the plate.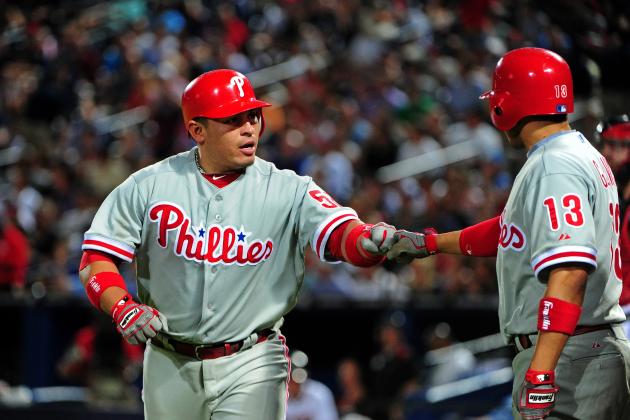 Scott Cunningham/Getty Images

Never a slouch for offense in the minor leagues, Ruiz has had up and down years with the bat at the major-league level. He is a .268 major league hitter, but most of that success has come over the past few years, including finishing the 2010 season with a .302 average and finishing 2011 batting .283. His numbers have continually improved, and this season he really has shone through and seen great success from the seventh spot in the lineup.
Keeping Ruiz from All-Star games in the past has been the fact that his offensive numbers were too low compared to other catches in the league. This year however, Ruiz's stats are right on par with his two biggest competitors, regular All-Stars Brian McCann and Yadier Molina.
At this point in the season, Ruiz is batting .325 to Molina's .308 and McCann's .235. Ruiz is tied with McCann for most HR by a NL catcher this year and with 19 RBI bests both Molina (15) and McCann (16). Molina however has the edge in doubles and runs scored.
Right now, it is too close to call, even though All-Star balloting has already been released. Both Molina and Ruiz are worthy as well as Buster Posey, who leads all catchers in average and has numbers close to Molina and Ruiz in terms of doubles, HR and RBI.
The most important factor in starting an ASG is the fan vote. Stats aside, getting to start the game is a popularity contest and currently, all three of the top catchers have a strong fan base.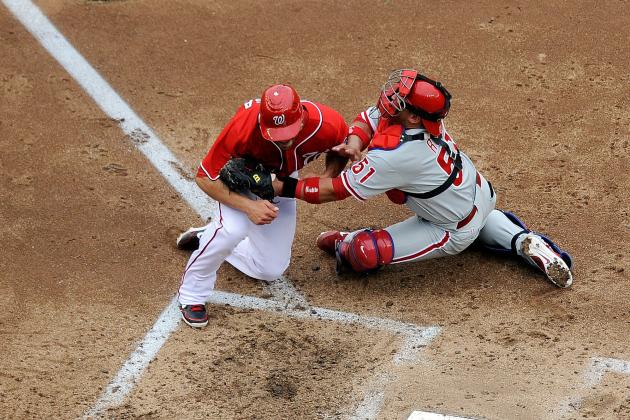 Patrick McDermott/Getty Images

Ruiz has also been a great defensive catcher. Behind the plate, he is not afraid to get involved in collisions and has often made athletic plays to save runs.
A great example of this was in 2008, during Brad Lidge's perfect season. During a game against the Astros, Lidge had worked himself into trouble in the bottom of the ninth inning. With a runner on second, Lidge gave up a hit and it looked like a blown save.
Shane Victorino came charging in from center and got the ball on one hop. He made a perfect throw and Ruiz got the ball just in time to make a sweeping tag and get the runner out, keeping Lidge's perfect season intact.
Ruiz has made plays like these almost his whole career. Most of the time, he has been aided by great defense in the outfield but sometimes he has made the plays all on his own.
In addition to a strong arm tagging out runners at the plate, Ruiz also rarely lets a ball get past him. He almost never allows a dropped third strike and with great protection and a great motion, he does not allow many passed balls, only 24 over six-plus seasons in the big leagues.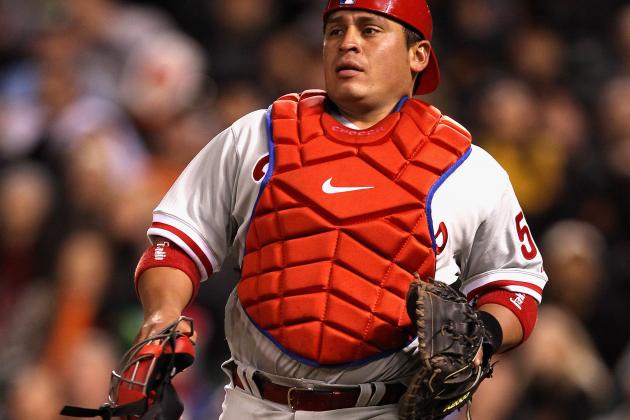 Ezra Shaw/Getty Images

Ruiz has always had a great arm from behind the plate, but this year he has been especially proficient when it comes to throwing out baserunners, something his counterparts in Molina and McCann have had success with most of their major league careers.
Ruiz has a career .995 fielding percentage and a career .270 percentage at throwing out base runners. As a catcher, these numbers are pretty solid, but at under 30 percent there is always room for improvement.
In 2012 however, Ruiz has been phenomenal from behind the plate, throwing runners out nearly 40 percent of the time. In 25 attempts this year, Ruiz has stopped nine and with pinpoint accuracy in his throws, he has given his second baseman and shortstop every opportunity to get even the fastest runners.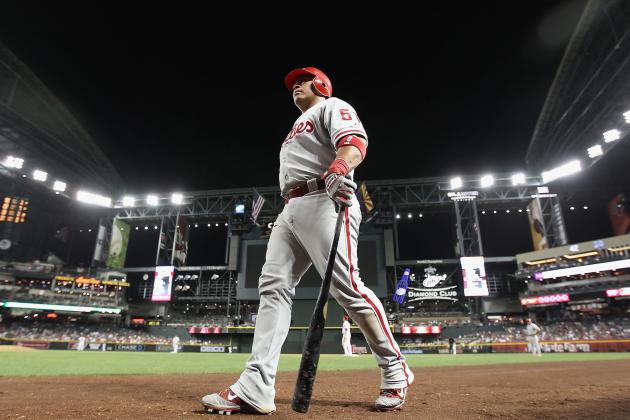 Christian Petersen/Getty Images

His pitchers love him, his teammates love him, his home country of Panama loves him and most importantly, Phillies fans everywhere love the catcher they affectionately nicknamed "Chooch."
Since the All-Star game starter is voted in by fans, popularity does matter. Luckily for Ruiz, he has a lot of popularity in Philadelphia and growing popularity around the league. Going along with that popularity are his stats. This year, Ruiz has the offensive numbers that are good enough to start the Midsummer Classic. Now all he needs are the votes, and Phillies fans have shown that they will support their own.
Shane Victorino is just one of the many Phillies who have been voted to All-Star games ever since the team's meteoric rise to the top in 2008. Victorino, however, needed a final push in order to go to the game. He was one of the Final Vote candidates for the 2009 All-Star Game and, fueled by a great campaign, supported by his teammates and Phillies fans, Victorino edged ahead of his teammates and was rewarded by making his first All-Star Game.
Ruiz has the same chance in 2012. He will have a shot to earn his first All-Star appearance and the Phillies unsung hero could be given his time in the spotlight.