Hubert Davis: Roy Williams Reaches Outside the List for a "Home Run" Hire
May 6, 2012

Scott Cunningham/Getty Images
As large as the North Carolina basketball family is, and as little information as Roy Williams provided before the decision was made, it was unsurprising that Williams reached off the perceived list of candidates to select Hubert Davis as his new assistant coach.
In my previous article previewing the decision and outlining the candidates generating the most buzz in Carolina basketball circles, I failed to mention Davis, former Carolina and NBA sharpshooter and current ESPN College Gameday analyst. As someone who had neither a stated desire to enter coaching or any coaching experience, he was not making the list as fans guessed who might be among the 14 former Tar Heels to express interest in the job.
As he revealed a few days after the decision in an interview with ESPN's Robbi Pickeral, in turns out that Davis was not on that list of 14 former players. As told by Davis, after he did not contact Roy to apply for the opening, Williams reached out him and offered him the job as his first choice, a remarkable honor which he apparently earned over the course of several years.
It was a decision that Carolina fans could not have clearly anticipated in advance, but in hindsight it leaves us wondering why we didn't. Davis is a widely respected and admired member of the Carolina community with a coach's demeanor, and the outpouring of praise for the decision was strong and immediate.
Former head coach Matt Doherty tweeted, "Happy for Hubert Davis and UNC basketball as Hubert is a GREAT ambassador for Tar Heel Nation. Great get by Roy Williams." Several current and former players tweeted positive responses, with incoming freshman Brice Johnson saying, "I'm looking forward to Hubert Davis being one of my coaches next year!"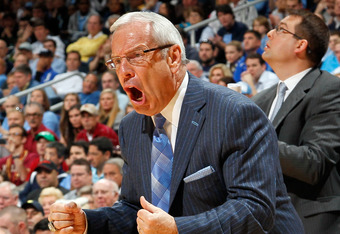 Kevin C. Cox/Getty Images
Assistant coach Steve Robinson tweeted the staff perspective, and captured succinctly what most were thinking about the hire: "Hubert Davis is a great person. We hit a home run with his hire. Welcome to the staff!"
Tellingly, the response from outside Tar Heel nation was just as positive. Several ESPN college basketball analysts tweeted their thoughts about the hire of their former ESPN colleague. Doug Gottlieb called him "one of the nicest guys I know" and "what all star athletes should strive to be." Andy Katz, Jay Bilas and Dick Vitale also expressed praise, Vitale labeling Davis "a winner in the game of life."
Davis is in many ways the most logical hire given the circumstances and the criteria Roy apparently sought. There was a void of former Carolina players with the appropriate level of experience for the job, leaving him little choice but to make an unorthodox selection.
Davis possesses all of the qualities Williams could look for to compensate for the lack of coaching experience. He is an established local member of the Carolina basketball community, running a Christian camp at UNC's basketball facilities during the summers and spending significant time around the team.
Carolina fans, having seen him and his children around the stadium at games, are already familiar with him as a mentor and father figure.
Williams can trust that Davis possesses the necessary demeanor to be a coach, and in fact, when announcing the decision, Williams said Davis has been on his mind for that reason for several years.
While not yet an experienced recruiter, Davis is well known in college basketball circles and intimately familiar with the sport after his seven years at ESPN covering college basketball. For a coach with no experience, he should still have a measurable impact on the recruiting trail. He can speak candidly as a player with NBA experience but without the stigma of being an NBA guy—Davis' heart is in college basketball.
His story is an underrated aspect of his character, and it is one that should appeal to current players and recruits. Dean Smith told Davis during his recruitment that he was not good enough to guarantee playing time; he offered him a scholarship, but advised him to go to a smaller school.
Davis went on to average over 20 points per game his senior season and was drafted in the first round of the 1992 NBA draft.
Finally, when selecting former players to be coaches, it is typically the ones with sound fundamentals that often stand out. Davis, with one of the smoothest jump shots in the sport's history, fits that mold, and all Carolina fans hope he can help cure the program's outside shooting woes of last season.
It is clear from his interview with Pickeral that Davis is excited to embrace all facets of his new job, especially the role as mentor and character developer of young people. Roy Williams has made a significant investment in the future of Davis and bestowed to him a great deal of responsibility for the health of the program.
When considering the implications of the hire—that our players will interact daily with a person of the caliber of Hubert Davis, and that Davis may be afforded the chance to earn the future job as head coach—Roy Williams' decision makes a lot of sense.