Floyd Mayweather Jr. vs. Miguel Cotto & Mosley vs. Alvarez: The "What IF"
May 4, 2012

Jeff Bottari/Getty Images
One of the most common topics surrounding big fights is undoubtedly the "what if" discussions and analyses. Of course, most of those are nothing more than brainstorming, assuming and hypothesizing. Nonetheless, it is an important factor in not only building up fights, but also in hyping up expectations.
It is nearly impossible to talk about potential upsets or spectacular unexpected victories without saying "what if."
Here is my "what if" regarding the upcoming bouts of Mosley vs. Alvarez and Mayweather Jr. vs. Cotto:
What if Saul Alvarez knocks out Shane Mosley?
That kind of a loss for Mosley would finally set his mind straight, and more likely than not send him into a permanent retirement. He would take over his son's training and probably try to get into the promotional side of the sport, as he had mentioned previously.
Without having any solid victories in the recent past, there is nothing that he can do to entice and make his fans believe in him they way they used to. Fighting again would certainly lower his stock historically.
What if Saul Alvarez wins via a UD/SD?
I assume that Mosley would ask for a rematch for a few reasons. The most important one is the fact that it would be more or less reasonable, and collecting another paycheck would feel great. A slight loss by points would put Mosley into a position of demanding a rematch.
For Alvarez, giving him one wouldn't seem like so bad of an idea. Having Mosley on his resume twice would look impressive, no matter what kind of Mosley it is.
Retirement would not satisfy Mosley in this situation.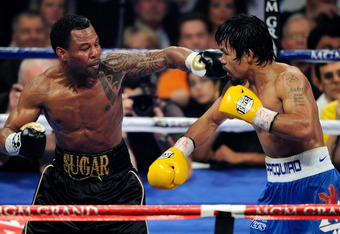 Ethan Miller/Getty Images
What if Mosley knocks out Alvarez?
If this happens, we can all expect a rematch. Alvarez would claim a fluke and likely shift blame. Mosley will agree to one, since it will surely be his biggest paycheck available at the time.
Mosley fans will claim their hero is back and hope for another showdown with a bigger name (Pacquiao or Mayweather Jr.)
What if Mosley wins via a UD/SD?
In this case, the scenario is probably identical to the one mentioned above. Mosley would be in no position to ask for a bigger fight than the probable rematch with Alvarez.
What if Mayweather Jr. beats Cotto via a KO?
Let's start with the fact that this kind of a victory would be extremely impressive, even for Mayweather Jr. Cotto, as most know, has a well-tested granite chin, and the man just does not fall. If this was to happen, Floyd's name and legacy would skyrocket. People would have nothing to say to take that victory away.
Knowing Cotto's integrity, he would also avoid making any excuses, and credit Floyd with a good fight. Mayweather Jr. would use that opportunity to call out Pacquiao once again and specify that his zero-loss record along with his recent victory should explain why it is Mayweather Jr. that should be getting the bigger part of the profits from their possible bout. He would of course get cockier and demand even more, but that's ways away.
For Cotto, this loss might mean nothing unusual. He would surely keep fighting, trying to win his way back to the top.
What if Mayweather Jr. wins by decision?
In this case, while Floyd would feel as deserving as if he had knocked Cotto out, the public might not see it in the same light. Most would claim that while Cotto is a formidable opponent, Mayweather Jr. was expected to win the fight and he did as he should have.
The impressive part would dissipate, and this would be just another victory for Floyd, a victory all knew would come. Again, for Cotto, this would be a fall in rankings and an indication to try and find another good fight.
Of course, Cotto would ask for a rematch, but knowing Mayweather Jr., he shouldn't expect one.
What if Cotto knocks out Mayweather Jr.?
Where does one even start in discussing the tremendous impact of such result? For Cotto, this would be a master key—a way into any fight he wants. A rematch with Floyd would without doubt be the best option, and the one he would likely accept.
A rematch with Pacquiao would also be a possibility, and something to think about. Although, after having lost to Pacquiao once, he might want to try and avenge that loss. Cotto's name and that victory would be launched into history books forever. I doubt Cotto would act up, as he seems to be a very humble and calm man.
As for Mayweather, well, he would try to act modest and give Cotto his due, followed by some mind-blowing excuse and a direct reason as to why this had happened (he himself would not be the reason). He would then make numerous appearances on sports shows and any other related TV/radio programs to explain why this was not a definitive loss, and why he would most certainly knock Cotto out in a possible rematch.
As far as Pacquiao, Mayweather's ability to dictate rules would be shrunk, and he would have to accept the 50/50 offer if it comes his way. Without that "0" on his record, Floyd would be just a regular champion, not an unbeatable one.
What if Cotto wins via decision?
Similar setting as above, except Mayweather Jr. would push for a rematch with more force, having more reasons to point fingers at others.
My picks:
Mayweather Jr. via a 10th-round KO/TKO
Mosley via a UD
Your thoughts?