Mariano Rivera Injury: Possible Silver Lining for New York Yankees
May 4, 2012

Al Bello/Getty Images
Mariano Rivera's torn ACL is obviously one of the most devastating injuries to ever befall the storied New York Yankees.  While most will be concentrating on how awful the loss may be for the Bombers, there has to be some kind of silver lining to the all-time saves leader's injury.
Instead of creating a potential controversy by removing Phil Hughes from the starting rotation, Rivera's injury allows the Yankees to make a smooth transition with Hughes.  The Yankees can task Hughes to return to 2009 and capture an important role in the back end of the Yankees' 2012 bullpen. 
Instead of embarrassing Hughes by demoting him to the bullpen in a potential middle-relief role, Yankees manager Joe Girardi can spin the move to the pen as a way for Hughes to shift into a high-pressure role. 
If the move is made immediately, Hughes will be allowed to move out of the rotation with his head held high, believing he is making a sacrifice to help his team in a time of need.  A high-confidence Hughes in the seventh or eighth inning may be a way for the Yankees to salvage their bullpen woes without Rivera available. 
Hughes was a force to be reckoned with in the Yankees' World Series winning squad in 2009.  Hughes sported a 1.40 ERA, 0.857 WHIP and 65 strikeouts in 51.1 innings as a reliever in 2009.  Hughes parlayed that performance into his lone All-Star season the next year, going 18-10 as a member of the starting rotation. 
Hughes hasn't been able to regain his 2010 form since struggling with injuries last season, leading to plenty of speculation regarding his future in the rotation and as a Yankee.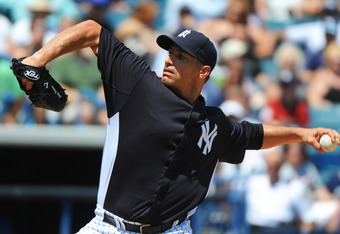 Al Messerschmidt/Getty Images
With Andy Pettitte scheduled to make one more start before making his return to the big leagues, the timing is perfect.  Pettitte was most likely going to shove Hughes into the bullpen regardless of what happened to Rivera. 
Looking at this season alone, Hughes' performance has barely earned him a spot on the team, let alone a top slot in the bullpen.  Hughes has a 1-4 record with an ERA approaching 7.5 in five starts this year.  However, based on Hughes' past performances, he has proved he has a flair for significant roles at the back of the Yankees' bullpen.  
With Hughes back in the pen he will not have to concentrate on conserving his energy for an entire game, allowing him to let it fly for an inning or two.  In the bullpen, Hughes' fastball would most likely return to the high-90s he has flashed in his past relief appearances, allowing him to overpower hitters in a way he hasn't been able to since he returned to being a starter. 
Hughes recently said he had been looking at old footage of his 2009 form to learn how to turn around his 2012 season.  Hughes said he needs to be more aggressive with his fastball and attack more on the mound. 
It turns out it may have been more than just reminiscing that Hughes was doing in the film room.