Mayweather vs. Cotto: What Mayweather Must Do to Keep His Perfect Streak Alive
May 4, 2012

Jeff Bottari/Getty Images
Not very often does the boxing world come across a talent like that of Floyd "Money" Mayweather Jr. 
He has been undefeated in 42 consecutive bouts, winning 26 of these bouts by way of a knockout. 
On Saturday, May 5, Mayweather will put his undefeated record on the line against Miguel Cotto at the MGM Grand Arena in Las Vegas, Nevada. 
Cotto will pose quite the threat to Mayweather's title. Cotto will be coming into the fight riding a three-match win steak, including two knockouts. 
In order to keep his undefeated record alive, Mayweather is going to have to be at the top of his game and fight a flawless fight. 
Here are the things Mayweather must do in order to keep the streak alive. 
Strong Defense
For starters, Mayweather must keep his defense strong. Mayweather is an outstanding defensive fighter, which makes it very hard for opposing boxers to land effective strikes on any part of his body.  
Cotto is a quick and powerful puncher who has good control over every punch he throws, so Mayweather will need to be in top form to wear down Cotto and keep his own body in good condition throughout the fight. 
Must Fight  A Clean Fight
It's not unknown that Mayweather's last fight against Victor Ortiz, had a less then favorable conclusion. The one-two combo that ended his last fight came immediately after an apparent act of sportsmanship by Ortiz, following an illegal headbutt to Mayweather. 
Now, even though Mayweather's win over Ortiz was technically "clean", I wouldn't be surprised if there will be a greater focus on Mayweather's game. If he slips once, Mayweather could easily be in danger of losing the fight on a technicality. 
Remove Himself From His Out of the Ring Distractions
Mayweather is currently facing a stint in prison following a domestic violence conviction that was handed down after a dispute with the mother of his three children. This would be a distraction to anybody, no matter what they were doing, so I can only imagine how heavily this is weighing on Mayweather as he prepares for his fight against Cotto. Mayweather cannot let this get in the way of his last minute preparation and his fight night mentality. 
Mayweather is facing the biggest pay out in boxing history for this fight along with putting his undefeated career on the line. He will need to be completely focused on the fight at hand in order to come away with the victory against Cotto.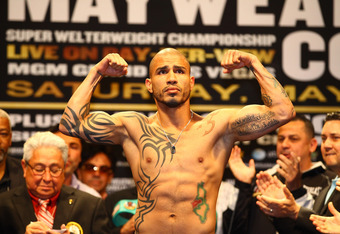 Al Bello/Getty Images
Uppercut Combos
Fourth, Mayweather should put some extra work into his combos, particularly combos that involve uppercuts and body shots. The previously mentioned stance that Cotto has adopted leaves him open to these blows.
Mayweather already has lightning-fast combos which include piercing jabs, devastating uppercuts and stifling hooks. If Mayweather can fine tune these combos and strikes even further, and hone them to custom fit the way Cotto fights, then Mayweather is well within striking distance of a 43-0 record. 
Land Numerous Strikes
Finally, and I know this sounds silly, but Mayweather is going to need to land a lot of strikes. Cotto has a strong jaw and quick reflexes. These aspects of Cotto's game will take some time for Mayweather to wear down, unless he starts landing some really big, really powerful shots. 
Aside from generally wearing down Cotto, the punches will tap into another weakness he has shown in past fights: Cotto is a bleeder. If Mayweather lands strike after strike to Cotto's face, then he'll swell up and eventually start bleeding everywhere.
At the very least, the sight of his own blood with cause the wind to be knocked out of Cotto's sails a little bit, but if it gets to a certain point, the referee could stop the fight. It may not be the flashiest, "Money" way to win a match, but it's a win nonetheless and another notch in an undefeated career.