Mariano Rivera Tears ACL: What Does This Mean to the Cleveland Indians?
May 4, 2012

Jim Rogash/Getty Images
Mariano Rivera tore the ACL (anterior cruciate ligament) in his right knee while chasing a fly ball during batting practice on Thursday afternoon, as reported by The New York Times.
Before Thursday's game between the Kansas City Royals and the New York Yankees at Kauffman Stadium, Rivera was shagging fly balls in center field. While retreating to the outfield wall, his knee went out and he collided with the wall and went down.
The Royals' team physician, Dr. Vincent Key, gave a diagnosis of the torn ACL after Rivera received an MRI (magnetic resonance imaging) test at Kansas University MedWest hospital, the Times reported.
This is a devastating injury for the Yankees and for Rivera, who is 42 years old and is nearing the end of his career. If the initial diagnosis is correct, the injury almost surely means the end of Rivera's season and quite possibly the unfortunate end to a Hall of Fame-worthy career.
This means nothing to the future of the Cleveland Indians, right?
While an extremely unfortunate injury for Rivera and the Yankees, this could be an opportunity to improve the Tribe.
How?
Don't be the least bit surprised to see Yankees GM Brian Cashman come a' courtin' at Indians GM Chris Antonetti's door.
Who would Cashman be looking to woo? With Joba Chamberlain on the DL with a dislocated ankle and now Rivera likely gone for the season, Cashman will be looking for a closer.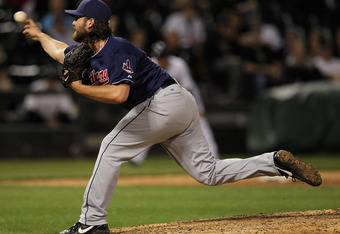 Jonathan Daniel/Getty Images
Bullpen depth is something Cleveland possesses with the big club and even down in the minors, so a trade to acquire one of those arms could definitely be a possibility.
The two most attractive belles of the ball? Indians closer Chris Perez and setup man Vinnie Pestano would seem to be prime targets.
Perez is not the steadiest of closers, but he has been solid this season after blowing a save on Opening Day. After his only blown save of the season, Perez has been perfect and has made nine saves in as many chances.
Pestano, who could probably do an admirable job of closing, has also been solid this season with a 2.53 ERA and 0.94 WHIP in 12 games pitched. Last season Pestano was one of the best setup men in baseball with a 2.32 ERA and 1.05 WHIP in 67 games pitched.
Why would the Indians want to part with the solid one-two punch of Pestano and Perez? They should consider parting with one of them for two reasons:
Pestano Could Close
As previously mentioned, Pestano would probably do an admirable job of closing. Compare the 2011 numbers of both hurlers:
Pestano: 2.32 ERA, 1.05 WHIP, 62 innings pitched, 84 strikeouts
Perez: 3.32 ERA, 1.21 WHIP, 59.2 innings pitched, 39 strikeouts.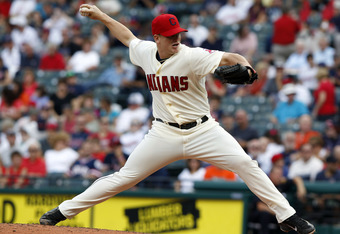 David Maxwell/Getty Images
The numbers are pretty telling. It seems as if Pestano could be a more effective closer than Perez, so if we moved Pestano, we still have our current closer.
Also, Cleveland has some good young arms to fill Pestano's setup role in Nick Hagadone (1.69 ERA, 0.56 WHIP, five strikeouts in 5.1 innings pitched with the Tribe) and Chen Lee (2.57 ERA, 0.86 WHIP, eight strikeouts in seven innings pitched with Triple-A Columbus).
If Perez were traded, we have a very capable backup closer in Pestano and could possibly use Hagadone, Lee or current "Bullpen Mafiosos" Joe Smith, Tony Sipp and Rafael Perez (currently on DL) to serve as setup men.
The Right Trade Could Help the Indians' Offense
Key words here being "the right trade." If Antonetti pulls the strings on a deal with the Yankees for either Pestano or Perez, it better be the right deal.
The Indians are the ones with the upper hand here, not the Yankees. The Indians' bullpen is probably the biggest strength of their team. They are in solid shape here. They don't have to make a deal. The Yankees most likely do and could be in desperation mode.
Who should the Indians target in a deal?
I'm thinking one, and only one guy who we should seek and that the Yankees might be willing to part with: Nick Swisher.
The guy is a gamer and seems like he would be great in the clubhouse. Oh yeah, and he can hit the baseball, too. So far this season he has a line of .284/.355/.617 with six home runs and 23 runs batted in.
Could a package of Pestano or Perez and another bullpen arm get a deal done for Swisher? Perhaps.
The Indians could use another right-handed bat and Swisher, a switch-hitter, would fit nicely into the Indians' lineup.
Mr. Antonetti, please don't get rid of one our bullpen stalwarts for Andruw Jones or Russell Martin. Please?
Other trade pieces that the Yankees have that the Indians should consider would be top pitching prospects Manny Banuelos (LHP), Dellin Betances (RHP), Juan Campos (RHP) and top outfield prospect Mason Williams.
After trading arguably their two best pitching prospects in Drew Pomeranz and Alex White to the Colorado Rockies for Ubaldo Jimenez, the Indians need to replenish their minor league system with stud starter prospects. They could also use a boost in solid outfield prospects.
To recap, the Indians are in the power position here, so they should not do such a deal unless the proposed trade greatly benefits the current major league team (acquiring Swisher) or helps to replenish the minor leagues with great prospects.
The relief corps is deep, so a trade of Perez or Pestano would not be crippling and could possibly help the Cleveland Indians.