Despite the uncertainty along the front line, Michigan may field its best defensive unit in several years.
It should be better than last season's squad which allowed just 17.4 points per game.
By discounting Rich Rodriguez' three defensive flops and Lloyd Carr's final season, you'd have to go all the way back to 2006 to find a unit comparable to what you'll see this fall.
Excellent senior leadership, a year with the system, a solid secondary and great competition at linebacker are just a few of the reasons Michigan should be better this year.
Seniors Jordan Kovacs, Kenny Demens, J.T. Floyd, Craig Roh, Brandin Hawthorne, Mike Jones and Will Campbell will provide leadership roles both on and off the field.
The defensive leader will most likely be Kovacs, who's gone from being a freshman walk-on to an All-Big Ten performer with 266 career tackles.
"He's always been a leader from a defensive standpoint and positionally," head coach Brady Hoke told mgoblue.com. "But taking that next step to being a guy—on both sides of the ball—that guys look at everything he does, I think that's a big step for him."
Probably the biggest improvement you see is team quickness, thanks to a second season in Greg Mattison's defensive scheme. And we're not talking necessarily about foot speed. "One of the biggest reasons is they understand the defense," Mattison said. "That defense last year was all new to those guys. Any time you know the defense well you play faster."
Kovacs leads the secondary that's basically intact from last season. Thomas Gordon has improved at free safety this spring after sharing the position late last season with Troy Woolfolk, who graduated. Early enrollee Jarrod Wilson and freshman Allen Gant will push recently reinstated Josh Furman and Marvin Robinson (pending legal problems) for playing time.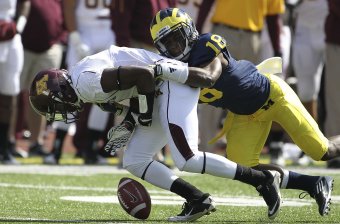 Leon Halip/Getty Images
Both cornerbacks return as does nickelback Courtney Avery. Blake Countess, who had a surprisingly effective freshman year, could eventually become Michigan's best cornerback since Charles Woodson. Floyd, who starts at the other corner, is expected to have a solid senior season.
Linebacker is even more loaded with talent. MIKE linebacker Demens, who made 94 tackles as a junior last season, could be headed for a banner year. Or maybe not. Early enrollee Joe Bolden had an effective spring while incoming freshman Royce Jenkins-Stone has starter written all over him. Then there's senior Mike Jones, who will also compete.
"That linebacker thing," reminds Mattison. "It's gonna be a heckuva competition before its done."
Jake Ryan, another star in the making, returns for his sophomore season at SAM, while Desmond Morgan should win the job at WILL. Cam Gordon and Brandin Hawthorne also had good springs, so the summer and fall will be interesting indeed. We haven't even mentioned Antonio Poole, James Ross and Kaleb Ringer.
Which brings us to the problem. The concern are the tackle positions, since Craig Roh will shine at the strong-side end position, while Brennan Beyer has been battling Frank Clark for the starting rush end slot.
Since Mike Martin, Will Heininger and Ryan Van Bergen graduated, very little experience remained for the nose tackle and tackle spots. Nose tackle will go to "Big" Will Campbell, who's had three disappointing seasons at Michigan, especially considering he was a 5-star recruit. Coach Mattison moved Jibreel Black over from end to tackle, but at 270 pounds, he will need to gain size and strength over the summer.
The wild card could be freshman recruit Ondre Pipkins. A standout at the Army All-American Game, Pipkins has the size (6'3", 320 lbs) and ability to play right away.
Willie Henry, a last-minute recruit from Cleveland Glenville, was especially impressive during his senior year, and could also be an early performer.
Should Michigan be able to shore up the interior line, even folks in Columbus might have to take notice.