Fantasy Football 2012: Michael Floyd Will Be the Top Rookie WR
May 4, 2012

Jonathan Daniel/Getty Images
Four WRs were taken in the first round, and 33 WRs were taken in total in a 2012 draft that was widely considered to have a deep class at receiver.
But are there big-time fantasy players in that rookie class ready to break out like 2011's A.J. Green and Julio Jones?
I say yes, at least one.
Justin Blackmon was the first receiver off the board at No. 6, and will be Blaine Gabbert's No. 1 target in Jacksonville. But the offense of the Jaguars runs through Maurice Jones-Drew and Gabbert has not shown the capability to run a successful aerial attack.
The fantasy outlook for Blackmon and free-agent signing Laurent Robinson doesn't seem great.   
While Blackmon was the No. 1 WR prospect, he isn't the rookie receiver most likely to approach 1,000 yards and seven-plus touchdowns because of the situation he enters.
Michael Floyd, the No. 13 overall selection, enters a great situation where he can line up opposite Larry Fitzgerald in Arizona. Fitzgerald has mentored Floyd since he was in high school and was a huge supporter of the draft pick.
As both Floyd and Fitzgerald are big and physical receivers, defenses will have a tough time matching up against the Arizona duo. Fitzgerald, a six-time Pro Bowler, will draw the No. 1 corner and/or corner most capable of handling a WR who is about 6'3", 220 pounds, leaving Floyd with a more favorable matchup.
Kevin Kolb isn't an elite QB, but he is good enough to exploit the matchup problems that these WRs will present as a tandem. Fitzgerald should remain a top-five fantasy receiver (he was No. 5 last season), and Floyd has a great opportunity to end up in the top 20 as both Jones and Green did last season as rookies.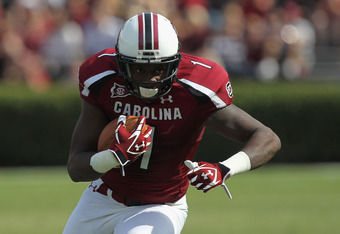 Streeter Lecka/Getty Images
A second candidate for best fantasy season by a rookie WR is Alshon Jeffery, who was picked up by the Chicago Bears in Round 2 with the 45th pick overall. The Bears, who hardly ever seem to have two quality receivers at the same time, added Brandon Marshall via trade in the offseason as well.
Jeffery has been knocked for a variety of things, including his weight. Scouts estimated he played at about 230 pounds while with South Carolina. He was at 216 pounds when he weighed in at the NFL combine.
Jeffery has the ability to become a big-time red zone target in the NFL, as he can make the tough catches (one-handed, tight coverage, etc). The whole situation in Chicago seems a bit volatile, as they have added Marshall (a history of off-field distractions) to a locker room with disgruntled star Matt Forte.
On the field, Jeffery will have a good opportunity to succeed as a rookie with gunslinger Jay Cutler throwing him the ball. Cutler has the type of mentality that will mesh with Jeffery's strength in making the tough grabs.
Unfortunately, it's unlikely that Marshall will provide the type of guidance that Fitzgerald will continue to give Floyd in Arizona.
While many rookie WRs will make an impact this year, Floyd has the size, skills and situation that make him most likely WR to put up the best fantasy football numbers as a rookie this year.