Mayweather vs. Cotto: 6 Subplots to the Fight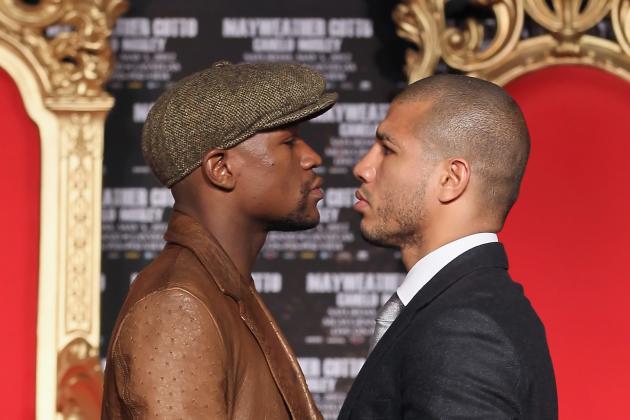 Jeff Gross/Getty Images
Last Man Who Kissed Money Got Knocked Out
In boxing, sometimes you have to take what you can get. In the case of Mayweather vs. Cotto, you can expect to get a lot.
Of course everyone wants to see the "Big Fight" between Manny Pacquiao and Floyd Mayweather, but honestly, that may never happen.
There's no reason to think that the match-up between Mayweather and Cotto can't be an instant classic.
On the line for Cotto is a chance to transcend his secondary status, where he has nipped at the heels of boxing's welterweight elites for much of his career. A win would solidify his status as a legitimate Hall of Famer.
Mayweather, on the other hand, is undefeated and carries all the bravado and bluster of an undefeated fighter. Mayweather's status in boxing's history is already well-defined. He's one the greatest ever.
He's made an art out of defense. When he's on his game, which is pretty much every fight, he's darn near impossible to hit.
And somehow he's made himself into one of the most unlikable athletes in the world.
Cotto is the heavy underdog, but there's several glimmers of hope to cling to for Cotto fans and certainly a big enough body of work to expect a good fight, win or lose.
Here's six subplots for your fistic fantasy.
Begin Slideshow

»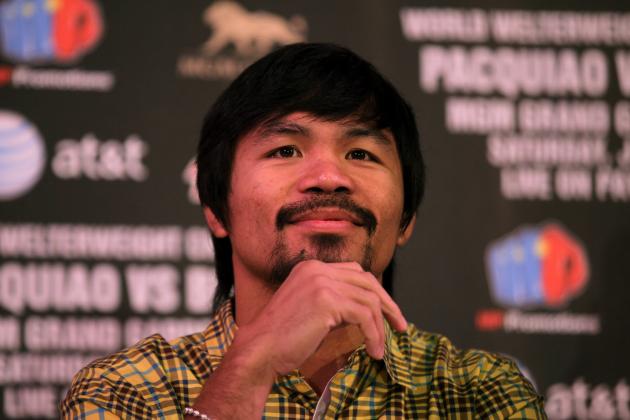 Stephen Dunn/Getty Images
Unlike Mayweather, Pacquaio Exudes Likability
In boxing parlance, the "third man in the ring" refers to the referee.
But not this time.
This time, the looming third presence is hovering over the ring. His name is Manny Pacquiao.
For Cotto, Pacquiao is the ghost of boxing past; the man who battered Cotto relentlessly into the 12th round in 2009.
For Money May, he is the ghost of boxing future; the opponent looming on the horizon and holding the strings to the biggest purse boxing has ever yielded.
Whether Pacquiao and Mayweather ever fight each other or not, their careers have come to define each other. On most pound-for-pound rankings, they are No. 1 and No. 2, respectively.
The biggest implication for Pacquiao in the Mayweather-Cotto tilt would be the fallout if Mayweather loses. In that scenario, it's much easier to imagine Mayweather compromising his unfair demands on a proposed contract, so that he could redeem himself as the clear No. 1 fighter.
How many times will Pacquiao's name be mentioned during Saturday night's broadcast? I peg the over/under at nine.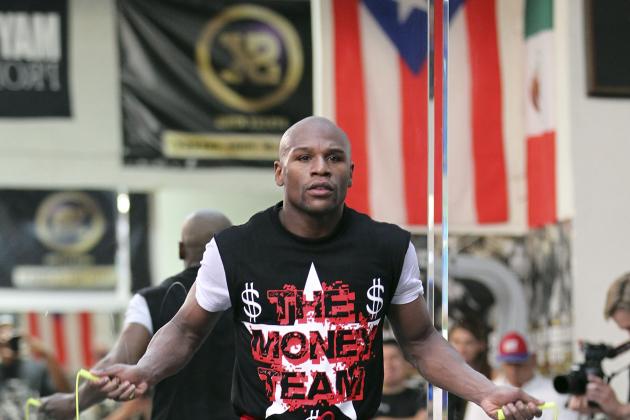 Jeff Bottari/Getty Images
Money Training for His Reunion with Larry Merchant
After Floyd sucker punched and mercilessly knocked out an unguarded Victor Ortiz during a poorly officiated bout last September, in which he drew some well-deserved boos from the crowd of his adopted hometown of Las Vegas, veteran reporter Larry Merchant interviewed him ringside.
When Merchant challenged the sportsmanship of Mayweather's actions to the delight of the crowd at the MGM, Mayweather complained petulantly that HBO hated him and that Merchant should be fired.
To which Merchant calmly responded, "If I were 50 years younger, I'd kick your ass."
Well Merchant wasn't fired, and in fact, you can expect him ringside once again after the fight.
And you can expect Merchant to ask Mayweather about his impending 90 day jail term set to begin in June for a violent incident against a former girlfriend.
And you can expect that's the last thing Money May will want to talk about.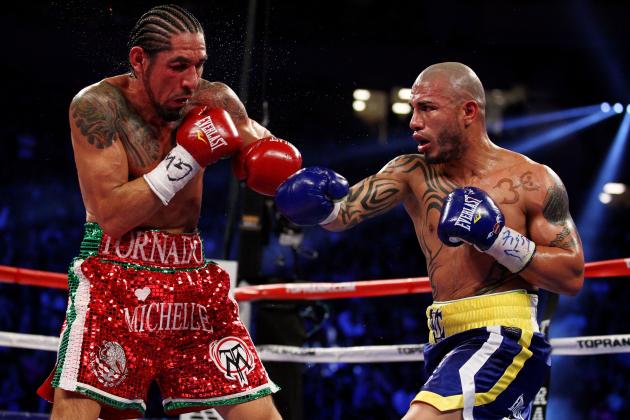 Al Bello/Getty Images
Cotto in Action Against Margarito
Perhaps Cotto's only obvious advantage over Mayweather, aside from his finer manners and modest demeanor, is his ability to land power punches.
Cotto is one of the sport's heaviest hitting mid-weights and has a devastating left hook that he'd love put to good use.
The problem for his left hand will be, however, whether it can ever find Mayweather.
Say what you want about Money's shortcomings as a person, he is an escape artist par excellence.
It's been a long time since Mayweather's been hurt in the ring. If Cotto can manage to stun him, who knows how it could affect Mayweather's foot speed.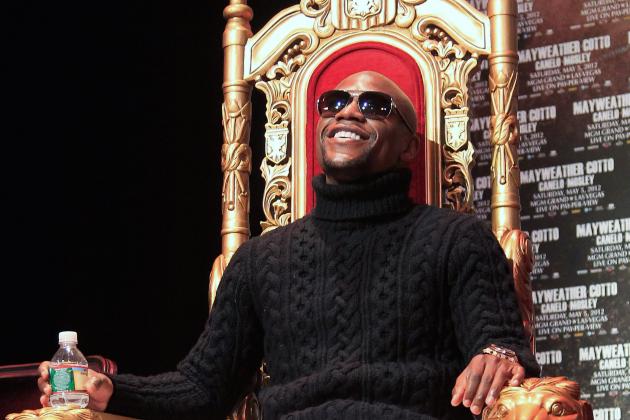 Chris Trotman/Getty Images
Evil or Just Greedy?
The real star of Milton's Paradise Lost is, of course, Satan.
For every Batman, there's a joker.
For every Skywalker, a Darth Vader.
For every Potter, a Voldemort.
What do these all have in common? Money. OK, maybe the Milton thing not so much. But the hero-villain dichotomy is extremely good for business.
And Floyd Mayweather has shown, if nothing else, that he's a shrewd businessman. He knows how to sell his fights, and he knows how to squeeze every dime from them.
No one naturally wants to play the villain, so it's a position of need. A role Mayweather decided long ago to warm up to at some crossroads or another.
I don't think you can fake domestic violence, so it's possible Money's villainy is genuine.
Or perhaps he's so deep in character that there's no turning back. Life now imitates art.
It's Mayweather's glaring darkness of the soul that makes his fights so compelling to watch.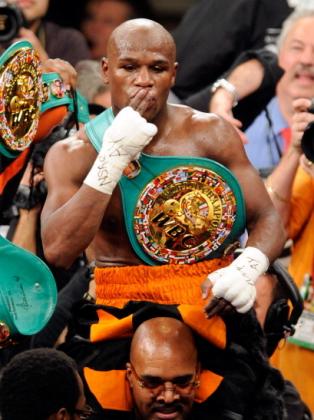 Ethan Miller/Getty Images
Mayweather Will Have to Stand on His Own Legs
Mayweather is one of the best-conditioned athletes in the world.
In a sport known for it's grueling full-body workouts and demands, Mayweather really separates himself from almost every other fighter out there for his physical fitness.
He's often able to gut out early rounds of fights, allowing his opponent to attack but never hurt him, so that in the later rounds he's still gaining strength.
This is something to really watch with Cotto. Will Cotto come out strong and then wither as the fight goes on?
Or can Cotto maintain the immaculate footwork and form he displayed in his last fight against Margarito?
It's almost impossible to compare the slow, lumbering Margarito to the lighting-quick feet of Money, but Cotto will have to keep his power and stamina deep into the fight to have a chance.
Because Mayweather never really slows down.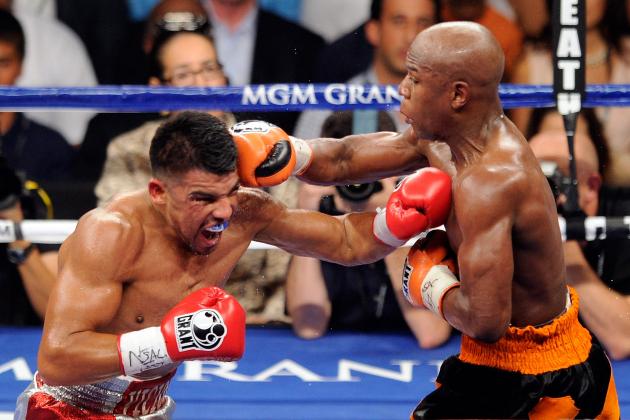 Ethan Miller/Getty Images
Mayweather's Home Ain't Always Where the Heart Is
Cotto can't expect the same boisterous support he receives in his adopted hometown—and Puerto Rican stronghold—of New York City when he fights Mayweather in Las Vegas.
Nor can he expect the same love the MGM Grand crowd showered on the Mexican-American Victor Ortiz last September.
But I do believe that he stands able to win the crowd over, if he doesn't have it outright to begin with.
Mayweather's public approval rating is lower than Bashar al-Assad's of Syria. I presume that Mayweather couldn't give two craps.
See slide No. 4.
The hate makes money.
I also presume that Cotto could get a lift from the crowd if he can keep the contest close.