Ohio State Football 2012: The Urban Meyer Post-Spring Progress Report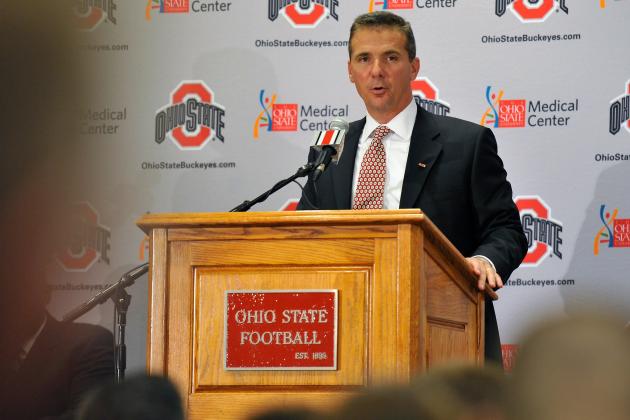 Jamie Sabau/Getty Images

While the the grade card for a full year on the job won't come for Urban Meyer until after The Game against those wingless helmets in November, we've now seen enough of a sample size to grade his first few months on the job.
From the way he handles the media, to recruiting, to the spring game played just a couple of weeks ago, there is enough to take in and now begin to see how the honeymoon in Columbus is shaping up.
Will this be a blissful marriage, or one destined for years of counseling and ultimately a messy divorce? It's too early to write the book that far out, but we can start by jotting down the preamble.
We give you a progress report of the man that has all of the answers—or so Buckeye fans hope—to putting Ohio State back on top of the college football world.
Begin Slideshow

»
Jamie Sabau/Getty Images

This may be the most important grade of all, and what amounts to a precursor for success at a place like Ohio State.
Meyer came into the recruiting fray a little behind his peers in late November and had to play catch-up with a list of recruits that were hanging outside the lobby of the top-25 class.
Woe is me, right?
Wrong.
Using nothing as an excuse, Meyer hit the ground running—if not wind-sprinting—and hauled in what is widely considered to be a top-five class. He filled needs on the offense and defensive lines especially and did a more than fair job of landing some big fish when fishing time was nearing an end.
The only regret was that Meyer was unable to land his scarlet and gray Percy Harvin to try and make the spread offense get off the ground in year one.
All in all, though, a yeoman's job. And one that seems to be carrying through to the class of 2013.
Grade: A-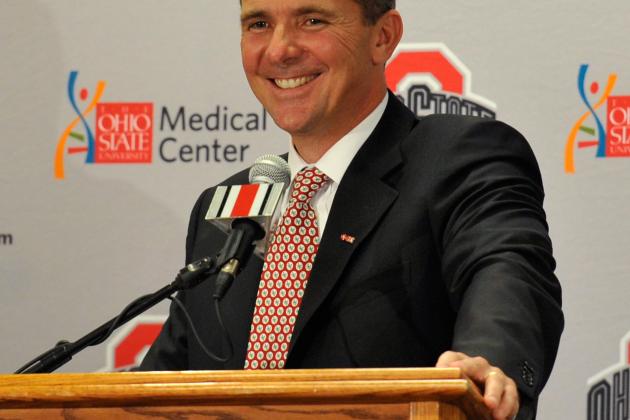 Jamie Sabau/Getty Images

Remember the days when a sweater-vest wearing football coach would answer a question yet not answer the same question at the same time? Yeah, Tressel's gone, and so to are the blank stares of reporters after a senatorial-like answer.
There are many theories on how to handle the media, and Urban Meyer did not go to the same media relations class that Jim Tressel did.
Not. Even. Close.
You want an honest answer? Be careful what you ask for, because we've seen a lot of Urban warfare in the media ever since he's taken a seat in the Woody Hayes athletic complex. And that's before the calendar on his tenure has flipped over to the sixth month.
Boy, are we in for a treat when the season begins.
There have been spats with colleagues on recruiting, quick barbs at defenseless media types and open and honest criticism about kids in the program.
That's before we even glance at the criticism Meyer received in a Sporting News article regarding his final days at Florida and the subsequent rebuttal by Meyer. That too, all occurring while trying to chisel out the beginnings of his first team in Columbus.
While some of that can come off as arrogance or as being unpolished, it's a breath of fresh air compared to the lack of composure that Luke Fickell seemed to have or the ever-careful words used by the sleeveless wonder for a decade.
It's all good entertainment. Let's just hope Meyer doesn't overstep his bounds one of these times.
Grade: C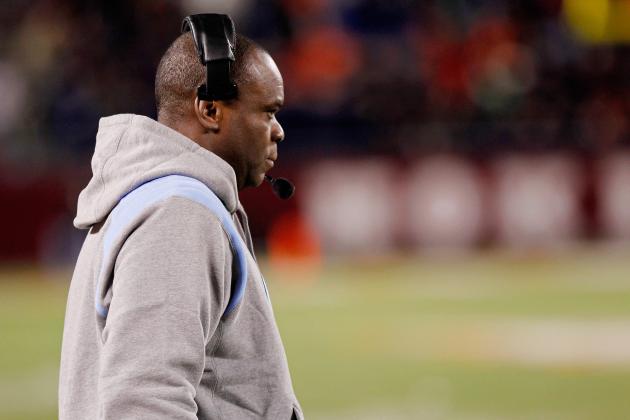 Geoff Burke/Getty Images
Co-Defensive Coordinator Everett Withers
What's the first order of business when a head coach takes over? Besides buying a tie to match the official colors of the university, he of course must assemble a coaching staff.
During his introductory press conference, Urban Meyer was quoted as saying that his plan was to "try and assemble the best coaching staff in America." The recruiting will more than likely be there, but what about the guys he brought in to coach 'em up?
For starters, you've got to feel good about the key guys that Meyer kept around.
There's Luke Fickell, who was around for a lot of those years when Ohio State continually rolled out great defenses year after year, and then you have Super Bowl ring-toting Mike Vrabel. He's young and inexperienced, but let's conjure a guess that he's gleaned a thing or two from the Bill Belichick staffs through the years.
That should serve the Buckeye defense well.
But where Meyer may have done his best job is by having three guys good enough to have been considered for head coaching gigs, with himself, Everett Withers and of course Luke Fickell. If two heads are better than one, then three's a down-right luxury.
There's also some up-and-coming names in the profession to keep things fresh like the literal high-IQ guy (no joke), Tom Herman to run the offense, along with Stan Drayton (running backs) and Zach Smith (wide receivers).
The flip side to all of this of course is that there ARE some unproven guys, some egos that will have to be checked at the door and a group that has never been together before will need to find some chemistry in the football-science lab.
Oh, and let's not forget about the hiring of Mickey Marotti to perform the equivalent of Ohio State football's extreme make over in the areas of fitness and nutrition.
It's quite a staff on paper, and one that was lured to Columbus with a substantial amount of money. We'll reserve ultimate judgement until we see how it all shakes out, but so far, so good.
Grade: B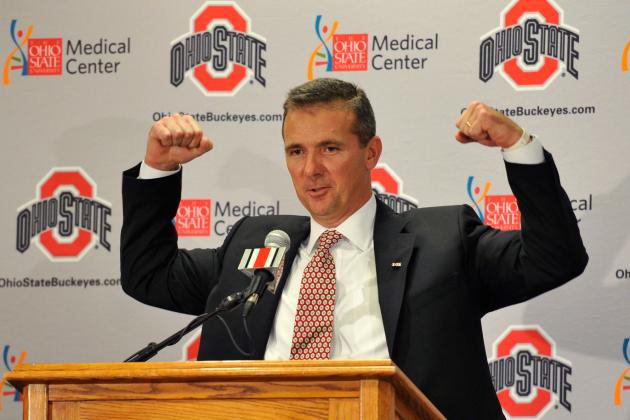 Jamie Sabau/Getty Images

If the meek inherit the Earth, then it's Urban Meyer's universe.
We've all heard the saying that success breeds confidence.
Check.
Meyer has won everywhere he's been. He's won at places not accustomed to high levels of glory, like Bowling Green and Utah. He also has two national championship trophies that are a direct result of his master plans at Florida.
To say that all of the winning and accolades he's received has resulted in a confident man would be an understatement of the ages.
The guy exudes confidence when he walks into a room, in front of the media, on the practice field and, most importantly, when he sits down in the living rooms of recruits. When he speaks, people listen—for better or worse.
But isn't that what you want from a head coach? Humility and an unassuming attitude will get you so far, but the best of all leaders have a little dose of those traits, and a heaping-sized portion of the swagger that folks gravitate to.
Ohio State is a national brand, but so too is Urban Meyer, Inc. You really can't answer which one has more market share, but the combination of the two should be like fireworks at Christmas.
There's a reason why Meyer gets kids to buy in and a reason why the wins have piled up thus far. He seems to have it all figured out, and sometimes, that's all that matters.
Grade: A
Jamie Sabau/Getty Images

Talent can't always trump everything. How many times have we seen a team with the horses get out-coached?
Ohio State has been an NFL draft machine during the John Cooper and Jim Tressel regimes, yet there is only one national championship to speak of. It sometimes felt like the program was a Lamborghini that nobody wanted to get out on the open road.
Fughetaboudit.
Those days are over, and exhibit A was the spring game. It would be safe to say that the restrooms will be easier to get into during home games this fall because folks will be afraid to miss a couple of series.
The offense, which for years brought back the nostalgia of leather helmets, now seems to have been the benefactor of a human growth hormone and steroid cocktail. The transformation of what was unveiled to the public for the first time a couple of weeks ago was enough to unofficially boost the newborn male baby name "Urban" to new heights in Columbus.
The offense operated at break-neck speed, and the receivers and running backs caught passes in the open field while already having a head of steam behind their locomotives. And that was with just a spring to put in some of the offense.
The Urban Meyer spread offense is well-chronicled and has plenty of success already behind it. And now, Meyer will be drawing plays in the dirt with another offensive mind in Tom Herman.
Wouldn't we all love to be a fly on the wall watching some of those innovative sessions?
No sweat. We'll all be able to watch what is produced when it all comes together this fall and beyond.
Now, to find playmakers...
Grade A