Alabama Football: How Should the Tide Respond to Phillip Sims's Transfer?
May 4, 2012

Kevin C. Cox/Getty Images
Phillip Sims's transfer was hardly a shock to the Tide's fanbase. One of the best quarterbacks in the 2010 signing class, Sims could have started as a freshman at many other schools.
There are many questions the Tide should ask as they look toward the future. The answers to those questions will help determine the reaction the Tide needs to take to Sims's transfer.
Was This the Best Option for Phillip Sims?
The short answer is "yes." If Sims had stayed and McCarron stays healthy (behind the best o-line in the nation, by the way), then Sims would have had a handful of rings with only one year of stats to earn a spot in the NFL draft following his senior season.
By leaving for Virginia, Sims has created an opportunity for himself to play at least two years. (If he has to sit out the requisite year at Virginia, he can play as a fourth-year junior and a fifth-year senior.) If he appeals for a waiver and the NCAA grants it, he could play for three full years.
Could This Adversely Affect Future Recruiting?
Again, this answer is "yes." When a blue-chip prospect signs with a team, there is a certain expectation placed on the school and the recruit. Is it fair? Not necessarily, but it happens. Fans expect more from the kids that make the ESPN Top 150.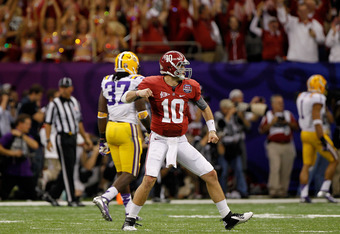 Chris Graythen/Getty Images
Sims performed so well that he and McCarron were locked in battle for the starting position that lasted into the 2011 regular season. All things being equal, McCarron had a year more experience than Sims. Saban chose to go with McCarron and experience, and the result was national championship hardware at the end of the season.
The issue here is that the top quarterback in the 2010 class just slipped through the cracks. It's not a question of whether the right man was on the field; it's simply a question of how future recruits will view this.
The odds of recruiting another top-rated quarterback just went down at Alabama. The good news for fans is that it's still Saban recruiting, and it's still the SEC bringing home the crystal hardware. Combined with the promising addition of Doug Nussmeier, recruiting will recover, even if it takes a little time.
Will Alabama Survive the Hit?
The answer to the last setup question is (fittingly) another "yes." Alabama will more than survive the hit. With West Coast offenses constantly putting up gaudy numbers like this year's Rose Bowl, top quarterbacks are going to do what's best for them by signing with teams that pass first.
In the immediate future, though, the Tide's offensive line will HAVE to protect McCarron. Phillip Ely will be a fine quarterback, but Tide fans don't want to see a Colt McCoy/Garrett Gilbert situation on their own field.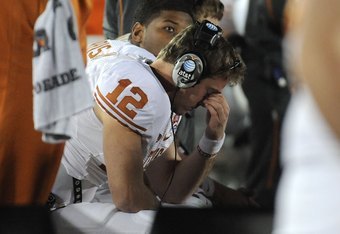 Harry How/Getty Images
Alabama will be fine, fans, but it's imperative that McCarron stays healthy at least long enough for Ely to prove himself as a backup.
What Should the Tide Do in the Long Run?
Nick Saban is a top-notch recruiter. If you don't know this yet, look at the Tide's position in the recruiting class ranking over the last few years. (2008, 2009, 2010, 2011 and 2012 via ESPN.com.) Although the recruiting speaks for itself, there may need to be changes made to improve on the Tide's seemingly insurmountable advantage in that particular area.
Alabama signed the following quarterbacks under Nick Saban (information from scout.com):
2007: Nick Fanuzzi (3-star)
2008: Star Jackson (4-star)
2009: A.J. McCarron (4-star)
2010: Phillip Sims (5-star)
2011: Phillip Ely (4-star)
2012: Alec Morris  (3-star)
It's not clear whether or not the Tide's policy is to sign a quarterback every year, but it's clear that it's at least a current practice. Nick Fanuzzi and Star Jackson didn't work out, so Alabama clearly can't abandon the "sign a quarterback every year approach," but would it help to spread the blue-chip prospects out a little more?
I think so. Instead of constantly signing 4- and 5-star quarterbacks, sign a 3-star in between the blue-chip gunslingers. Give the potential superstars the legitimate hope of two solid years on the field, and remove the threat that they may only get one year to make an impact on scouts from the next level.
At that point, if a 3-star turns into a Greg McElroy and a 5-star doesn't pass him up, he didn't get lost in the shuffle...he got schooled by a 3-star.