Junior Seau: Ranking the Linebacker's Best Football Moments
May 3, 2012

Elsa/Getty Images
Considering Junior Seau had one of the most storied careers in NFL history, it's hard to narrow down his greatest moments.
But I'm going to try. 
At the very least, it's a great way to honor a man who deserves endless tributes and will live in our memories forever.
Here we go. 
4. Seau is Drafted
After a brilliant college career with the USC Trojans, Junior Seau entered the 1990 NFL draft.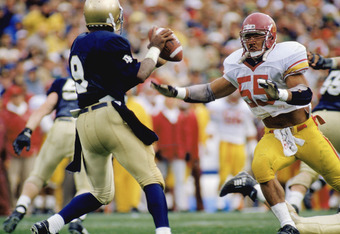 Jonathan Daniel/Getty Images
The San Diego Chargers selected him No. 5 overall, behind Hall-of-Famer Cortez Kennedy and ahead of players like Emmitt Smith and Renaldo Turnbull.
It only took Seau, who started 15 of 16 games during his rookie season, one year to make his first of 12 Pro Bowls and 10 All-Pro teams, but it took him even less time to establish himself as the face of San Diego's defense and franchise. 
Even at pick No. 5, it's safe to say the Chargers got themselves a steal in that draft with the Tasmanian Devil. 
3. Defensive Player of the Year
In 1992, just his third season in the NFL, Seau was an absolute monster. 
He recorded over 100 tackles, racked up 4.5 sacks and even picked off two passes as he was named the UPI AFC Defensive Player of the Year and NEA NFL Defensive Player of the Year.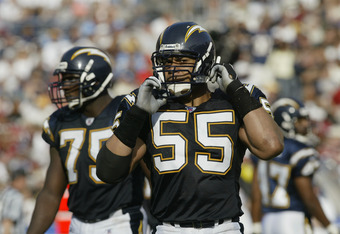 Stephen Dunn/Getty Images
During that season, Seau led the Chargers to an 11-5 record and an AFC West championship. 
2. NFL 1990s All-Decade Team
Seau isn't yet eligible for the Hall of Fame because he enjoyed defying Father Time and played for so long, but he still has a pretty impressive honor from the Hall.
In 2000, Seau was named to the First-Team NFL Hall of Fame All-90s Team, an honor that put him next to other greats such as Kevin Greene and Derrick Thomas. 
The heart and soul of the Chargers defense, Seau was named to a Pro Bowl nine straight times during the 1990s. He helped lead the Chargers to an AFC championship and an appearance in Super Bowl XXIX. He also was named first-team All-Pro eight times in his career including seven seasons in the '90s.
1. 1994 Season
1992 saw Seau win the Defensive Player of the Year award, but in 1994, he took in one step further when he won the AFC Player of the Year award.
All he did was rack up 124 solo tackles and 5.5 sacks.
But as much as Seau enjoyed pulling in individual awards, he was the type of guy who was all about the team. That's why 1994 was so special.
Seau led the Chargers to an 11-5 record during the regular season and then to victories over Miami and Pittsburgh in the playoffs.
The Chargers eventually fell to the 49ers in Super Bowl XXIX, but it was their first appearance in the big game since 1965.