Your Best 11 Mailbag: BCS Title Shots, Tennessee Answers and UNC's Defense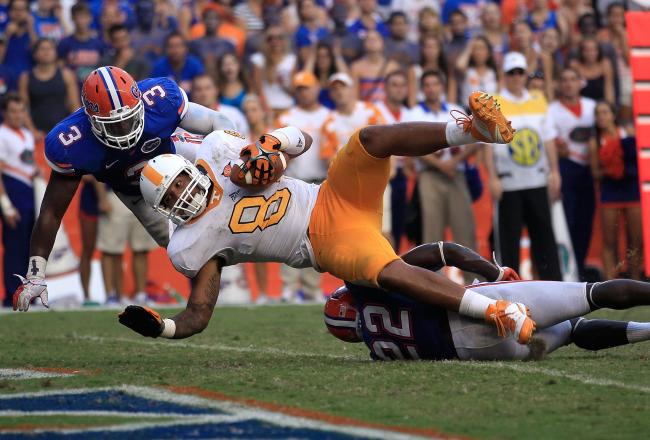 Sam Greenwood/Getty Images
Thursday is here and that's when we open up the YB11 Mailbag to answer questions and expand upon answers. This week we've got plenty to chat about from all over the country, so let's get into it.
@InTheBleachers do you think the LOSER of the #Florida / #Tennessee game gets fired at season's end? #muschamp #Dooley

— Stuart D. Davis™ (@stu623) May 3, 2012
Short answer, no. Long answer; I think both teams will improve enough throughout the season for the coaches to keep their jobs. Derek Dooley is the one on the hot seat here, and he has to get to that seven-win plateau to show the Tennessee faithful that he is improving things in Knoxville.
As for Will Muschamp in Gainesville, I think he's taking the right steps, too. No, neither of these coaches will likely beat South Carolina or Georgia this season, but as long as they can show marginal improvements, this game should not sink either of them.
@InTheBleachers last one actually. Better talent/nfl prospect...da'Rick Rodgers or Malcolm Mitchell. #ugavsut

— James(@jcharris08) April 26, 2012
More Tennessee stuff here. Great question and I'm going to go with Da'Rick Rogers on this one. Not because he is "that" much more of a player than Mitchell but because we all know what he is. Mitchell is making the transition to corner right now, and that is still going to be a work in progress for the 2012 season.
Rogers is a big, physical wide receiver with a bit of a mean streak when it comes to getting the football. Mitchell had a great first season for the Dawgs at the receiver position; we'll see if he picks up Todd Grantham's scheme quick enough to be a major impact player on defense. Right now, Rogers gets the nod.
@InTheBleachers #YB11 Would Notre Dame's other QBs have been able to outrun the police?

— Chris Wojcik (@Wojcik916) May 3, 2012
If you haven't heard, as reported here by CBS Sports, Notre Dame's quarterback Tommy Rees was arrested early Thursday morning, late Wednesday night for those of you who like to party. Depending upon the story you've heard, Rees was either running from the police or he confronted the police. Either way, he was corralled by police, pepper sprayed and sent to the clink.
My money would be on Everett Golson getting away. Golson is the most athletic of the Irish quarterbacks, and after seeing some of his highlights, he looks like he can evade better than the other guys at the position. I can tell you this, Steve Beuerlein would not have got away.
@InTheBleachers what's ur biggest concern w/ Carolina's defensive scheme

— Don Jeffries (@DonDelarente) May 3, 2012
Yay! Sneaking a UNC question in! Honestly, my biggest fear about the defense at North Carolina is how Dan Disch and Vic Koenning work together. I love Vic Koenning. I thought he was a genius at Clemson and at Illinois. Dan Disch does not draw those same sentiments, and after watching what the Heels are doing there, it seems to be a lot more Disch and a lot less Koenning.
The hybrid 3-3-5/4-2-5 defense is not one that sits well in general, and as the Tar Heels try to "fit" bodies into the Ram and Bandit positions, we'll find out just how brilliant Disch can be.
@InTheBleachers If Saban and Bama beat LSU this year, win SEC, and play for BCS Title again, do you think Miles is out at LSU?

— John (@willhall79) May 3, 2012
Another fired coach question, wheee! No, no way. People in Red Stick will be miserable seeing Nick Saban get another title, but they won't put less out on his behind after missing out on a title this year. LSU is set to have a good season with greatness hanging within their reach. If they fall short of the title goal, it will be a disappointment, but only one team hoists that crystal ball each season.
@InTheBleachers Who is your preseason #1 and #2 and what is the largest roadblock preventing them from getting to the national championship?

— Lake Rosenberg (@LakeRosenberg) May 3, 2012
See how I set those questions up in a mini-transition with respect to the BCS title? For me, the top two teams are USC and Alabama. No disrespect to LSU, but I'm riding with the teams who keep their quarterback at the helm. I think the obstacles to each are clear.
Alabama has to go through LSU to get that BCS title; that is their biggest roadblock for the 2012 season. USC has to play Oregon this season, and the largest roadblock for the Trojans will not be the first game against Oregon in LA; it will be playing the Ducks a second time in the Pac-12 championship.
@InTheBleachers #yb11 do you think restrictions on amount of contact in practices would make a significant diff in concussions

— Greg B (@gjb512) May 3, 2012
It could but no one is limiting the type of contact that causes the big long-term damage. Most people are already scaling back "kill shots" in practice and not going truly live, tackle to the ground during their practice periods.
However, the problem is not the big shots that draw medical attention and force people out of practice. The problem comes from all of the reps in nine-on-seven, blitz pick up and team periods that teams run on "thud" tempo. Bodies are still crashing into one another at a full-speed pace; they just are not knocking each other's heads off.
Long explanation but while yes, contact restrictions could help limit the damage, the fact is the normal wear and tear of football is as big a culprit to the concussion problem as anything else.
@InTheBleachers #yb11 mailbag- if twitter existed when you played at unc, how long would it have taken until they made you stop tweeting

— Greg B (@gjb512) May 3, 2012
I can see that based upon my antics over on Tweet to @InTheBleachers, I can see why this definitely is a good question. The truth is I did a pretty good job handling my social media while I was in school.
Facebook never got me in trouble, and I even made a decoy Facebook account for fans who might have been trying to friend the entire roster. I think I would have been okay, and in the end those folks who were interested in what a backup, backup, backup safety had to say would have been few and far between.
Make sure you get your questions in, folks. We'll be back doing this next Thursday!
This article is
What is the duplicate article?
Why is this article offensive?
Where is this article plagiarized from?
Why is this article poorly edited?