MLB: What Should the Oakland Athletics Do with Coco Crisp?
May 3, 2012

Christian Petersen/Getty Images
It's been a difficult 2012 year for Oakland Athletics outfielder Coco Crisp. The 32-year-old veteran re-signed with the A's this past offseason, after toiling with options to move elsewhere. Ultimately, his comfort with the Athletics organization and the opportunity remain close to his West Coast roots prompted him to return to an unrecognizable team that traded away much of its roster from last season or simply allowed players to walk via free agency.
So, why would Crisp come back to an A's team that was clearly in a rebuilding process, filled to the brim with minor league prospects and not expected in any way, shape or form to compete for a playoff berth?
Crisp is probably asking himself the same question right at this very moment.
The regrets started back in February, when Oakland made a remarkable splash transaction, signing coveted Cuban free agent Yoenis Cespedes to a four-year contract. The acquisition was a surprise on many fronts, not the least of which was the fact having Cespedes, himself a natural center fielder, on the roster could potentially create a position switch for the veteran Crisp. The 11th-year major leaguer Crisp has been patrolling center field his whole life, so it would have seemed impossible for the rookie Cespedes to supplant the venerable defensive outfielder.
But that's exactly what happened.
The A's announced during spring training that Cespedes had indeed usurped the incumbent Crisp as the team's starting center fielder in an effort to transition the Cuban star more comfortably. The rationale was that Cespedes would be more at ease adapting to the majors if he played his natural position. And Crisp's own innate athletic ability would make him a better fit in left field, as he theoretically would perform better defensively in a new position.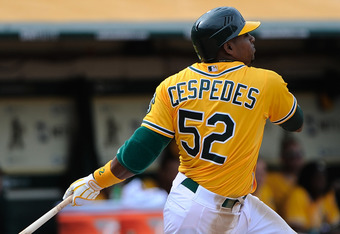 Thearon W. Henderson/Getty Images
Crisp, however, did not take the news well, although he was professional in how he handled the transition. As a longtime professional, Crisp is not the type to ruffle the feathers of the team, and he sucked it up and adapted to the move to left field. Still, he acknowledged he wasn't too thrilled about the idea, admitting that had he known that the A's would sign another center fielder, Crisp probably would not have re-signed with the team to begin with.
Yikes.
But Crisp is a consummate pro, and he trotted out to left field game in and game out. Typically, the adage goes that players who struggle at the plate are encouraged not to take out their frustrations and slumps with them out onto the field defensively. If someone is mired in an offensive hitting slump, he is lauded for being able to put those woes behind him as he plays his position in the field.
Crisp is seemingly doing having the opposite situation apply to him. His disgruntlement, though not public, for being moved to left field has somehow affected his performance at the plate. Through the first five weeks of the season, Crisp is batting a mere .194 with one extra-base hit in 67 at-bats. He has five runs batted in with five runs scored and a pathetic .469 OPS.
Nobody will say that Crisp is dogging it—he certainly isn't the type of player to stew so obviously. But given the transition from his favorite position, the anemic performance of his minor-league teammates and his own struggles adapting to the transitions in the clubhouse, Crisp has almost mailed it in for his stint with Oakland. He's been in and out of the lineup in recent weeks, recovering from cold-like symptoms and now, most recently, inner-ear problems, which might land him on the disabled list, according to SFGate.com.
Not the type of year Crisp had hoped for. It's possible he was hoping Cespedes would not succeed and that Crisp would be shifted back into center field, but that has not happened, as Cespedes is a leading Rookie of the Year candidate. Instead, Crisp is simply waiting out the first couple of months of the season in hopes of landing somewhere with another team come the trading deadline. Though, even if that were the case, he'd still like to have a reasonable set of numbers to carry with him if and when he leaves Oakland. That's why it's imperative that he get back on the field as healthy as possible and start raking as an audition to playoff-contending teams in the next couple of months.
Still, Crisp's season and on-field performance have some wondering what to do with him right now--not when he is at full strength sometime down the road. Can Crisp be traded sooner rather than later? What is the point in having a veteran outfielder on a team that is clearly not headed to the postseason and sporting a farm full of young prospects (i.e., Michael Taylor, Michael Choice, Grant Green, et al.)?
The A's need to seriously take a look at what their goal is in keeping Crisp. Yes, having a veteran's presence in the outfield can be comforting to assuage the greenness of the team's rookie center fielder. But when Manny Ramirez is eligible to make his first appearance with the big league club at the end of this month, some player is going to have to be moved from the 25-man roster. And what sense would it make to keep a player hitting below .200 who is making $6 million this year (Crisp)?
With Crisp's health in question for the time being, there's little the A's can do right now to determine his future with the ball club. However, when he does get back to 100 percent, it's necessary for the A's to determine if they're still cuckoo for Coco.
If not, then these next couple of months will surely be his last in an Athletics uniform.
Follow me on Twitter: @nathanieljue