Michigan Wolverines Football: Craig Roh Eats His Way to Success
May 7, 2012

Gregory Shamus/Getty Images
People are recommended to consume 2,000 calories per day and exercise regularly to maintain a healthy lifestyle.
Michigan senior Craig Roh doesn't subscribe to that philosophy
In his attempt to become an elite defensive end in a rugged, tough Big Ten conference, Roh consumes 5,000 calories every day. He's looking to gain an additional 10 pounds and hopes the added bulk will transform him from a weak-side defensive end and role player to a strong-side defensive end star.
In 2009, Roh came out of Arizona's Chaparral High School a 6'5'', 235-pound 4-star recruit. He began his career at Michigan as a linebacker and was named to the All-Big Ten freshman team. But after switching permanently to defensive end halfway through his sophomore season, Roh needed to put on serious weight to compete with Big Ten offensive tackles.
In three years, Roh put on roughly nearly 30 pounds of muscle. But to be a strong-side end his senior year, Michigan coach Brady Hoke and defensive coordinator Greg Mattison said weighing nearly 270 pounds wasn't good enough.
Mattison and Roh suffered growing pains together.
Last season, Roh broke down after taking a mental beating from Mattison. "I'd have those moments like, 'Does he even think I'm worth anything?'" Roh told ESPN.com's Brian Bennett. "He broke me down to my core and built me back up. It was one of the hardest things I've been through in my life, but also one of the most rewarding." 
Roh is listed at 269 pounds, but went into spring camp weighing around 273. He's taken Mattison's criticism to heart and has decided to step up to the plate...and the scale.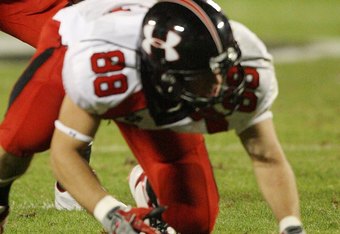 Doug Benc/Getty Images
He'll be spending this summer on the sumo diet, eating six meals per day, trying to gain the additional 10 pounds.
Good problem to have, right?
Most people in this country would give their left arm to be able to desire weight gain.
The bulking up could pay dividends for Michigan. Roh is the only returning starter on the Wolverines defensive line, and if he becomes enough of a force to demand a double team, opportunities will open up for his unproven teammates.
Roh has welcomed the position moves in his career. As an outside linebacker in Rich Rodriguez's 3-3-5 scheme, Roh said he frankly didn't know what was going on. He said he knows his flaws, and at linebacker, those flaws were exposed.
Still, Roh recorded 37 tackles, 7.5 tackles for loss, two sacks, one interception and three pass breakups in his freshman season in Ann Arbor.
Switching back to a more comfortable position in a three-point stance, Roh has increased his production: 75 tackles in the last two seasons, and four sacks in 2011.
He said he's looking forward to his newest role and the opportunity to shine.
"It's great because the ball comes to you, and you don't have to run far to get to it," he told ESPN.com. "You just have to be strong and throw off blocks, be explosive. That's what I am. It's an exciting transition, and I've been able to make a lot of plays in spring practice. It's been fun."  
It'd be fun to be able to eat six meals a day, guilt free.
It'd be fun to be the starting strong-side defensive end in front of 109,901 people at Michigan Stadium.
Roh will literally be the biggest presence on Michigan's defense this year, and could be one of the biggest keys to Michigan returning to the BCS.