NHL Playoffs 2012: Analyzing a Possible Quick vs. Lundqvist Stanley Cup Final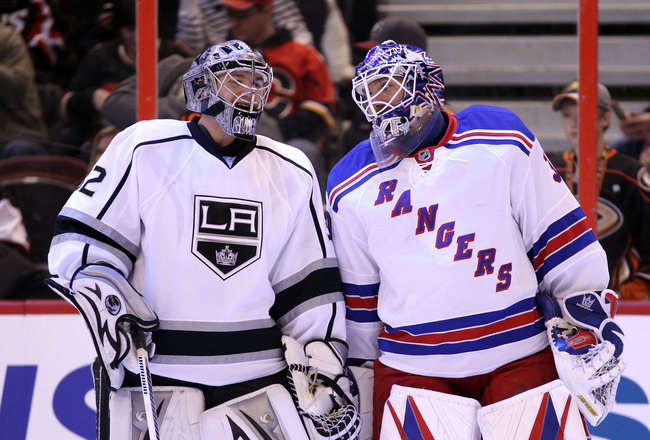 Christian Petersen/Getty Images
Jonathan Quick and Henrik Lundqvist are two of the best goalies in the NHL today. Both are also finalists for the Vezina Trophy as the league's best goaltender.
Both players are also big reasons why their teams are succeeding in the playoffs and both players would provide an amazing amount of drama should they meet in the Stanley Cup finals.
Lundqvist helped backstop the Rangers to the best record in the Eastern Conference and has continued his stellar play through the postseason.
Quick is probably the biggest reason the Kings even made the playoffs and is also a huge reason why the Kings are making a team who is the eighth seed in the West look like they belong much higher up.
With both 'tenders and teams playing so well, it wouldn't be out of this world to expect these two teams to meet in the Stanley Cup finals.
So who would have the upper hand in a matchup between these two goalies?
By the Numbers
Bruce Bennett/Getty Images
Looking at the numbers, a Stanley Cup final with these two goalies could result in one of the greatest spectacles of goaltending ever seen in the NHL playoffs.
Both are Vezina finalists, both started 60-plus games for their teams, both won 30-plus games for their teams, both have absurdly impressive save percetages (.930-Lundqvist, .929-Quick) and both were below 2.00 in goals-against average.
This would be a matchup of the two best goalies in the game today, all due respect to Pekka Rinne.
Technical Skills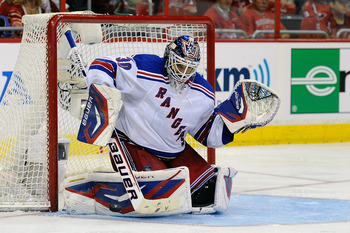 Patrick McDermott/Getty Images
Both goalies are technically sound, but I'd be hard-pressed to find a goalie in the NHL who is better technically than Henrik Lundqvist.
The style of goaltending that he plays requires that he play a strong technical game, largely through his positioning.
Lundqvist plays deep in his crease and uses fantastic positioning to make a large amount of his saves.
He has fantastic reflexes as well, which can be seen in several of his flashy glove saves, but by and large, Lundqvist relies on solid technique.
He's also one of the best "baiters" in the game. Justin Goldman, of TheGoalieGuild.com, explains what baiting is.
Baiting has two components—the mental and technical. The technical element is simply exposing space on purpose in order to "bait" the shooter to aim for that area. Lundqvist will keep his stance very wide on purpose, thus beckoning shooters to aim between his legs. But because he knows that space is open, Lundqvist has the wherewithal to quickly shut it down and take it away.

The mental component is revealed when Henrik makes quick, subtle movements with his glove and blocker in order to make it seem like he's out of position or lunging. This will lead the shooter to aim for that area, but that is the trap Lundqvist sets, so he reads shot releases and reacts quickly. This baiting skill is mainly seen on breakaways.

—From The Goalie Guild Style Guide.
Quick is solid in his technique but isn't as technically gifted as Lundqvist, which is no slight on Quick at all. Lundqvist is one of the best technical goalies in the world.
Reflexes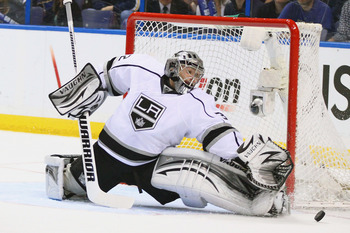 Dilip Vishwanat/Getty Images
Lundqvist does have good reflexes, but very few people are able to move with the same cat-like precision and quickness of Jonathan Quick.
Much like Lundqvuist's style of play gives him an edge in technical prowess, Quick's style gives him the edge in this setup.
Where Lundqvist plays pretty deep in his crease, Quick is far more aggressive in net. He comes out to the top of his crease to take away angles and challenge the shooters.
Getting out far can be a goaltender's worst nightmare if the opponent is capable of moving the puck quickly to catch the 'tender out of position.
Quick is able to make up for this with his fast feet, quick pushes, fantastic lateral movement and superior hand-eye coordination.
What is most important about this ability is that Quick remains in control at all times. He doesn't end up looking like a fish just dropped into the boat that has caught him. He anticipates the shot coming and reacts quickly with the appropriate body part.
This all results in some spectacular glove, pad and toe saves.
Intangibles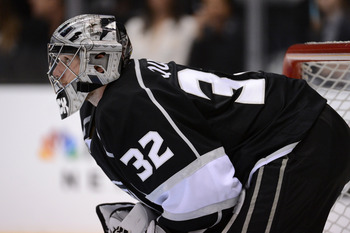 Harry How/Getty Images
By the intangibles, we aren't talking about things like reflexes and the like—we're more talking about ability to scramble, battle and maintain mental toughness.
These intangible qualities really make the goaltending position a unique one because if a goalie loses their mental edge, it doesn't matter how skilled they are, they're going to struggle.
Both of these goalies have great mental toughness. Quick managed to stay sharp night in and night out despite having a team in front of him that couldn't score if their lives depended on it for a great portion of the season.
The ability to stay sharp and not let that frustration affect him speaks volumes about Quick's mental toughness.
Lundqvist is one of the best battling goalies in the league, largely because of how good his positioning is. He is confident that he will always be in the right place, which he almost always is, even when he can't see the shot.
Lundqvist also won almost 40 games for the Rangers this season, which speaks volumes about his ability to stay mentally sharp.
As far as these intangibles, you have to call it a push between these goalies. Their respective games are different but their mental sharpness and ability to battle through rough times and rough games are among the best in the NHL today.
Supporting Cast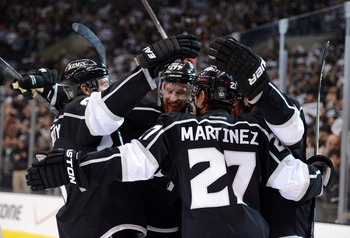 Harry How/Getty Images
Goalies are vitally important to a team, but even the most talented and gifted goalie in the world will struggle without a solid team around them.
Both the Los Angeles Kings and New York Rangers have a lot of talent throughout their lineup and have a system in place that the players buy into.
The Rangers are by far the more complete team from top to bottom, but there is no team in the NHL hotter than the Los Angeles Kings right now.
A big portion of what it takes to be successful in the playoffs is having the team get hot at the right time, and the Kings are certainly hot.
They're making it look easy with a quick five-game series against the Presidents' Trophy-winning Vancouver Canucks, and they're following things up much in the same manner against the second-seeded St. Louis Blues.
The Rangers squeaked out of Round 1 in a seven-game series against the Senators and hope that the Capitals don't give them a similar scare.
Simply because they are the hotter team right now, that edge has to go to the Kings.
To Conclude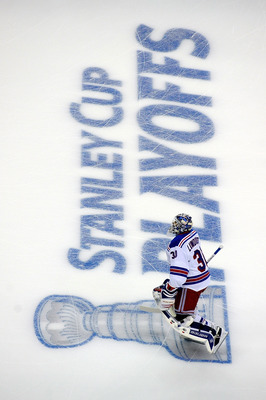 Patrick McDermott/Getty Images
Good goaltending is one of the essential ingredients to a Stanley Cup-winning team, and we are getting the privilege to see two of the best in the game today push their teams deep into the playoffs.
Henrik Lundqvist and Jonathan Quick have so much about them that makes them exciting players to watch.
Though their styles are different, they both make a huge difference and give their teams a chance to win every single night.
It's hard to say that one goalie would have an advantage over the other if these two were to meet in the Stanley Cup final, but one thing would be for sure.
It could be a final that provides some of the greatest and most exciting saves in recent memory.
Let's hope we get to see it.
Keep Reading