Nebraska Football: Neutral Site Playoffs Show College Football Disrespects Fans
May 4, 2012
Eric Francis/Getty Images
Nebraska fans, Jim Delaney thinks you're not very smart. So does Mike Slive, and all of the other power-brokers in college football. That's pretty clear given the reporting that's coming out about the proposed "four-team event" that's going to look an awful lot like a playoff after the 2014 season.
Don't feel bad, Nebraska fans. It's not just you that the powers-that-be take for rubes. It's all college football fans whose intelligence continues to be insulted throughout this whole playoff process.
Yes, it does look like fan pressure has finally killed the BCS as we know it and will result in a four-team "event" to decide a national championship. That's a huge progress, to be sure. But now, the questions surrounding the "event" are logistical—what will the "event" look like?
The proposal that has garnered most fan support would involve the semifinals being hosted on campus sites. Think about the showcase that would create for college football to have a national semifinal at Memorial Stadium in Lincoln, or in Tuscaloosa, Alabama, or Columbus, Ohio or any college stadium. Take the ESPN Game Day atmosphere and multiply it by 10. It would be one of the great spectacles of all-time, and it would happen twice every year.
In addition, having on-campus semifinals would give additional meaning to the regular season. The powers-that-be told us for years that we couldn't possibly have a playoff because it would damage college football's regular season. Every regular season game is like a playoff, they told us, and having even a four-team "event" would turn college football's regular season into college basketball's regular season.
You know, like what the playoffs have done to that drab and boring NFL regular season that nobody watches.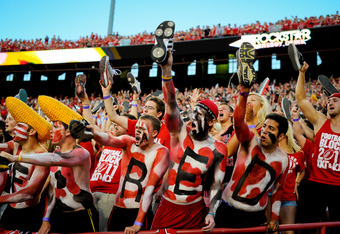 Eric Francis/Getty Images
But now that a four-team "event" is on the table, the powers-that-be have an opportunity to create a system that would give even more importance to the regular season. Can you imagine the motivation there would be within a top four (however it would be determined) to end up one or two and host a semifinal? The intensity of the regular season might actually even be higher, with teams fighting to get into the top four and getting into the top two.
It's a no-brainer then, right? Have the "event" the unwashed commoners have been braying about for years, host the semifinals on home campus sites and protect the sanctity of the regular season. Win-win, right?
Nope. The powers-that-be seem intent on bidding the semifinals out to neutral sites, rather than having them on-campus.
We are told by the powers-that-be that on-campus sites would not be practical for such important games. If smaller schools were to host such a game, we are asked to believe, there wouldn't be enough infrastructure in place to host the crush of media and fans that would descend on the events.
Poppycock. Sure, some of the stadia that would host semifinal games are smaller than others. But it's a pretty good bet that if those teams are first or second in the country, those games are selling out during the regular season. That means the semifinals would hold exactly the same number of fans for a semifinal game as they would for a regular season game. So the argument can't seriously be about too many fans coming into an area.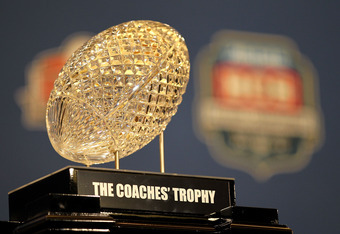 Andy Lyons/Getty Images
Will there be more media at a semifinal game? Sure. And apparently, the powers-that-be are worried that a few hundred extra reporters arriving to cover a game will cause smaller stadia to collapse or something. Seems to me, if the media can manage to have live reporters in Cairo during the riots of the Arab Spring, I think Chris Fowler and Jesse Palmer could survive a two-hour car ride from a hotel if necessary to cover a semi-final in Eugene, Oregon or Manhattan, Kansas.
So the powers-that-be are lying to the fans again. Just like they lied to the fans about how a playoff would destroy the regular season. Or how a playoff would ruin student-athletes academically because they might have to put a final exam off for a week or two. Or how a playoff would deprive the poor student-athlete and fans of the "bowl experience" at the end of the season.
That particular lie still hasn't died. Some of the justification for the neutral site semifinal proposal is to make sure that fans and players can still have a "bowl experience" in a warm-weather climate. Seriously, that's part of the official BCS statement as to what is an "important consideration" in the creation of this four-team "we dare not call it a playoff because we've been telling people for years we can't have a playoff, and now we're going to do one so if we call it a playoff, we'll look silly."
So the powers-that-be want you to believe that a "bowl experience" is more important than a home playoff game for college football fans and players. You know, like the scandal-ridden Fiesta Bowl that could send people to jail. With a straight face, they argue that fans would much rather shell out for a trip to New Orleans or Miami than have a chance for a semi-final playoff game in their home stadium. The college football powers-that-be must think you as a fan are really stupid if they think you'll buy that story.
There is one reason, and one reason alone, for a neutral site playoff semifinal proposal. Money. The neutral site proposal would generate far more money for the powers-that-be than a home site semifinal. The bidding process itself would generate big money. The stadia would be bigger, generating more money in ticket sales. The neutral sites would all be set up with high-dollar luxury suites that could be sold at a premium, adding even more revenue to the "event." And the surrounding areas would have plenty of hotel space to host premium corporate sponsorship events that would put even more dollars into the pockets of the event's organizers.
This four-team "event" is about maximizing revenue. It's happening in large part because of the terrible television revenues from the BCS bowls, right down to last year's LSU-Alabama championship game that no one outside of the SEC really wanted to watch. The powers-that-be are realizing that college football fans are finally rejecting the BCS monstrosity as a whole and are scrambling to look like they are giving fans what they want while protecting the money and power that the BCS was designed to protect.
So it should come as no surprise that the powers-that-be are more than ready to not only jettison, but contradict one of their long-standing arguments about a playoff—that it would harm the regular season. The four-team "event" is about maximizing revenue, plain and simple. Nothing else, not even consistency with previous arguments made by the BCS, really matters.
Which is fine, if that's what the powers-that-be are going to do. Those dollars are going to pay, at least in part, for non-revenue sports and give other male and female student-athletes the chance to compete in college athletics. That's a noble thing.
But, for heaven's sake, at least be honest with your fanbase—your consumers—about what you're doing. I can handle being fleeced, but I really hate having my intelligence insulted as a college football fan.
If you would like to contact me directly to schedule an interview, ask a question or to get my recipe for a killer peach cobbler, you can send an e-mail to patrickrunge@gmail.com. (Disclaimer: Peach cobbler recipe might not be all that killer.)
Or, you could always... Follow @patrickrunge