SEC Football Q&A: Does Auburn Have a Chance vs. Clemson in the Season Opener?
May 3, 2012

Kevin C. Cox/Getty Images
Every Thursday on The SEC Blog, we will feature questions from the B/R inbox, Twitter and email.  Do you have a question for next week's Q&A?  Send it to SEC Lead Blogger Barrett Sallee via the B/R inbox, on Twitter @BarrettSallee or at bsallee@bleacherreport.com.
From Terry Johnson (@TPJCollFootball) on Twitter: I know it's still early, but what chance does Auburn have against Clemson on September 1?
I'd say Auburn has a good chance. They hung around on the road last season before the wheels came flying off, but a lot of the players on that team will return to Auburn in 2012.
New defensive coordinator Brian VanGorder is a significant upgrade from former defensive coordinator Ted Roof, and he should get things turned around on the Plains quickly.
On the offensive side of the ball, Auburn loses former offensive coordinator Gus Malzahn, but he was a big part of Auburn's offensive woes last year. Opposing defensive coordinators figured him out and figured out how he adjusts to specific situations, which led to Auburn's offensive being ranked No. 100 out of 120 FBS teams in total offense.
New offensive coordinator Scot Loeffler is installing more of a pro-style offense that will use some spread elements, and quarterback Kiehl Frazier has adapted to the new system well. Auburn won't officially name Frazier as the starter, but the job is his.
Clemson will probably be a field-goal favorite over Auburn when the big sportsbooks come out with their lines, so I'd say that Auburn's chances are pretty good. It'll be decided by a field goal, one way or the other.
From Allen Walton (@bigalwalton) on Twitter: How would you rank the top five SEC defenses heading into the season?
I'd rank them as follows:
1. LSU
2. Georgia
3. Alabama
4. South Carolina
5. Tennessee
LSU still has a lot of talent coming back, including Heisman finalist Tyrann Mathieu at cornerback and an ultra-athletic defensive line led by Sam Montgomery and Barkevious Mingo. Defensive coordinator John Chavis has things cooking in Baton Rouge to a point where the Tigers don't rebuild, they reload.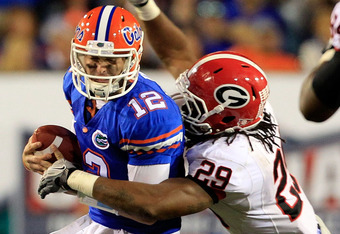 Sam Greenwood/Getty Images
Georgia is loaded with talent; and provided they can avoid prolonged suspensions, can be one of the best defenses in the nation. Linebacker Jarvis Jones is one of the top players around, and defensive coordinator Todd Grantham has proven to be one of the top assistants in college football.
Alabama has some holes to fill, but is filling them with studs. There will be speed bumps along the way, and how Nick Saban and Kirby Smart minimize the impact of those speed bumps will decide if Alabama is a championship contender or "relegated" back to being a 10-win team.
With Jadeveon Clowney and Devin Taylor coming off the end, South Carolina won't have any issues getting a pass rush. Ellis Johnson ran South Carolina's defense in the past, but Lorenzo Ward has actually held the defensive coordinator title since 2009. 
There's a big dropoff between No. 4 and No. 5, but I'll go with Tennessee at No. 5 in a bit of a curveball. New defensive coordinator Sal Sunseri should spark some life into that Vols' defense with his 3-4 system. Guys like linebacker Jacques Smith and defensive lineman Darrington Sentimore should thrive this season.
From James (@JCHarris08) on Twitter: More pressure to do well this year, Mizzou or A&M?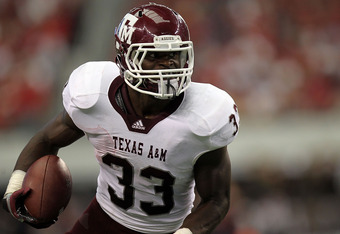 Ronald Martinez/Getty Images
I'm going to go with Texas A&M because they need to compete in the SEC West—and that's not an easy thing to do. There's a pretty good chance that the Aggies get beat up in their first year in the SEC and hover around .500. Texas A&M needs to be competitive, but its track record of second-half ineptitude won't play well in the SEC.
Missouri doesn't have that much pressure. Just being competitive should be enough in their first year. If they beat Georgia in their first SEC game, the Tigers will be a contender in the SEC East in 2012.