For the Red Sox in the mid-to-late-2000s, games against the Orioles felt like automatic wins.
From 2006 to '09, Boston rang up a 55–21 record against its Charm City rivals—a dominant .723 winning percentage. It wasn't just the number of wins that made this a one-sided rivalry. It was how Boston won.
Fans invading Camden Yards and making it sound like Fenway South. Feasting on Baltimore's pitching to the point where it felt like Oriole starters never made it past the fifth inning. Clay Buchholz throwing a no-hitter against the Birds in his second professional start, in September 2007.
But is the tone of this rivalry starting to turn?
Look no further than the end of 2011 as proof that it might. Boston had beaten Baltimore seven straight times earlier in the season, and the Orioles would finish the year with baseball's fourth worst record. But that didn't stop the Orioles from playing the role of September spoilers—and in devastating fashion at that.
The Birds took three-of-four at Fenway in the Red Sox's final home series of the season. Boston's 6–4 loss in the rubber game on September 25 was so disheartening that the home crowd booed the Red Sox off the field.
And that was before the season-ending, three-game set at Camden Yards that will live in infamy in Red Sox Nation. Josh Beckett couldn't hold on to a 2–1 lead in the opener—the second time in six days he lost to Baltimore—and Jonathan Papelbon couldn't slam the door with a 3–2 lead and two outs in the ninth in a heartbreaking Game 162.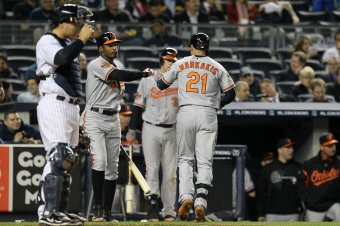 Jim McIsaac/Getty Images
Fast forward to the start of this season. Both teams have been affected by that final series in 2011—one for the better, one for the worse.
The 16–9 Orioles are just a game behind Tampa Bay for the division lead. Their pitching staff has an AL-low 2.83 ERA. They have a young offense that comes up with timely big hits (home runs from Chris Davis, JJ Hardy, Nick Markakis and Matt Wieters in their two recent wins against the Yankees). And manager Buck Showalter seems to be pushing all the right buttons.
In sharp contrast, the 11–13 Red Sox sit in the basement of the American League East. Their pitching has been a disaster, their offense (while potent overall) has disappeared at stretches and volatile manager Bobby Valentine has looked like a bad fit from the start.
These are the circumstances surrounding the teams' first series of the year. With five months of baseball yet to be played, it's premature to say that the Orioles are now the team to beat and the Red Sox are on the decline.
But those automatic wins that Boston used to take for granted sure feel like a thing of the past.