American Businessman Bill Miller Swoops in to Save Glasgow Rangers
May 3, 2012

Ian Walton/Getty Images
American businessman Bill Miller is poised to become the new owner of Scotland's most successful football club, Glasgow Rangers, after it was announced he was "the preferred bidder."
If Miller's takeover is successful, he'll have the task of saving Rangers from financial ruin and rescuing a 140-year-old football institution from the darkest days of its long and storied history—and potential oblivion.
Rangers have been Scottish champions 54 times. They've won 33 Scottish Cups. They have an estimated worldwide fanbase of 5.5 million and a stadium that holds over 50,000.
But despite their grand tradition and widespread affection, Rangers have struggled to balance the books in recent years.
They've also fallen victim to spectacular financial mismanagement and now find themselves facing a 12-month transfer embargo, £160,000 fine and a 10-point deduction in the Scottish Premier League after falling into administration.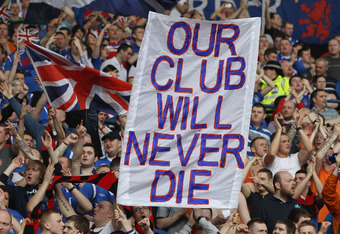 Ian Walton/Getty Images
The points deduction cost Rangers their shot at winning the title this season, leaving their great rivals Celtic clear to stroll home and heap further misery on the Gers' distraught fans.
Much of the blame has been laid at the door of former owner Craig Whyte, who bought the club for £1 in May 2011 on the condition he paid off its outstanding £18 million debt.
Whyte was good to his word, but it turns out he covertly used proceeds from future ticket sales to clear what was owed. He has subsequently been handed a life ban by the Scottish Football Association and fined £200,000.
Taxes eventually caught up with Whyte and Rangers. In February the UK authority, Her Majesty's Revenue and Customs (HMRC), demanded the club act to clear £9 million owing in unpaid taxes during Whyte's reign at Ibrox.
Rangers appointed administrators Duff & Phelps to deal with the situation and they are now seeking to find a suitable bidder.
Among the interested parties so far have been a consortium backed by fans called "The Blue Knights" and a Singaporean group fronted by businessman Bill Ng. But it appears Miller's bid is now in pole position.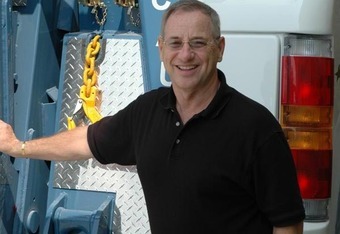 This from Rangers' official website:
Bill Miller is on course to become the new owner of Rangers after being granted preferred bidder status today (Thursday) by administrators Duff & Phelps.

After weeks of negotiations and discussions, the administrators have announced that the hugely successful American businessman now has the opportunity to complete a purchase for the club.
Said Duff & Phelps representative Paul Clark:
We would like to thank all parties for their efforts in seeking to submit bids which preserve the long history and success of the Club.

We are delighted to announce that today we have received an unconditional bid for the business and assets of Rangers Football Club plc from Mr Bill Miller which has been accepted and he is now the preferred bidder. Mr Miller now proposes to complete his transaction by the end of the season.
Not much seems to be known about Miller outside the fact he is chairman of Miller Industries, who bill themselves as "the world's largest manufacturer of towing and recovery equipment." Miller Industries are based in Tennessee.
According to his profile at businessweek.com, the 64-year-old served as "Chief Executive Officer of Team Sports Entertainment, Inc., and its subsidiary, Team Racing Auto Circuit" for eight months in 2002, so he does have some sports industry experience.
As for the reasons behind Miller's specific interest in acquiring Rangers, they've yet to be announced. I've found nothing to suggest he's a big football fan, though more details on that front are sure to come forward in next few days.
Here's what we know about his bid so far.
According to ESPN, Miller is offering $18.1 million for Rangers. The idea—according to Richard Wilson of The Herald—is to set up a new company, or "newco," which would take on all of the clubs assets apart from the players and staff. The old company or "oldco", being Rangers as they are, would then apply to meet the terms of a Creditors Voluntary Agreement.
This blog at Scotzine suggests Miller would then try to merge the two companies and hope to enter the 2012-13 SPL season without having to go into liquidation. The aim here would be to avoid the potentially huge penalties of effectively starting a new club and having to reapply to join the SPL.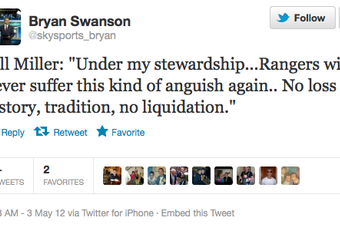 Rangers fans are opposed to the newco option, believing it would rob the club of its tradition. But here's what the club's manager Ally McCoist had to say on it, as per the Daily Mail:
If it happened, we would still have the history of the club, absolutely. I have done a bit of homework on it and newcos have happened at clubs like Plymouth and Crystal Palace.

I can imagine people would try to wind up supporters about it—that's part and parcel of the game. But, make no mistake, we wouldn't lose our history at all. We wouldn't allow that to happen.

If there is a team playing at Ibrox in blue shirts, it's Rangers. I think I'm right in saying we only became a plc in 1899, which was 27 years after we were formed. Nobody really recognizes that change, but there have been changes all the way down the years.

Rangers are Rangers and that would be the opinion of the vast majority of people.
This being football and finances, things are obviously complicated. There are various permutations of a possible deal that could happen and it's not yet clear how the SFA would penalize Rangers should they form a newco. This Scotzine blog really is the best way to get a handle on the details.
What's beyond any doubt, however, is that Miller faces one of the biggest challenges of his long and successful career should his bid go through as expected at the end of the season.
Along with dragging Rangers out of a debt estimated by  The Telegraph to stand at £134 million, Miller must win over the most riled group of supporters on the planet—a fiercely proud band of loyal and devoted fans who have been forced to watch on while their club was thrown to the dogs in recent months.
To succeed, Miller must first get them onside with his vision.